"The flight has checked in full," the Frontier attendant regarded me icily.  I stood stunned with disbelief.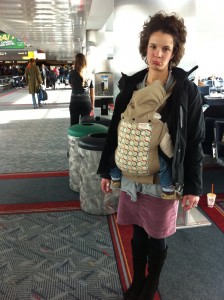 I back-pedaled into that typical female response, apologizing. "I'm sorry, but can you explain how I'm not booked on this? I thought . . ."  He was shaking his head and repeating himself.  My stomach kicked with adrenalin I walked to the Customer Service Rep, who sent me back to wait in stand-by.
This wasn't supposed to happen on my first flight with Finn; I had already forgotten my nursing cover–an inconvenience impossible to overestimate. Were we going to be stranded in Denver until the next flight at 9:30 pm, eight hours later?
I had arrived in Denver on Frontier; I had an easy hour layover, but I was already sweating from having walked to the end of the wrong terminal (I got my A54 and B54 mixed up).  At the United gate I was sweating, fingers clenching the bag holding my now cold pizza and warmish salad, Finn throwing his weight up and out of the Beco carrier.  Finn hadn't had been out in three hours and I knew that I needed to rest and rehydrate.
My appetite was actually gone.
Then the jerk dismissed me. On my way back to plea again, I saw a female worker at the desk. I approached her and unsuccessfully fought back my tears.  I hate looking like the frazzled, overwhelmed, traveling mother.
But here I was. This woman didn't appear impressed with my story, but she still moved mountains, quietly reprimanding the male employee who halted the boarding and found me a seat.
I started up the last leg of the journey in an aisle (not ideal by the way for nursing sans cover) between a professionally dressed man and a young woman wearing suede boots across the aisle.
I was petrified that Finn would erupt with annoying climbing, yelling, jumping.
I was worried he would disturb every person in a 30 foot radius.
I was afraid I would spill his food.
I was afraid I'd be unable to nurse discreetly.
Every fear was realized.
But the owner of those suede boots turned my flying disaster into three hours of protection and comfort.
When I was feeling faint for food, she held Finn so I could wolf down the limp leaves of my caesar salad. And when Finn yelled to be reunited with his mom she quickly handed him back.
When Finn figured out how fun a tray table can be to grab and lift, when my brimming orange juice can was capsized backwards, jugging stickiness down onto the leather shoes of my professionally outfitted neighbor, she reached across the aisle and righted the can, swiftly pulling it away from Finn's chubby fingers.
When I jiggled and juggled an over-tired Finnster, she smiled encouragement and kept making sweet, silly faces at my marathon alert baby.
When Finn yelled in annoyance that I wouldn't let him pull the seat in front of him she encouraged me with her eyes, even admiring my attempts.
She rescued me from embarrassment and ultimately from fear that I could ever fly alone again.
When Finn finally slept the exhausted rest only a 10 month old can have, I turned to her.
Where was she going?
A Meteorology Conference (now having seen Cloudy with a Chance of Meatballs, she actually reminds me a lot of Sam Sparks)
While she had been holding Finn I noticed a large cross dangling on a strong chain.  I finally asked her about it.
I asked her when she met Jesus.  Her eyes lifted and met mine, flashing significance.  A friend had helped her out during a rough time. She had been involved with the Navigators.
I nodded. "You know about the Navigators?" she asked smiling.
We talked about Scripture and when we weren't sure of a passage, she lugged out a large leatherbound book from her packed backpack.
When we dipped through clouds like whipped meringue peaks to finally land in Seattle, I didn't have the presence of mind to write her email down, but I gave her our Soulation card.  I told her I wanted to send her something.
I dedicate my first Breakfast Reading post to her, a disciple who loves Jesus, a young woman who intended and succeeded in being a unique reflection of God to me and Finn.
She was, in Jesus' words, the salt of the earth (Matthew 5:13).   She flavored the flight and saved Finn, like our Savior who teaches me to enhance ever meeting with attention, to love national speakers disguised as harried mothers, fathers disguised as well-dressed businessmen, weary airline attendants disguised as jerky United attendants, meteorologists disguised as blond haired college students, Jesus disguised in human flesh.
Photo credit: celuloidfun.com and WebMD.com