by Kelsey Vandeventer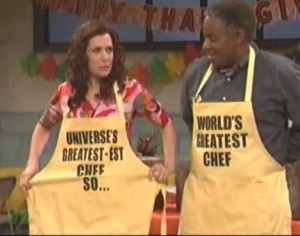 A person's early twenties are the most egocentric years of their life. And everyone on Facebook must, to some extent, think his or her daily life is interesting enough to tell the online world about.  Not this it's necessarily a problem; I see Facebook as neutral and entertaining most of the time.  But, sometimes it seems that by how many 'likes' or 'comments' we see pop up in red, we're 'graded' on how we're doing in the memorable department.  I've grown up into a youth-worshipping culture, and we, the youth, can tend to take ourselves pretty seriously; we can become proverbial Penelopes, a character played by Kristen Wiig on Saturday Night Live.  See one of her skits from SNL here.
My friends and I like to parody her brilliant renditions of 'one-uppers,' stroking our hair, and bragging about how our dad invented air, or something ridiculous. We laugh, knowing we've done it or know someone who can't live without competition and showcasing. I go to school with some who like something because it's good to like it. Classical music and fine or modern art museums, for example, are wonderful in themselves. I want to aspire to appreciate and actually enjoy these 'finer' things as apart of everyday life, but it's okay if I don't, at least not right now. The truth is that no one actually cares if I like Yo-Yo Ma or not. So, if you can't care about it, go home, listen to Queen or whatever you actually like, and relax.
I appreciate C.S. Lewis' writing for its regard of good, normal people.  In his world, comfortable people who do what they actually like, whether they hold knitting needles or guitars, fit and make sense.  It's much harder to be secure without a megaphone in one hand shouting what your 'thing' is and, also, to evaluate yourself beyond what other people think, and even what you may expect of yourself. Maybe if you talk enough, fast enough, loud enough, you may fool others, even yourself, into thinking the road is clear ahead, that you're happy, that you can't be touched, caught, or exposed.  What if the "About Me's" I flaunt on purpose aren't really there, and there's nothing beneath it all?  I've known myself to hug tightly to all sorts of interests I've made my thing, like academics, being 'deep,' writing, and even 'doing' church.  But it isn't honest. The problem isn't with the activity, it's with me. It's a sort of deception, a sort of hiding. We don't actually want to learn about X, we just want it to keep us company in the midst of a greater loneliness, which may be just fine for a while.
When I'm a bit shaky about my identity, where "Who am I?" will take a lot longer to figure out than the next cool, smart thing, like say philosophy, I'll pick up philosophy and lots of ideas and strap them to myself with duck tape. It's uncomfortable, at best, to sit in the Between room, where we're all trying to cover our naked, jittery bodies with last month's Wired Magazine.  But, peeling off the glossy spread and looking at what's there, though you might shiver, might be a way to enjoy life more freely.
Photo credit: The TV Buff