by Molly Davis
How big is God?  And if God has a certain size, then where are the lines that draw the point of demarcation, where God is and where God is not?
It seems to this observer that the Bible (that roaring, laughing cacophony of pages compiled by God-watchers, God-followers, and God-seekers) doesn't give a friendly response to those who etch their answer in lines of permanent ink.  Is there no comforting Biblical pat given to those who know where God is and where God is not?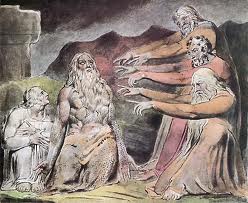 "Old friend, where you are, God is not."
Job's friends spread outstretched arms while whetting iron tongues, the stabs, to them, acts of true friendship.  Because, well, God was not with Job.  They knew this because everybody knew it.  The roof of the home smashed in bones and flesh and blood, the sheep were lost, the cattle gone, and the taut skin of the grieving man was clothed in dribbling pus and open sores.  There was no God here (but perhaps Job's repentance could persuade God back?)…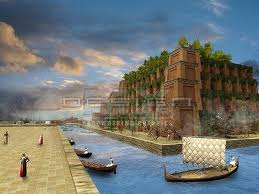 Esther sat in the capitol city of where God was not.  There was no God in the land of Babylon.  We sing melodies about how we can't wait to dash the brains of Babylonian babies in on the rocks, because there is no God in Babylon.  There can be no God in Babylon, because God would not go there.  We know things, and that much we know.  God will have nothing to do with that place.  God is only in special places.
God cannot be in the heart of the city of Babylon.  God cannot be in Babylonian babies.  There are rules, and this is one of them.  There are brains you can dash and brains you cannot.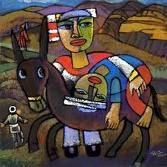 Mark out the beaten man on the side of the road as an area where God is not, because we have important business to attend to.  There are programs, ministries, and certain buzz words to drop, and I can't stop to talk.  Perhaps if he was in my theological camp, I could help—if he was someone important—but, really, a simple beaten soul?  I can't help him or love him or, honestly, even see him at all.  What man on the side of the road?
I have sermons to preach, errant theology to correct, great visions to pontificate, and ministry programs to administrate.  The little people are there for taking care of the little things, like beaten people that I can't see, and I am not a little person.  I am a big person, and God is not over there on the side of the road.  Not for me.  God has called me to the big things.  If it doesn't smell of power, it doesn't smell of God.  Not my God, anyway.  God is in the agenda, not in the people.  God is in the moments where everybody is watching.  Now, if you'll excuse me, I have a ministry meeting to attend.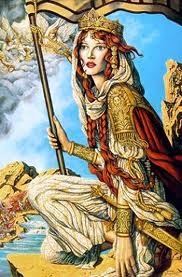 Let's draw the marker line around the wise old woman, too, because God is not upon the woman who would dare give counsel, direction and judgement to a man.  Especially not a Deborah, foolish female who went out and made herself available, not mincing from her rebellious leadership gifting but accepting it, acknowledging it and making it available to her country.  Anathema!
We know where God stops.  The Bible is very clear that God stops before this place.  There is a "monstrous regiment of women," as the reformer said, and Deborah is one of them.  God does not walk with those who challenge the status quo.  If she would have only found her place as helper behind her husband…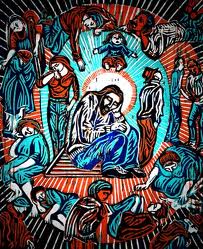 I know my God, believe you me, and I know where God is not.  Ha.  God is most definitely not with that Man.
Pervert.  Walking with a prostitute.  Look at her, unabashedly adoring Him, flanked by tax-collectors and unclean refuse trying to cop a feel of His robes.  It is disgusting, what goes on in the name of the Lord around here.  People are so desperate, they'll follow anything.
If these schmucks would just get their act together, maybe the messiah would be able to show up.  As it is, we'll never get messiah to come, not with the likes of this Man walking in the middle of the city streets.  It makes my stomach sick.
These people need to get right with God.  Their theology is a disaster, their devotional life is a joke, they do not attend my church regularly, and they most certainly do not dress or talk properly.  If only they could sit through some of my sermons.
My views on things, God's views on things would save them.  Really.  It would.  It's that simple.  Get your theology right and your behavior will follow, as exemplified by me.  It's a crying moral shame that they won't listen.  But, no, they have to hang around with Reject Man.  It's a disservice.  It's a disservice to God.  If I know anything, I know that there is a Man in whom God is not.
There's got to be some way to get rid of Him.  I mean, honestly, it would be doing God a huge favor…
"Who has set limits to the spirit of the Lord?  What counselor stood at His side to instruct Him?  – Isaiah 40:13