by Brandon Hoops
The pressures were mounting. Roger Bannister had run a relentless schedule of races to prepare for the Helsinki Olympics. He made stops in New Zealand and the United States. The press esteemed the young Brit and his long, fluid stride. They followed every race, lauding his accomplishments, eager to see if he could do what no one had done before, run a mile in less than four minutes, a "perfect mile."
But when Bannister gave up running mile races at the summer's end to do some training, the positive press turned negative. They wanted more from their young star, more races and more success. To escape the attention he went to Scotland and spent two weeks hiking. What happened next, as told in Neal Lamb's book The Perfect Mile, has become something of a parable for me:
One late afternoon, after swimming in a lake, he began to jog around to ease his chill. Soon enough he found himself running for the sheer exhilaration of it, across the moor and toward the coast. The sky was filled with crimson clouds, and as he ran a light rain started to fall. With the sun still warming his back, a rainbow appeared in front of him, and he seemed to run toward it. Along the coast the rhythm of the water breaking against the rocks eased him, and he circled back to where he had begun. Cool, wet air filled his lungs. Running into the sun now, he had trouble seeing the ground underneath his feet, but still he rushed forward, alive with movement. Finally, spent as the sun disappeared from the horizon, he tumbled down a slight hill and rested on his back, his feet bleeding, but feeling rejuvenated. He had needed to reconnect with the joy of running, to get away from the tyranny of the track.
Bannister needed space. I can identify with this need. There is so much that likes to keep me rushing and running, distracted and occupied. For instance, I've found technology, like the press, likes to push its way into my world. When my iPhone goes off, I feel like one of Pavlov's dogs. My eyes light up. My heart flutters. No, I do not drool, but I let it grab my attention and make demands of me.
This summer I am leaving the land of Wi-Fi and 3G for the blue skies and open plains of south central Nebraska. For three months, I'll be living with my 86-year-old grandpa on his farm, away from regular internet access and cell phone service. My iPhone, now a constant companion, will be rendered an expensive, ineffective flashlight.
In a sermon preached in 1984, John Piper was perceptive to what has become pervasive in our world today: "You can see a computer, you can handle a computer, a computer can give you immediate feedback and solutions; they hold a powerful fascination. But the Bible speaks largely of unseen things; things that don't force themselves onto our senses"
This is part of my reason for a summer on the farm. Instead of filling the page to every corner, I want to leave space so that my senses might be receptive to the unseen. I experienced a small taste of this two summers ago during a quick visit.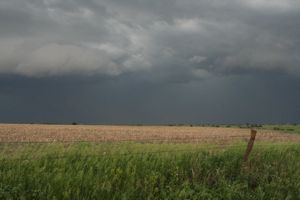 It came one afternoon, after watching television with my grandpa, I left the living room and the voices of Anderson Cooper and Bill O'Reilly, who were fueling my mind with anxiety and worry, fear and frustration. I ventured outside amid a brewing thunderstorm to take pictures. The sky was weighted with anger, and dark clouds started spitting rain on my shoulders. Within minutes the rain intensified its rhythm and the thunder drummed its bass note. But what was meant to unsettle me, took a different form through the lens of my camera. With each snap of the shutter, I witnessed the receptivity of the land to God's provision. It was though the fields stopped, listened, paid attention and received gratefully what was offered. In Psalm 65, David acknowledges this: "You care for the land and water it; you enrich it abundantly. You soften it with showers and bless its crops." And what is the response? "The hills are clothed with gladness." By the time I returned to the house, I found myself drenched in this gladness.
I return, again, needing to be pulled out of tyranny into receptivity, out of striving into blessing. As much as God enriches dry fields and blesses the crops, I need him to stir up the life around me and tend to the life within me. For me, my grandpa's farm is a place where I will take off my shoes and run.