by Philip Kenney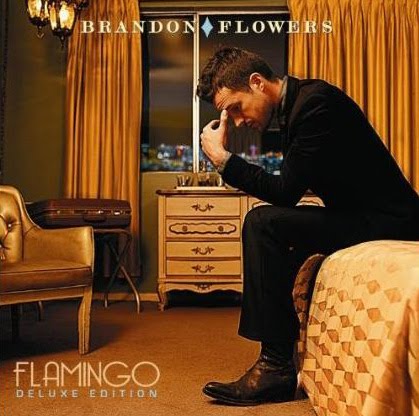 One of my favorite albums of last year was Brandon Flowers' "Flamingo." Flowers is Las Vegas bred and it shows in his first solo album, which can safely be described as an homage to the town and the lifestyle it purports. Most notably is the opening song "Welcome to Fabulous Las Vegas" where Flowers, behind very dynamic, stadium-rock music, sings:
You're looking for the grace of God
In the arms of a fellow stranger
Disciples hand you catalogues of concubines
As you stumble down the boulevard crying "Hosanna"
Welcome to fabulous
Welcome to fabulous Las Vegas
Give us your dreamers, your harlots and your sins
Las Vegas
Didn't nobody tell you the house will always win?
To be honest, the first time I listened to this song, I was concerned about the music and melody. On this level, this song is greatly crafted. But by the third or fourth time I began to sink into the lyrics and found a very chilling phrase: "Give us your dreamers, your harlots and your sins/Las Vegas." It was chilling not because of the content but because of the acceptance. I immediately thought to myself, this should be the epic lyric of the Church, not Vegas.
What do I mean by this? I do not mean the Church should condone dreamers, harlotry, or sin, but it should open its arms to them. When the prostitute came and washed Jesus' feet, he accepted her as she was and for who she really was – something even his closest disciples could not do. And if Christians truly mean to be "little Christ's," may I say that the Church and Flowers' Vegas might want to join battle cries.
But the content of this cry has such a different meaning between the two. The beautiful thing that separates the church and Vegas is what the sinner is accepted into. As my wife and I visited Vegas a week ago, Flowers' lyrics ring true in a chilling way: harlotry was celebrated on billboards, flyers of naked girls handed out to anybody willing to take one, and even our hotel where barely dressed women danced on tables in the lobby next to a family restaurant. And here is where it really needs to sink in. Vegas accepts what you do, but not who you are. They do not care about you, only what you can offer them. Vegas is focused on experience. Bright lights, loud casinos, and images quickly flashing to entice and to confuse your senses. You are left in this sort of trance where you are at the mercy to the waves of the sea. Flowers' describes the Vegas experience quite well:
Sunsets and neon lights
Call girls and neon lights
Black jack and lady luck
Cocaine and lady luck
You call upon her on holy knees tonight
It encourages thoughtlessness and unconscious actions that are relying on a greater experience to make the decisions. You are never asked to leave behind your "human" urges, but the deadly part is that in this experience you leave behind all that is human. Experience is self-indulgent – it matters only how you are affected – and the biggest danger to our humanity is when you sacrifice every person around you for your own benefit.
If Vegas offers an experience, the Church offers an encounter. In an encounter, self-indulgence is non-existent because the other is recognized, esteemed, and present. You find a Father who confronts you with an offer of meaningful living and a community that challenges you to not be satisfied with anything less. In Vegas, you ask for whatever you want and you get it; with the Church, something is asked of you: you are asked to live the Good Life. Unlike Vegas, it does not offer an alternate reality but a way to finally address this reality with true thoughtfulness, meaning, and purpose. To live life as we were created to live it and to not downplay our life as mere experience after experience. Church is a Father and fellow brothers and sisters that constantly reveal to you that the holiness of our humanity and of our neighbor is what should never allow us to be satisfied with the acceptance of Vegas. Encounter the Other (God and neighbor) and you will find a truly fulfilling, enriching life – abundant and eternal.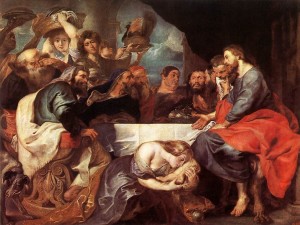 The prostitute who washed Jesus' feet with her tears was experienced in more ways than one. But when she encountered Jesus, her humanity was revealed, enforced, and redeemed. For once, she was accepted not as a prostitute but as a human being – this is the freeing power that only the Church can offer.
Lastly, to fellow Christians. We must be wary of what we offer with our acceptance. Do we offer an experience like Vegas does with flashy lights, loud music, and opportunities left and right to indulge ourselves (even if this means going to get your fill of spiritual growth)? Furthermore, this promotes the other-wolrdliness that Vegas creates as well. Is church an escape or even trap to suck people in, or is it a community of like-minded individuals trying to live the Good Life in this world? Things to consider…
Flowers' photo credit: http://www.iamcjay.com/?p=1065
Photo credit of washing Jesus' feet: http://paulandrewanderson.webs.com/footwash.html