by Philip Kenney
I was having a conversation at my church with a couple of friends on a topic that I had never really taken seriously. It is a topic that I feel politics drive our theological stance more than the other way around. It is the topic of environmentalism, particularly global warming. In our conversation I heard three distinct points that all had theological ramifications that, I think, none of us ultimately would be willing to accept.
First of all, you had an older man who is a conservative politically and theologically. He clearly stated that global warming is a hoax, and if it at all was true, man is by no means causing it. "Cows harm the environment much more than humans!" he would say. I sat there wondering more and more what this line of thought leads to and I found the end was scary to me. If global warming is true (I don't know either way honestly), his view still does not excuse humanity. If we are just one drop in the huge ocean, we are still part of the ocean and we are still responsible for what we have done.
The second man was younger, and conservative just like the first man, but he is open-minded. He is a searcher. "One volcano erupting is way worse for the environment than anything we do. Nature is already harming itself." I completely agree with that. Tornadoes just ravaged my whole area last week. Nature is not kind to itself (or God is not kind to nature). But still, does that excuse how we treat nature? Let me put it another way, does that excuse how we treat creation?
In the last corner of this triangle, I was sitting there doing my normal thing: playing devil's advocate (not my greatest quality, ha). I would say I am a moderate politically and conservative theologically. In the conversation I kept bringing back the point I made above: but are we not responsible with how we treat creation? "We are told to subdue and have dominion!" I heard back. "We are also commanded to cultivate and keep it, which means to take care of it," I said right back. We were at a standstill.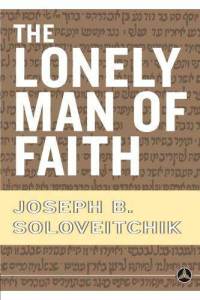 Joseph Soloveitchik, in his book The Lonely Man of Faith, talks about the two Adams: the one commanded to subdue in Genesis chapter one and the one commanded to cultivate in chapter two. The first Adam is the man of technological advancement and the second one the man of faith. He claims both are commanded of God – we are called to be creative with the world as well as to just enjoy and sustain the world given to us. He argues that God wants us to live in this tension of practicality and sanctity.
And there we were yesterday, fighting the tension. Practically we have built our entire western lifestyle on fossil fuels. It works quite well! However, unlike my older friend suggested, the global warming idea is not about attacking the American lifestyle – let us not be so caught up in it that we can't conceive our opposition as being equally sincere as ourselves. The people trying to stop global warming are really trying to save whales, ecosystems, and climates. They are trying to cultivate and keep this earth; why are so many conservative Christians so angry about this? Even if they are wrong, are they not trying to do something that we are all commanded to do? Or are we really just mad that they beat us to the punch and that secular science is acting more Biblically than us?
Regardless of all of this, let's step back for a second. I mean honestly step back. Are we allowing our political affiliations to dictate our theology? In the past year I have had to ask myself this question constantly. I have gotten a lot more politically minded since I have asked this question. We get so irritated when we are forced to privatize our religion with no prayer in schools, our stance on abortion, and our stance on homosexuality. But all of a sudden when it comes to more liberal issues politically, we want our religion privatized. Whenever I talk to a conservative about governmental stance on the poor or the environment I get one of two statements: "The poor is the responsibility of the church not the government," or "Jesus was never political so we shouldn't be either." Both true, but if your religion shouldn't be privatized would it not somewhat dictate you stance on these issues as well?
Listen, I don't drive a Prius, grow my own food, or only buy organic stuff. I'm just a Christian who thinks that maybe my theology should guide my politics and not the other way around.
Image credits: cartoonstock.com, tower.com