by Kelsey Vandeventer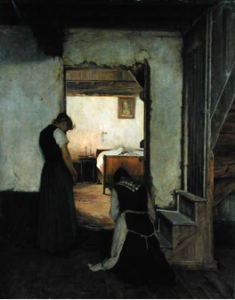 Why do sex, giving birth, kissing, hugging, abuse, absence, and death define us so much? What if when I touch you and hold your hand, I am touching your soul? Your soul is not something far off kept in a jar in heaven. It's woven into you. In my previous post, I talked about the necessary union of the physical and spiritual. Our bodies are God's creations and part of personhood made in the image of God. So, if death separates the soul from the body, how do we respond to it? Until the last half century, most religions and people groups, save Hinduism, have buried their dead, which acknowledges that one's body is a part of one's humanity.
I went to a funeral this past summer for a family friend, a dear man who died of cancer. His family had planned for a cremation. The funeral, only a few days later, celebrated his life because he was no longer here in his body but with God in heaven. But, if he's not 'here' but 'there,' what in the world does that mean? Is something 'out there' more real than what is here? How can we know what goes on after death? Are our bodies pointless after death? Won't God reunite us with our bodies and resurrect them at the second coming? Something didn't feel right in my stomach. I wanted more for this man. I wanted sobriety and to uphold his dignity. The grief was cut short, and it felt trivialized. Even Jesus wept for his friend Lazarus, who had died (John 11:35). There is a time for grief and there is a time for moving on and living. But the death of a loved one is unnatural, a result of evil, and our grief should resemble that.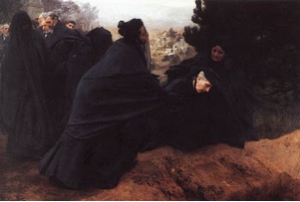 The church is the church of the past, present, and future, and that interaction is not only true but also essential. Praying for God to have mercy on the souls of the departed can be as much an intercession for them as it is for us. This gives us comfort and closure, reminding us of our own mortality and to live well. I know, I know. I grew up being very skeptical of this kind of talk. Bear with me! Though I don't believe in Purgatory, I do think that praying for the dead is helpful. St. John Damascene writes, "Each word of prayer for the reposed is like a drop of water to a thirsty man." I am not saying that we can 'save' them in an ultimate sense. Father Seraphim Rose says, "the Church's prayer cannot save anyone who does not wish salvation, or who never offered any struggle for it himself during his lifetime" (The Soul After Death 191). But, though we have hope, a confident hope, of being in the care of God when we die, we ultimately can't claim the state of our soul or anyone else's. Only God can.
When someone dies, it's natural to want to talk with them and to acknowledge that they still exist. Read William Wordsworth's poem, "We Are Seven," here to see what I mean. Even now, sometimes I feel that prayer is the only way I can connect with someone who is still alive though not in my life right now. Life's complicated, and both temporary and eternal separation is very painful. That's where prayer may be my only hope. Prayer is not just a head-trip or made up solely of words; it is meant to involve all of ourselves– our heart, mind, and body. If our body moves, our heart will follow. Lighting a candle for the departed and for those I love has brought me more fully into this relationship. The light, the smoke rising, and the soft scent of burning beeswax orient me toward the center of reality and bring me to love someone truly and intimately. Acts 9:37 says: "And it came to pass in those days, that she [Dorcas] was sick, and died: whom when they had washed, they laid her in an upper chamber." Dorca's family bathes her body primarily for traditional reasons, but I also see it, at the core, as an act of love. Her body is treasured because she is treasured.
Death is scary and uncomfortable, but it is part of the world we live in. To face death is to face ourselves — our deepest fears of isolation, lost-ness, of not being enough, of the unknown. We often sin because we're afraid of death. We run away and we hide. But, we can face it because we do not go there alone. Christ went there and he will go with us too, and we will need him because it must be a very painful experience. Death cannot be made convenient because this distances us from reality. Some examples of common burial processes like cremation and embalming compromise the dignity of the person who has died but also create a wall between us and dealing fully with the truth. Death forces us to live in the moment and prepare the best way we know how. This is what life is: a rehearsal for death and eternity.
Photo credit: Strawberige.blogspot.com