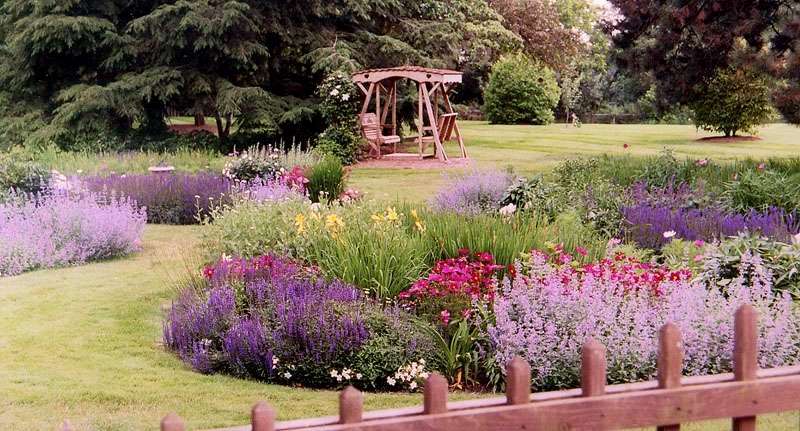 The ground is dry and the gardner moves his eyes over his plants, touching petals, each of them friends through the seasons, making their own colors and lines, ensembles and rainbows.
The ground is dry and the gardener pulls his hose from its coil and stretches it out to flatten the kinks and soaks the dry soil.  The water beads and flows down the contours leaving the ground dry still.
The gardener heaves bags of mulch and soil beside the garden and spreads.  He spreads a blanket of dirt and bark to capture the water, to knead the ground, to nourish his friends.
Each is an act of grace.
The Scripture tells us that if we are in Christ, we are a new creature.  Some believe this means we are instantly changed, like a garden suddenly in bloom without tending.  That forgiveness occurs and then, viola!, we are done with all that sinning stuff, all our relationships ripen into intimacy, and we know God in every way but in some trivia questions.  We're rid of our blind-spots, those things that annoy others that we cannot see in ourselves.  Our souls are never dry, our sun never hiding behind the clouds, our stalks always straight.
Grace, on this view, is perfectionism–disguising our fear of being found out.  Grace is then the strategy of weeds, hiding, blending in, hoping our secrets remain secrets.  Grace means others are unallowed to know us by our fruit.   Grace means overlooking our faults, never inviting reflection, satisfied with mediocrity.  Grace means talking about grace so that we sound spiritual but remain safe from change.  Grace means fitting in with the church crowd.
This view is tough to reconcile with Paul's letter to Romans.  "Shall we continue sinning that grace may abound?  Never!  How can we who are dead to sin continue in it?"  Using grace to shield our sin is to misuse and misunderstand grace.
Paul had something else in mind.  That grace helps this "new creature" stop sinning, not by hiding sin, but nourishing us away from sin and toward shalom.
Paul's view, I believe, is that people find themselves forgiven and in need of specific forgiveness again and again.  When I say "specific," I do not mean, "Oh, well, I'm sure I sinned today, but nobody's perfect so let's not dwell on it."  Rather, I mean, "Oh boy, I was stingy and arrogant to someone in need."  Those who know grace are those who lack surprise when they fail; they are glad to try again.  Grace is a do-over in a new direction.
I have found that the grace-filled soul does not expect failure so that he can merely avoid it in the future.  He expects failure so that he can be a healthier person.  The grace-filled soul does not seek failure but welcomes it.  He learns that love and failure are not opposites.  He wants to let grace not only change his decisions but to change him.  If a good friend tells you that you are inconsistent, you want to hear that.  Not because you like the content, but because the content is a grace, fertilizer for your soul.  A grace-filled person welcomes the truth from love.  Grace loves truth.
A grace-filled person knows, just as a healthy plant knows: that grace is like mulch, fertilizer, topsoil full of richness.  It is material for better blooms.  Grace doesn't overlook our faults.  Grace meets us in our faults.  Grace does not say, "Look, I can see your ground is dry.  But let's pretend it isn't there."  Grace says, "Let's water it with pizzazz!"  Grace helps. Grace comes to us in love.  Grace lets us digest our nutrients as we can, neither rushing nor excusing.  Grace comes to us in the Gardener.
For the gospel is not that Jesus came to cover our faults but to remove them.  To not overlook our dry soil, but to constantly amend it.  Jesus came to begin a new kind of life in us by putting us in the care of the Gardener, but we must accept the Gardener's touch, however it may come, not once but always.  We are saved and being saved.  Only the plant open to the sunshine and hungering and thirsting after the righteousness of fresh water produce the best blooms.
So, my dear plants, let us be afraid no more of our faults.  Open wide to life and let yourself be changed.  Let God, your Gardener, use those around you, who love you, to be nourishment, not only in positive encouragement, but in embarrassing places.  No longer hiding behind religion, trapped in the fear of what others think.  Do not be so pre-occupied with grace that your talk of it is but a shield from the real thing.  Be glad when your soil is amended, when you find new opportunities to grow.  For this too is from the Gardener.  Learn not to be surprised with your own moments of withering, for it is also a grace to notice our limp leaves so we may look to the Gardener's water. Know you are loved so that the winds cannot shake you, that every drop in the storms of life, just as in the calms, is grace, always grace, on the dependent and frail human soul, upshooting, miraculously, toward heaven.
What more can be said?  Grace is how we grow.
Image credits:  customgardendesigns.com, wsj.com (article)