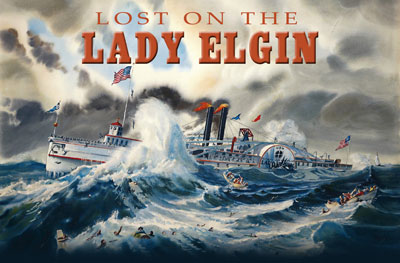 On a recent overnight trip to Mackinaw City, Michigan, I bought a thick book about Great Lakes shipwrecks and eagerly started it on the way home. Though a quick reader, I discovered that this is no quick read. The heartbreak, tragedy, and even the heroism that must be absorbed require a slower pace and frequent breaks. Near the end of the first section "Lost in Lake Michigan," one story in particular jumped off the page.
During the return trip up Lake Michigan in early September of 1860, the side-wheel steamer Lady Elgin carried over 400 passengers, including a large Irish contingency from Milwaukee who had, in high spirits, attended political rallies and conventions in Chicago during the day. With the help of a German band, passengers continued that festive spirit by dancing into the wee hours of the night, unprepared for what followed. When the schooner Augusta, having no running lights and a skipper who had ignored the earlier sighting of the Lady Elgin's lights, "…rammed into the Lady Elgin at the midship's gangway on the port side, tearing off the wheel and cutting off the guards into the cabin and hull," 1 the Augusta sailed silently away while the Lady Elgin immediately filled, listed, and rapidly deep-sixed, scattering its hundreds of passengers and crew into the dark waters. As survivors clung to wreckage of the steamer, they painstakingly and dangerously rode the waves into shore, where, after surviving ten hours or more on wreckage in open water, the indifferent, pounding surf drowned many while others "were smashed into the shoals and smothered."2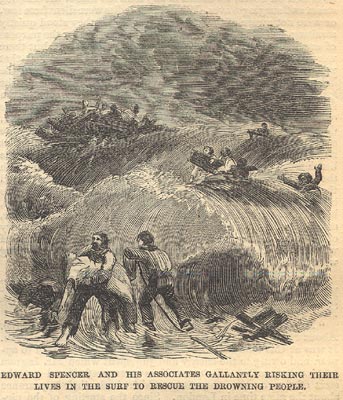 Horrified groups of people gathered along the shore, watching helplessly, wringing their hands. Meanwhile, a Northwestern University student named Edward Spencer, an experienced swimmer, tied a rope around his waist and began to dive into the roaring surf to rescue men and women. Over the course of six hours, with other students onshore pulling him back to safety, Spencer pulled seventeen people out of the treacherous water before losing consciousness himself. Battered, exhausted, and utterly spent, Spencer had one burning question when he awoke : "Did I do my best?" He repeated the question over and over to his brother throughout the night as he lay in the infirmary, "Did I do my best? Did I do my best?"3
"Did I do my best?"is a question that comes at the end, when we cannot do any more.
I found that it came at the end of my first year teaching high school English. Between students and curriculum, had I done my best? Had I wrung myself out for the sake of the students, discussing literature and life from a Biblical worldview? And, with the end in mind, would I do my best again the next year?
It's a question that comes at the end of a week of camp counseling. Have I done my absolute best with the campers in my cabin? Had I been more aware of their needs than my comforts throughout the week and worked to help meet them?
It's a question that must come at the time of life when children move out of their parents' house. Although it is houses and not lives the children are leaving, there is a transition, and parents must ask themselves, "Have we done our best?"
It's a question that comes at the end of life: "Did I do my best?"   Several friends and acquaintances of mine have died this summer. One man died in his ninety-first year, and at his wake, his World War II uniform and his written account of his part in the war were displayed, along with numerous pictures of children, grandchildren, and great-grandchildren, most of whom were there to celebrate his life and grieve his loss. Another friend was eighty-two, and her death was sudden—at the end of a trip to the local grocery store. When her family returned to her house later that day, they discovered jars of raspberry jam and crabapple jelly cooling on the counter. She had spent the summer morning canning, staying busy, just as she had spent her winter, quilting over a dozen personalized quilts for her great-grandchildren. Both were Christians, leaving a legacy of following God. Had they done their best? The children and grandchildren I've talked to certainly think so.
Even the Apostle Paul, when writing to Timothy before being executed, encouraged Timothy to do his best for Jesus, writing, "In the presence of God and of Christ Jesus… I give you this charge: Preach the Word; be prepared in season and out of season; correct, rebuke and encourage—with great patience and careful instruction" (2 Tim. 4:1, 2).  Paul asked himself, in essence, "Did I do my best," for when he evaluated his own life in light of that question, he wrote, "For I am already being poured out like a drink offering, and the time has come for my departure. I have fought the good fight, I have finished the race, I have kept the faith" (2 Tim. 4:6, 7).
Edward Spencer had been a divinity student at the time of the shipwreck and rescues. While he never completed that degree or became a formal minister, his …"soul-searching question was to inspire more sermons than he could have preached in his lifetime,"4 even becoming the inspiration for the old hymn, "Have I Done My Best for Jesus?"5
It has certainly inspired me.
________
1. Ratigan, William. Great Lakes Shipwrecks & Survivors. Grand Rapids: William B. Eerdmans Publishing, 1977, p. 45.
2. Ibid., p. 47.
3. wesclark.com/burbank/did_i_do_my_best.html
4. Ratigan. Great Lakes Shipwrecks & Survivors, p. 48
5. wordwisehymns.com/2010/05/08/today-in-1689-christian-von-rosenroth-died/
Image credits: niagaradivers.com, images.maritimehistoryofthegreatlakes.ca