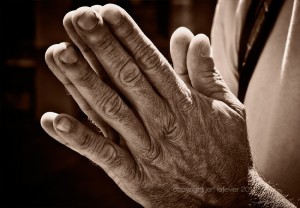 "We're all just one step away from being homeless," said Jeff LeFever in a recent conversation. Imagine what it will take for you to lose it all: a financial crisis, a corrupt bank, a fire, tornado, earthquake, a disease, a traumatic experience, an injury.
We all hang by a thread over poverty, confusion, helplessness.
"We are frail
we are fearfully and wonderfully made
Forged in the fires of human passion
Choking on the fumes of selfish rage
And with these our hells and our heavens
So few inches apart
We must be awfully small
And not as strong as we think we are."
- Rich Mullins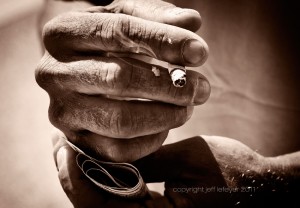 "It isn't just being without a home," added Jeff, "but the psychology of being homeless." Those are the feelings of worthlessness, lacking motivation, confusion, disconnected, alone. Most of us have experienced those words, know the taste of them. They can spiral us downward.
Jeff's recent triptych, titled, "Homeless," captures the Homeless Man surrounded by homeless hands. These are hands from the streets of Laguna Beach, holding money given to them on the street, money to get them through to tomorrow's sunrise. Jesus was a homeless man too. "Birds have nests," he said, "but the Son of Man has no place to lay his head."
While these homeless hands did not choose homelessness, Jesus did. He chose to join them to show the world the Kingdom of God, and render powerless the kingdoms of men. What can you take from someone who has nothing? How can you threaten him? Jesus invites us to take up homeless hands, like his, and do the same. If not in fact (for our hands may be full at the moment for God's purposes too), at least to detach from their illusions of meaning and power, to render powerless the darkness of this world with the only attachments being that of love for God and each other.
"Truly I tell you," Jesus replied, "no one who has left home or brothers or sisters or mother or father or children or fields for me and the gospel will fail to receive a hundred times as much in this present age: homes, brothers, sisters, mothers, children and fields—along with persecutions—and in the age to come eternal life. But many who are first will be last, and the last first." – Mark 10:29-31
It's odd how some Christians speak against groups that emphasize social justice, sounding as if homeless hands do not matter.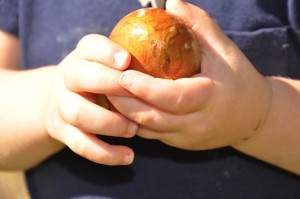 These are the hands God made. They are like our own. They are like my son's, here holding an avocado seed. Just because his little hands are familiar and less weather-beaten, does not mean they are more loved. God's hands were beaten too.
Homeless hands have stories. They came from somewhere. The canyons and craters and ridges all speak about a similar past. A scrapbook of metaphors.
Can you see the unspoken stories in nature's tattoos? These are your hands too.
Jeff work was recently hung on a humble church wall. The triptych makes consecrated space, lifting even an ordinary table of announcements and offerings into a sanctuary for all of us.
Jeff himself is poor, according to national standards, raising awareness about sacred spaces, helping us see what we do not see, helping us reach down and remove our sneakers, sandals, and high heels to stand on holy ground. That is his money he's given the homeless. They've adopted him.
When Jeff sent me the photo of the installation of this triptych at the church, I gasped, groaned, and nodded an assuring nod. I saw my neediness and my redeemer. I saw Him with fresh eyes. I am not too small to be reached: me, with a roof over my head, a thread away from homelessness, familylessness, friendlessness. I am not too small (nor too big) to take Him as my Shelter and my Strength, my Brother, and my Friend. The Homeless Man adopted me.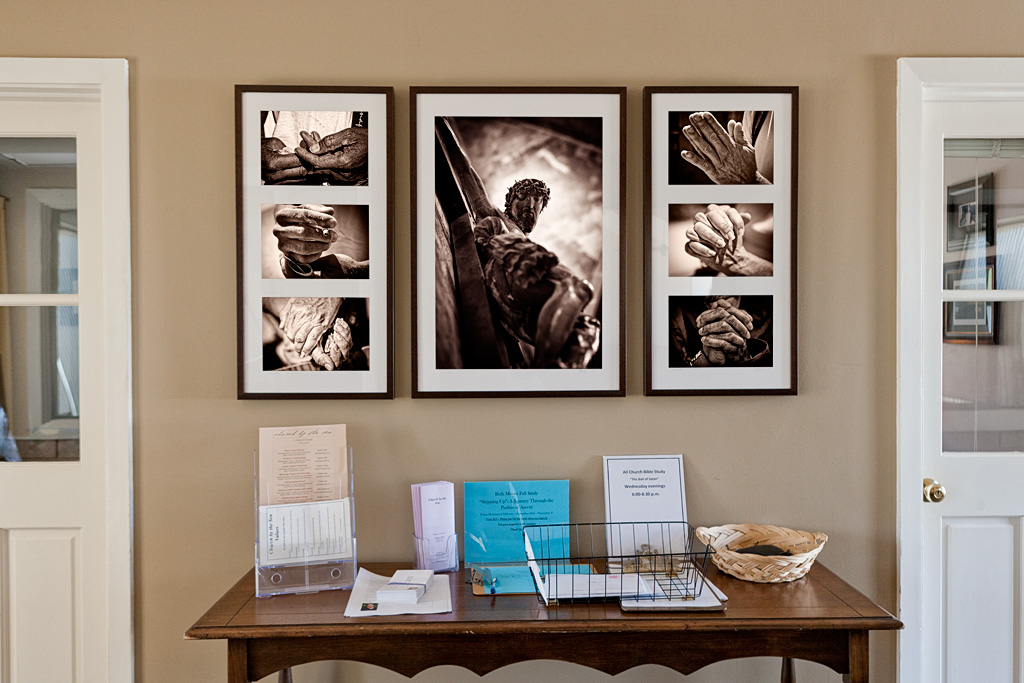 *If you'd like more information on Jeff LeFever's work, visit The Foundation for the Biblical Arts. You can also contact him at the site about contributing and installing a similar work in your home or your church.