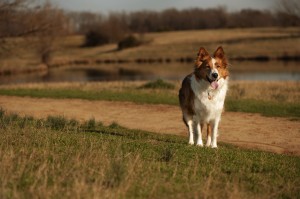 My wife and I have had AmyDog for almost 3 years. She is not your average border collie. She was a rescue and whatever her past was, she has developed some interesting quirks. We found a new one the other day. She, like any dog, loves to devour bones. We were at the store and saw one – a really big one – and decided to get it for our faithful little pup. We came home, opened the door, and immediately gave her this huge morsel of goodness. What did she do? For the next twenty-four hours, she guarded it, laid by it, and, if the cat got near it, she would chase the cat away. She refused to eat it or even nibble it. She just wanted to guard this amazing treat from ever being touched. Savannah and I sat there in amazement. "Why would she not enjoy it?" we kept asking each other.
Savannah and I are in the process of getting a newer car. We have been driving the faithful cars we got in our early years of driving and they have lasted a long time. Her car died the other day. "That's all right," we said, "We have been saving for a newer car since we got married knowing ours wouldn't last too much longer."  The money is sitting in the bank yet we do not want to use it. It's a lot of money, but money saved for this purpose. Still, we want to hold on.
Does our family have commitment issues or an inability to let go easily?  Or do these moments show us a deeper tendency we all face? Whether its money, our gifts and talents, or simply our time and energy, we do not want to let go.
I've found this true as an artist.  It is hard for me to let go of my work and leave it for the masses to judge. Doubt and fear can paralyze us all and make us turn inward instead of outward. The artist who has something truly great to say but allows fear to smother his voice is egotistical. He cares more for his ego than his art, his God-given gift, and his potential gift to others.
We all have things we hold on to because without them life would all of the sudden become uncertain – maybe not financial, but psychologically or spiritually. Sometimes this is a good thing, but it can also be irrational.
Maybe you have a hard time letting go of your time. You are busy and you try to hold on to as much time as possible by being tied to your calendar. But sometimes it is okay and even right to be fifteen minute late to a meeting to console a friend who is going through a tough time.  What is just and right will always be bigger than our priorities and perspectives. We have to learn to let go of those priorities sometimes.
So what are we holding onto?  What can you give your spouse that you are afraid to let go of? What about your neighbors? What about your community?
"We are not given a spirit of fear but of…love…"[1] because fear turns us inward; love turns us outward. Forget about certainty, even Jesus himself said we do not have the luxury of feeling certain because we do not know what tomorrow will bring.[2] Move on from holding on to things that can benefit those around you.  Let go.   The only life worth living is the wise and vulnerable one.