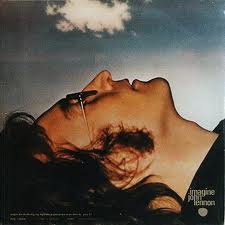 I consider "The Beatles" the first real band I came to love and the first CD I owned. I've always been drawn to John Lennon, and his words came to me in a unique way at the end of summer.
I'm walking with other students in the rain on our way to Buckingham Palace. We go down into a pedestrian tunnel and at the bottom of the stairs is a homeless person's 'bed.' But it's empty. I don't know if it's for a man or women, old or young. Blue sky and clouds decorate a small pillow, and it reads: "Above us only sky." from John Lennon's iconic song, "Imagine."  This is how I read it the first time. I think, Wow, let's be a little more original. I'm more interested in identifying this person a skeptic than understanding his or her plight. There is so much pain in the world, true. And if God were good enough– not even if He were powerful enough– but good enough, he'd take it away. But he doesn't often, so we are mad at him– so mad that we've made him extinct, erased him. Made ourselves forget. We don't even feel mad anymore. We don't feel anything. I don't want to think about it because it doesn't make sense and there is no easy answer. But shoot. Why all the pain?
We walk back again– the rain's cleared. The bed's still empty and pillow still face-up. It reads: "Above us only sky?" But that's not how the song sounds. That's not how it goes. The lyric ends in a period, not a question mark. Are they asking this question in the very center of displacement? The evidence to support surrounds them when they wake, sleep, eat, breathe. There is no God.
I re-learn here that beneath the biggest skeptic and the most sure non-believer, atheist, you, me, are thousands of questions that stem from the most basic ones in their gut. "Is God good"? "Does He exist?" "What is the point of pain?" "Am I okay"? It brings life back to the basics and to our, often, truest place. This person is without and homeless, yet–yet– asking.
Above us only skies?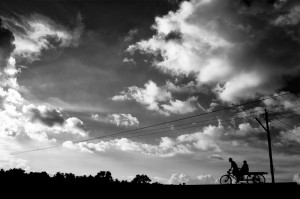 A close friend, Caitlin, recently went to talk to a priest she knows. Before he could say anything, she put out her hands, warning him she wasn't doing well and she was struggling to like herself. She told him it all boils down to one question: "Does God like me?" And he told her to keep praying and to pray her question. "Pray: 'God, do you like me'?"
Most periods are question marks in disguise, I think. And regarding this man or woman's quest for God's existence, I'm not thinking of an answer yet– not analytically anyway. I'm not sure I'll even go there. There is an sort of answer in asking the question at all. Davin Hansen in his A Little Handbook on Having a Soul, responds to a wife's concern about her husband, Nick's, new-found atheism. Hansen says, "The God he [Nick] believed in before wasn't worth believing in anyway; maybe now he can start believing in the real God" (Hansen 39). While this homeless person is still asking questions, there is still hope. But then why ask if reality often brings on more pain? Isn't ignorance often bliss? But what if they never ask? Either way it's a gamble. Why ask the hard questions that, forgive me, scare the shit out of me? If I don't ask, I'm trapped. And if I do ask, I may still be trapped. So why don't we ask the hard questions? Because we're afraid. Then, why are we afraid? I think it's because we're afraid of death or a sort of death. I am afraid that when I ask my question that there will be nothing on the other side and that my question and I, essentially, will fall through into nothingness.
Alone.
What if this person gets an answer to their question and it's true that there are only skies above and no angels to watch over us? Is there any virtue in asking?
Lennon ends his lyrics with periods. I want to believe they are question marks. No doubt is too big or unforgivable. Maybe his solution isn't complete, but I'm taking my cue from him. Lennon once said, "I'm not claiming divinity. I've never claimed purity of soul. I've never claimed to have the answers to life. I only put out songs and answer questions as honestly as I can… But I still believe in peace, love and understanding." After a surviving a broken childhood and a world with three major wars, he asks the right questions. He looks for a God and reality who are bigger and truer than the one he knows. He won't and didn't stop till he found it. Maybe he found the better God. He and Mr. Pillow Person are brave and vulnerable, to be sure. Their questions are out in the open in our faces, and they are trying to bring us out of our stupor and willing God to answer.

Image Credit: trekearth.com, jpgr.co.uk