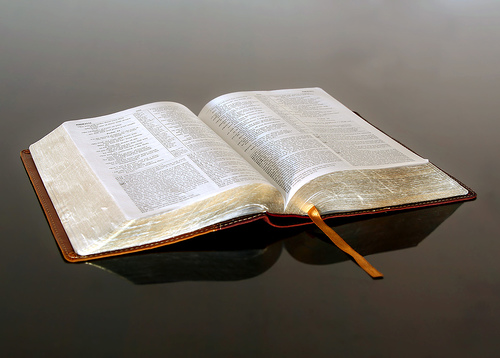 When I first tried reading through the Bible in a year, I kept seeing reruns of "The Brady Brunch" in my mind.
Let me explain.
I grew up in a family that faithfully went to church. My brother, sister, and I attended Christian schools. We memorized Bible verses for both church and school, and we read portions of the Bible as assigned through Sunday Schools, youth programs, and Bible classes. When I was a teenager, I found I enjoyed reading the Bible on my own and did so through personal devotions. Constantly exposed to Scripture and Bible stories, I figured I had a decent grasp on the Bible, though I knew there were corners I had not yet explored.
I had not tried reading the entire Bible through in a year at that point. Leviticus in the King James Version is no easy read, to say nothing of Ezekiel. Rather tough going, I thought.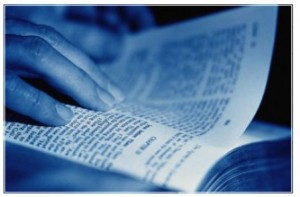 When I starting moving in different Christian circles as an adult, I started reading the New International Version (NIV) and found it very readable, including Leviticus and Ezekiel. During my time as a full-time high school teacher overseas, I kept to daily devotions and Bible studies but never did read straight through the Bible. When we moved to our spot in the country here in northern Ontario, I decided I would finally tackle this challenge and read the Bible through, chronologically, in a year.
So I purchased a copy of the Bible that laid out the daily readings for each day and that organized the readings chronologically. I would be reading the events of the Bible close to the order in which they actually occurred. And, man, I was excited.
The year began. There I was, in January, plugging away at Genesis and then Exodus, enjoying it all immensely, when—as the month progressed—something strange started happening during these quiet, early morning readings. My mind started replaying television shows.
I grew up in a family that constantly watched television. My brother, sister, and I watched television daily. We watched shows after school and after sports practices, and we watched shows on the weekends. When we were teenagers, we found we enjoyed watching shows after our parents went to bed. Constantly exposed to television, I figured I had a decent grasp on the culture around me, though I knew there were a lot more shows, programs, and movies out there.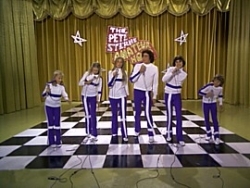 And so, memories of these shows—most of them innocuous and neutral, though some inappropriate and largely, I thought, forgotten—started inexplicably surfacing as I read through the Bible. The show that kept popping up the most, probably because I watched episodes almost daily for years at a time, was "The Brady Bunch." There was Marsha's broken nose in the middle of Joseph's reuniting with his brothers. There was Peter's volcano, erupting as the Passover Angel appeared in Egypt. There were the six Bradys bouncing and singing, "I'm gonna keep on, keep on, keep on" something or other, right in the middle of a long list of Levitical dietary laws.
That first year of reading the Bible was tough going, not because the Bible itself was obtuse, but because I had a constant fight to focus my mind on the Bible. Hours that I'd sown in watching television, I now reaped in distraction. I don't know how much of my childhood I spent in front of the television. I know my brother, sister, and I were active outside and active in sports; I know we read books; I took piano lessons and practiced daily…but the television was constantly on, and I was constantly in front of it. When I was fifteen, I started choosing not to watch. High school homework, sports schedules, piano, and other interests started prevailing, including—significantly—a more steady devotional life.
Since that first year of battling my own ability to focus while reading through the Scriptures, I am still attempting to make my way fully through the Bible each year, and it is rich—rich—in the reading. Memories of television shows do not, mercifully, distract me during the reading anymore.
But they did.
I wish I had watched less television in my youth.
And I wish I had not waited so long to approach the Bible as a whole and read through it.
__________________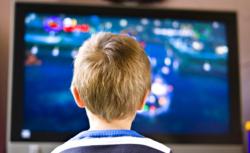 Some statistics:
How long could it take to read through the entire Bible? 76 hours.  Check out Zondervan's NIV Audio Bible Dramatized CD.
How much TV does the average American watch? On average, when a person reaches age 65, he will have spent 9 years watching TV.
Image credits: tbcmilton.com,
complementarityandculture.com,
sharetv.org, slate.com