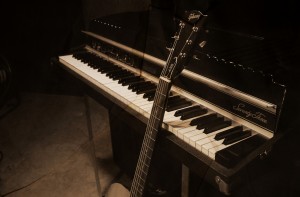 My fingers were typing a furious beat. My eyes were jumping back and forth from my computer screen to my professor. It was like watching the conductor, and I tried to keep up with his tempo. I straightened my posture, scooted forward into my desk and kept typing in sync with his words. This score was a new melody to me, but it felt like one I was meant to play. Why hadn't I heard it before?
This man said something new to me, lecturing on his Jewish faith, with passion and kindness. Growing up in the Bible Belt, I did not experience much passion coupled with kindness. And troubling passages in scripture that created tension in me over the years were soothed by his interpretations and demeanor. I told my wife after one day with him, "I feel like I have finally come home."
I was home. What I found that year was a man speaking of wisdom far older and greater than anything I had known. I learned for the first time that the foundations of my Christian faith were laid on the cornerstone of Judaism.
At this point, the melody that resonated so strong and naturally in my soul became uncomfortable. Was I falling for Judaism? I started to quickly scan through the many melodies I learned in Sunday school. Those stories didn't feel real or honest. Panicked, I stopped listening to my professor or noticing I was even in a room with 60 other people. I interrogated myself to find out if I was a traitor. But almost immediately, I felt a tug in my soul. I was being wooed by the one thing in Christianity that would not let go of me.
It was the Trinity — Father, Son, and Holy Spirit as one. Yes, the one doctrine of Christianity that most Christians have trouble grasping, was the one thing I could not give up. The Trinity displays the personhood of God: community, love, and relation through the Father, Son, and Holy Spirit. This means in God's very nature is love and relationship. Moreover, this is the only way God can be loving and self-sufficient. If God is loving, who was he loving before creation?
The Trinity helps me understand why we are who we are. We are social beings. Our souls are sculpted to look like our Maker, relational and loving. Our lives are shared with equals: family, friends, lovers and even strangers. My reason to be loving in my relationships flows deeper than mere commandments from a scary guy in the clouds with a white beard. It is written on the pages of my soul.
I walked out of that classroom with peace and understanding. I learned that, just like any great piece of music, my faith develops through the tension and resolution of many melodies. The various melodies of God's people — both Jewish and Christian — intertwine, harmonize and dance in God's masterpiece.
Everyday I wake up eager to play these melodies out, and hopefully learn some new ones that belong to this grand score in which we all dwell.