Spring had yet to find its voice.
The trees that surrounded me stood in a laconic manner, and the wind moved in stiff patterns. My steps, soft upon the corpses of last year's leaves, carried me toward the edge of a cliff, the shy sunshine working as hard to rouse my mind from its nightly hibernation as it did to chase away the frost beneath my feet.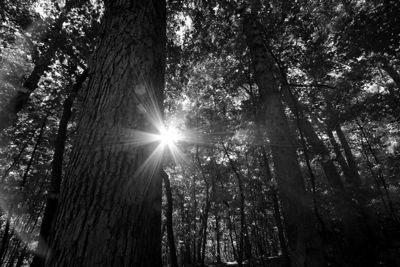 Aside for a few thoughts dripping from my head to my lips, expressing gratitude for another daybreak, there was little pursuing me. I liked it that way. That's why I had come. I needed the subdued and sturdy worship found in the winding aisles of Rock Bridge State Park.
When despair for the world grows in me, I, like Kentucky poet Wendell Berry, often try to enter into the peace of wild things, "who do not tax their lives with forethought of grief." I know the embrace of trees anchored in three different pastures in Northwest Illinois. I know the fortitude of rocks shoved down mountain slopes in Colorado. I know the promise of stars lighted in the open skies of Nebraska.
It makes me wonder if I spend too much time confined to the walls of my church, stuffing myself with programs and conditioning myself with the liturgy of ringing guitars and pounding drums. I can't help but think that the bible is meant to be read outside, as much as, if not more than, it's dissected in our classrooms or waved from our pulpits.
Pick any Psalm. Notice the imagery. David, the most prolific Psalmist, didn't write in the quiet corner of the public library. Many of his songs were penned on mountains or in caves, running from danger. These places overwhelmed David's imagination:
The mountain peaks belong to Him.

The mountains melt like wax before the Lord.

Before the mountains were born or you brought forth the whole world, from everlasting to everlasting you are God.
The goal is not to master solitude or to become experts at having a "quiet time." Too often this mentality leads us to make demands and mark achievements, essentially reducing it to a comfortable system instead of an uncomfortable encounter with God. It looks too much like the summer I lived in Rocky Mountain National Park's backyard and wanted to "make the most" of the hiking. I netted 120 miles but left little room for enjoyment and wonder. The pace: fast. The scenery: blurred. The pull: Conquer. I made myself feel important, as if I exerted a form of control of the majesty beneath my feet.
David's experience of relocation awakened a sensitivity to God's movement and trained him to relinquish control, thus drowning out the ego-inflating chorus of the day, "Saul has killed thousands, David has killed ten thousands," with a song marked by the language of less, "The Lord is my rock, my fortress and my deliverer; my God is my rock, in whom I take refuge."
I'm aware that space doesn't guarantee relief from life's pressures and demands. What haunts me in the office usually seems to find me in the woods of Missouri. But, I try to be persistent in seeking out such times, knowing that walking with God is not tidy, neat or orderly, and that the more room I give to my life, the more I know who I am and, as David showed, who God is.