The bike path drawn alongside my grade school ran straight and black.
My 6th-grade cross country coach made us trace this mile stretch over and over early in the season, until my will was as worn as the souls of my shoes. Run out. Run back. I didn't see the point. I missed the creativity and improvisation of making passes or shots on the basketball court. I coveted the distinction of a game-winning home run or a Hail Mary pass. But more than anything, I hated the monotonous work running demanded of my lungs and legs. So I quit.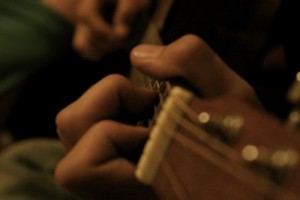 This theme recurred countless times in my childhood as practice tended to make for more problems than perfection. I quit the guitar because strumming remedial cords seemed like torture to my bone-thin fingers. I avoided tryouts for the soccer team because I had heard rumors that it would be grueling. I failed to make the basketball team my freshman year because I wasn't willing to put in the work to get into condition.
Many quit following Jesus for much the same reasons. They look at the road ahead, wary of the discomfort of having no place to lay their head, wary that it will take more stamina than they care to exert, and stay home. Or they might even take a couple steps, only to turn back when they encounter a steep climb. I think of a dear friend from college who, after a year studying abroad in the United States, wrote me this letter several months after returning home:
We all knew when I left that it would be very hard for me to go back to France. Well, it was nowhere close to the truth. It has been so much harder. Doubts and suffering have been so intense. I felt like God was asking way too much from me, contrary to his promise. And despite my desperate prayers for help and support, I was getting nothing but silence and indifference. You know, it hurts so much more when you expect great things from someone and you finally don't get anything at all. So, that's how my walk with the Lord ended. Believing had become too hard after so much suffering.
In Pilgrim's Progress, Christian comes to the end of a valley, only to find another one called the Valley of the Shadow of Death. The road to the Celestial City runs right through the middle of it. As Christian is about to embark, two men, quickly retreating, try to dissuade him from going on.
"Where are you going?" asked Christian.
"Back! Back!" they exclaimed. "And we would advise you to do the same thing, that is if you prize either life or peace."
"Why?" questioned Christian. "What's the matter?"
"See!" they exclaimed. "Why, the valley itself, which is as dark as pitch. We also saw there the Hobgoblins, Satyrs, and Dragons of the pit. We also heard in that valley a continual howling and yelling, as of people under unutterable misery sitting there in affliction and irons. Over that valley hang the discouraging clouds of confusion, and death also spreads his wings over it. In a world it's completely dreadful, being utterly without order."
Then Christian said, "In spite of what you've said, I still see this as my path to the desired refuge."
Sometimes I wonder what I would tell the younger me about perseverance. How would I push him away from his laissez-faire trajectory? How would I help him see the value of training without shouting "Suck it up, be a man!" and "Quitters never prosper!" and "No pain, no gain!"
Author Eugene Peterson says faith in America is not accustomed to the hard-traveling way of perseverance because it is "clichéd into a feeling or fantasy or disposition – a kind of wish upwards, an inclination indistinguishable from a whim and easily dissipated by a gust of wind or the distraction of a pretty face."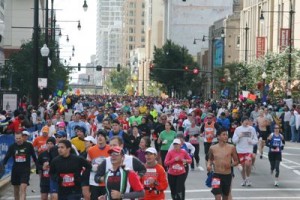 If you've ever trained for a marathon, you know what he means. You just can't wait to run until you "feel like it." You have to face the discomfort of going 4 miles on a 32-degree morning. You have to contend with emotions that prefer the confines of bed. You have to tend to shouts coming from your ankles and knees.
Perseverance is as much about vulnerability and sacrifice as it is about guts and grit.
To "run with endurance the race that is set before us" is to let go, to abandon something of self. It is principally an act of faith.
Note: The title of this post is pulled from the similarly titled book written by Eugene Peterson.