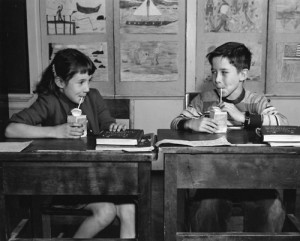 They must! Throughout all of college I have had a mixed group of male and female friends. Friends are extremely important to me, and that is regardless of being a single, young woman. I have always had good female friends, and I will fight until kingdom-come for the importance and necessity of those relationships. But within the past four years or so, I have experienced the benefit of having male friends. I've heard it more than once that men and women can't be real friends. Because we're sexual or something. Sure, that is a real concern and a part of us that needs to be acknowledged as humans and as males and females in mixed-gender relationships. Maybe this dynamic will change as we grow up and grow beards and things and get married. But there must be more. That's why my approach to this question is more positive.
Talking with a favorite male friend of mine this weekend, I teased him about how obsessed he is with feminism and clearly outspoken he is about his pro-feminist stance. "You are far more vocal about my gender than I am," I told him. And yet, then I realized that I appreciated this a lot. However, I also told him that I often feel more strongly about defending masculinity and men than women.  As an American woman I don't feel very threatened. This may partly have to do with the fact that I am a white woman, so I don't have to deal with being a victim of racism. But I feel pretty good about being a woman in general. I am a woman. I am made in the image of God. God must like me as a woman. I mean, come on, he chose a woman to carry his son. Mary is the first Christian saint.
In America, women had their movement. People swayed between extremes and things got confusing about what feminism actually is, but a lot of good has come from it. Hopefully women are more a part of society now than they were before. However, at this point, I think that men in America and in the West may need to be fought for more than women. The stereotype and value of a 'man's man' still holds a lot of weight. Not to put them down, but conservative, evangelical circles still promote this image as the image, unwilling to acknowledge that the male gender, as well as the female gender, is expressed in vastly different but all true way. Mark Driscoll says gay men are no longer even male. They have de-masculinized themselves, in a sense. As a woman, I feel I must defend my male brothers against these kinds of attacks. I must advocate a truer sense of masculinity than what Driscoll seems to. (I know, I know — he's an easy target).
Men have shown me the gentleness and love of God. Their displays of vulnerability have helped make way for me into my own.
_______
Image credit: tumblr