My wife, Savannah, and I were having dinner with some friends the other night and I began asking them questions about music in the church. Like me, he plays guitar at his church and, like Savannah, she has heard a lot of Christian music because of his role at the church. The conversation was foggy with mixed opinions.  How is music used in the church today?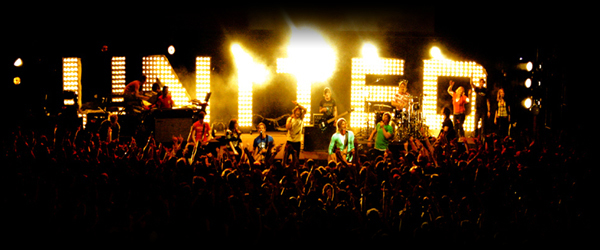 As we talked, I realized something much deeper running under the surface about friendship and music. You see, Savannah and I have friends we are able to come to with concerns, thoughts, and struggles and can expect a true dialogue about it. There is a mutual respect and shared care for each other. We can hang out with no agendas. We can walk into each other's messy houses. All of which is adding scenes to our journey with this other couple.
As I reflected on this relationship, I became aware that this is rare for my generation. You walk into a coffee shop — once a place for people to come together — and everyone has built their own island: laptop, earbuds, and drink. Or even worse, you meet a friend for coffee and you find he looks at their phone more than you. We hide from vulnerability through a peculiar dissatisfaction with what we are immediately confronted.
So what does this have to do with music in the church? My generation is enchanted with experience. Experience is passive in that it describes a time where you are effected without having the responsibility to reciprocate. A roller coaster is an experience. Walking into an Apple Store is an experience. Checking your twitter feed is an experience. There is nothing bad about having experiences until it comes into arenas it should never enter. Because the nature of experience is that it never confronts you or asks something of you — there is no need for response. It is self-centered.
This is what has happen to music written for the church. We advertise "worship experiences" not even realizing that those two terms are exclusive. Worship is interaction. It is a response in our dialogue with God.  It is not a time for God to act upon us, but a chance for us to corporately answer to His gestures of love, grace, and mercy in our lives. When worship is through the medium of music we have a unique opportunity to creatively transcend mere words and to convey these longings of our hearts. We do experience emotions during musical worship, but not because we are being swept away by musical crescendos and repetitive chorus. For a moment, we have an entire congregation joining in one voice in a creative, transcendent dialogue with our Creator. Such unity, selflessness, and honesty should stir emotions.
And this is the great responsibility of the songwriters in the church. They are to continue the dialogue. Each song should add something to the conversation. And the church needs to demand this from its artists: "Wait, didn't we sing almost the exact same lyric in your last single?" What would our friends think if Savannah and I just continued to try and have the same conversation with them every week?  In the worship "hits" of today I find less dialogue and progression in music and more formulaic production and falling back on cliche phrases. Is this all creative image bearers of the boldest Creator can muster up? No, I don't think songwriters are giving enough credit to themselves or the church. But if the church and the artists continue to let experience drive the arts it will never go anywhere beyond having to effect people's emotions and passions.  The music within the church has become an opiate for the masses instead of a chance to join together in proclamation and dialogue with God.
But we can learn a lot about our dialog with God from our everyday lives. Savannah and I are blessed to have friends who we can dialog with regularly. We do not hang out with them because we need the experience of being with friends. We hang out with them because they reveal new aspects of our lives to us, and we to them. We form each other into better people. At every meeting we are all  engaged with each other in respect and love. Now how can we capture this respect and beauty in our dialog with God?