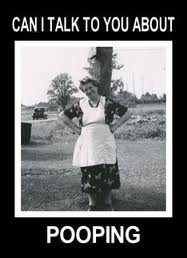 Last year, a few weeks before our daughter's fourth birthday, I gave her an ultimatum: Start regularly using the toilet, not underwear, or there would be no princess birthday cake.
She had the basics of potty training down, except that, for whatever reason (passive nature? hates the mess?) she often tried to ignore oncoming bowel movements. My ultimatum worked. Gritting her teeth, she muscled her way through those weeks, making it to the toilet in time, and I exulted in my sudden and consistent freedom from rinsing out underwear then washing out rinsed out underwear then laundering the washed out underwear. That stale smell, evidence of the cleaning process, finally left my fingers and hands.
What a relief.
And it lasted! About a month. By the end of the summer, we were back to occasional toilet visits. We are still there, in the wasteland of uncertain toilet training.
If you have now or have had small children, you perhaps understand my feelings on this topic. My feelings are quite basic: GO TO THE TOILET!
We have four children, and this particular child is third in the birth order. Our older daughter, the first-born, was potty trained with a minimum amount of fuss and almost no accidents. This toilet training business isn't so bad, I remember thinking. Then our son came along, and because his toilet training history could easily make for an entire book or a series of stand-up comedy routines, let me just say that he took years to get fully accomplished (and he still has lapses). Our youngest is two and still in diapers most of the time (ok, all the time), which leaves the third child and this persistent issue. Some days: no problems. Other days: she goes through five pairs of underwear.
A few months ago, my frustration had built itself to the point that I answered someone's phone greeting of "Hi, Susan, how are you?" with, "I'm sick and tired of other people's poop!!" I was getting sour and off-kilter. My calling friend, whose kids are older than mine, immediately sympathized and offered, "Are they getting sick? Sometimes that happens to mine when they get sick." She also let me do a bit of ranting and shared, after I had asked, her approach to the problem of unwanted things in children's underwear. It helped to know other families were dealing with this issue.
Another time, my husband and I got fed up with multiple kids having this issue at the same time. After we had gotten kids into bed for the night, I looked up some group discussion pages online about this issue and proceeded to read aloud some of the questions and answers offered by the other parents in a variety of characterizations: French-Canadian, Southern redneck, Singaporean Singlish. I exaggerated the characterizations, and we had a good, stress-relieving laugh. The next day, we were back in the trenches.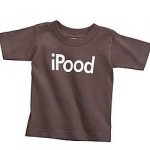 Usually, the cycle begins with a question, then a smell, and then another question.
Me:  "Hey, do you have a problem in your underwear?"
Pre-schooler: "Um…no."
Me: (Sniffing) "Would you like to give me another answer?"
Pre-schooler: "Um…no."
Me: "Come here so I can check your bum."
Pre-schooler: (Runs away)
Me: (After a chase, catch, and check) "Well, well! What do you call THIS? Go to the bathroom right now."
One day, not too long after I thought she was making some kind of progress, she reverted, and we went several rounds in the bathroom. At some point during one of these stinky cycles, I lost my temper and yelled, "WHEN ARE YOU GOING TO LEARN TO GO IN THE TOILET?"
A still, small voice — not my child's — said, "As soon as YOU learn patience and love, no matter what."
Two seconds before, I had been so full of heat that I could have exploded. After this nudge, I was like a balloon, suddenly popped. Immediately, I got gentler and quieter with my little blue-eyed blonde. I hugged her. I apologized for losing my temper. She, always loving, forgave me. And, together, we turned a corner in the great struggle.
These days, there is a colorful chart that proclaims, "Potty Training Chart," on the wall of the kids' bathroom. Our daughter gets to put a Dora sticker on it every time she does her job in the toilet; after she completely stickers a row, we go out and buy a treat to celebrate her accomplishment.
I don't have a sticker chart for showing love and patience.
I don't get a treat after each instance of kindness and gentleness.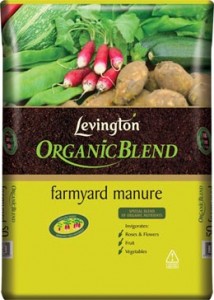 I can, however, grow, through and because of all this stuff, remembering that in the garden centre business, the stuff that is highly prized for growing beautiful plants is usually messy. It's called manure, and it carries the stuff necessary for facilitating life.
________
Image credits: greetingcarduniverse.com, begifty.com, crocus.co.uk