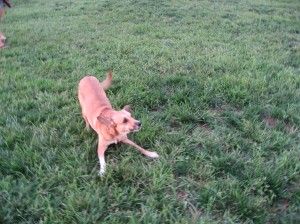 We got Patience back in 2002. My husband and I had spent months searching the Southland for a dog when we found her, tucked away and asleep in the corner of the Pomona Humane Society. She was the last of her litter, the runt, and I knew I had to have her. I sent Paul to get the adoption paperwork started while I stood guard at her crate to be sure no one else swept her away. After a few minutes, she woke, looked up at me with a bored expression and yawned.
It took me awhile to settle on a name for her because names, and the act of naming, are so important to me and because none of the usual names seemed to fit. She had an affinity for destroying shoes and was such a challenge to train that I ended up naming her Patience, saying that I either had to give her that name or take her back to the PHS. But, eventually, she wore grooves into my heart, and there was no letting her go.
In those days, we lived on the second story of an apartment complex in Azusa, California, near the campus of Azusa Pacific University. Patience and I spent several hours each day walking up the stairs. Her little body shook in fear every time she took a step up or down those huge steps. But soon she got the hang of it and raced those steps with unmatched enthusiasm.
Last week things changed. I took her to a vet specialist to find out the cause of her sudden blindness. On our way there, I guided her down a flight of stairs, and her whole body trembled with each step, so much like she did when she was young. My heart ached in the remembering, and I thought, "It's not supposed to be like this."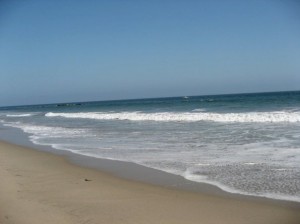 It's the same ache I get when I plow through the news. The same ache I feel when I stand barefoot in the sand on Laguna Beach looking out on the Pacific or when I listen to Pachelbel's Canon in D. It's a longing for something just out of reach. It's like I'm homesick for a place I've never seen, that I'm haunted by heaven.
Germans have a word for this longing, this desire for something we cannot quite define. They call it sehnsucht, which often translated as "yearning" or "longing," but has no exact equivalent in another language. Sehnsucht figured prominently in the work of C.S. Lewis, who described it as an "inconsolable longing for we know not what." Lewis believed that if we find in ourselves a desire for which no experience in the world can satisfy, then we must be meant for another world.
In the prelude to his book, Renovation of the Heart, a cornerstone book on the nature and process of spiritual formation, Dallas Willard points out that this desire not only allows us to peer in on "another world and another life," but it also gives us a glimpse of what we can pull from that world into the world of the here and now. Willard says that the New Testament fleshes out what is actually possible in this life, that our life can be like "rivers of living water" and that we will "be able to accomplish abundantly far more than we can ask or imagine."
Willard argues that few Christians actually grab hold of these promises because of the distance we see between our life and the life we see described in the New Testament and because we don't approach life in the right way. "The perceived distance and difficulty," Willard writes, "of entering fully into the divine world and its life is due entirely to our failure to understand that 'the way in' is the way of pervasive inner transformation and to our failure to take the the small steps that quietly and certainly lead to it."
Spiritual formation molds us into the kind of person that will be at home in that other world we desire, that place free of death and decay, the one we see only in the corner of our eye.
Halee Gray Scott, PhD, is an author, independent scholar, and researcher. She is joining the Soulation writing team as a regular contributor at Positively Human. Her previous contribution to Breakfast Reading explored the fundamental role of place in our human existence.