Your body is a voice. Well, it's one of your voices. Just like your dreams or your thoughts, your tantrums or creations. But it's also your truest voice. The body is tuned into the heart and speaks for it as the heart's mouthpiece. I am a firm believer in the "abolition of the heart." (So, maybe I'm playing off of C.S. Lewis' Abolition of Man. Here, you can have the credit, Clive.)
But, really. The heart is often caught in the mind's clutches. We have been told for centuries now that the mind (head) is the seat of power, of rationality. Well, I think that's poo-ey.
A couple of months ago, right after graduating from college, I came down with mono. BAM! Fever. My body had had enough of being run-down, commuting, eating badly, and getting no sleep. No "Kelsey" time either! I learned my lesson. I hope. Something was wrong. Also, I was anxious, depressed, feeling hopeless, guilt-ridden, impatient, and pretty much leaking and rough around the edges. I have a history of being generally fearful and guilty, and a I'm-on-the-outside-can't-do-anything-get-anything-right look at myself in the world.
That kind of stress, caused by ones own psyche, developed and habituated over time, takes it toll. Couple that with stress from societal expectations and the day-to-day grind of work and responsibilities and excessive, obsessive push to be busy and perform, and it builds up. Unless you do regular maintenance work, like rest and eat right, and create space for your soul to BE, which I didn't do for the last year.
I neglected my own "life-force," thinking "I" knew better, that I could handle the impossible. That was the first clue and also a delusion I believed about being young. Then my body said, "Park it on the couch and sleep for three weeks. Then we'll talk. We're going to take this very slow and relearn some things." For weeks, I couldn't go to the store without getting "noodle-y" legs or needing to take a three-hour nap.
Growing up, and until a couple years ago, I would pass out or get nearly there, whenever I went to the doctor or when people talked about sex. I was frightened of my body — of what could be done to my body, of its vulnerability and gateway to my emotions, of being out of control. Shame and depression were my answers until relatively recently when I began to look at myself — body and all — and the fears were worse than the reality. After experiencing panic attacks my freshman year of college, it was enough. I couldn't take it any more. I was driven by necessity to explore the relationship between all of my "selves."
So these selves. Some are represented by the heart and mind. The mind is not just rational, or primary, and the heart is not just passionate and easily swayed. These are popular and mostly false understandings of each. The heart is not an object to be "figured out" so much as to be acknowledged for its mystery.
In his book, Bread and Water, Wine and Oil, Fr. Meletios Webber, a red-bearded, jolly British Abbot, whom I had the privilege of hearing speak once, writes, "A mystery is an area where the human mind cannot go, and where the heart alone makes sense, not by 'knowing,' but by being. The Greek word mysterion leads you into a sense of 'not-knowing' or 'not-understanding' and leaves you there. All a person can do is gaze and wonder; there is nothing to solve" (italics, mine). The human heart needs space, rest, companionship, meaningful work. If you let it air out, it will be able to take some fresh breaths and lead you where you ought to be. It needs to speak first, or better, able to "be" before your whiny, demanding, rationalizing, truth-bending, figure-it-out mind does. Like that annoying kid that you always had in your class year after year who interrupted the teacher, or even now, has an opinion about everything, thinks they're pretty awesome, no, really awesome, and you can tell, doesn't care to listen.
Your heart — that itching feeling in your gut when something's not quite right or IS, that truly rational (in the best sense) and passionate part of you, and your conscience, your inclination to be kind to yourself and others — and the spirit of the heart, or nous, is subtle, and (dare I say) like God, in that it will not go, it will not push where it is not asked. It will suggest, with the body for an example, but is subtle and will not force its way.
Try mediating, try breathing and closing your eyes for five minutes at a time. And women, we never thought there was an upside to our "time of the month?" Well, I think it's our body's natural way of prompting us to take a break every few weeks and rest.
This is one of my favorite ways to meditate: a video on Mindfulness, lead by Jon Kabat-Zinn: He does a great job of connecting the simple, involutary action of breathing to your overall consciousness.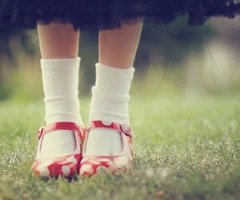 This is not a call to be exclusively "navel-focused," but plugging into your whole self — mind, body, heart — plants you on the ground, in a world filled with real things and real people. Well, into reality, startling and painful though it may often be. But we want what's real, right?
________
Image credit:
flickr.com/photos/hotcherry