"People can do nothing without God, but God will do nothing without people." Or so Saint Augustine said.
I visit a small parish in La Jolla, Cal. They have a choir of no more than 10. No instruments, just the voices. Lots of singing. No, mostly singing. They call this "smells and bells." And then, a little more than halfway through, a man, a shepherd for souls. This week, Father John celebrates Pentecost. When the Holy Spirit descended on the apostles. I think of it like Christ "cashing in" on the promise he made to his followers. So they would never be left or forsaken.
And because this Life is within people, Father John says this is why "propositions won't work, people work."
No matter the outcome of the upcoming election, Jesus is still King, and we can still and must do a great deal to enrich our lives right where we are. And this is the hard part — the daily grind. Real change and life happen where the Spirit and spirits are present. God is present in people, and this is how the world is changed. Christianity is not about ideas alone. This would be to miss the point completely. We are incarnational beings surrounded by others made in the image of God — Christian and 'non' Christian alike. This is the page on which we should interact. Ideas are sometimes helpful, but moving from them as our center is precisely the neurosis of the last three hundred years.
This daily awareness helps us to become more human. It connects us with the people who make our food, are in need, are growing up, are sick or just okay. Anne Lammott said, "Jesus has no arms but ours to do his work and to show his love."
Here are a few of my ideas to be present in my community, practically. I'd love to hear yours!
1. Visit your local "Friends of the Library" bookstore and library.
I recently visited my special boy in his hometown, and we took a walk to his library and the bookstore adjoined to it, which gives its proceeds to the library. You have a book you're looking for? A book just out? Library bookstores are usually pretty good about turning around inventory and having new releases available at almost free prices. Consider looking there before you buy on Amazon. Libraries are having major cutbacks these days. Mine is closed the first Monday of every month. Sometimes that means I don't get to rent "Runaway Bride" for the 17th time. Go support yours.
2. Find your local farmer's market.
Almost every town has one these days. Organic. Healthy. Creative. Grassroots. Doesn't get much better. Also, farmer's markets have what is in season in terms of produce. Strawberries are in season now. They're not in February. Yet, somehow Stater Bros. keeps them in stock year round. I'm not complaining, but it's something to think about. This 'seasonal awareness' helps me connect to where my food actually comes from and the world outside of suburbia. Help support the little brother and sister and the great stuff they create.
3. Be a part of a meat/produce co-op.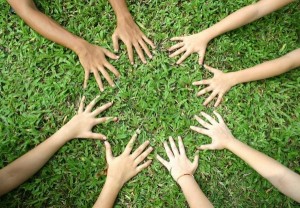 Whether you are single or married, sharing produce with other individuals and families can be cheaper, more nutritious, and a great way to build community as well as support local business. If you are house sitting, like me, take all of the tomatoes that will die before the family returns! Hey, you're keeping their plants healthy. Just saying.
4. Host/plan a progressive dinner with your neighbors.
So, it might be awkward if you've only said "Hi" twice in the last 15 years, but it could be worth it. I do a horrible job of getting to know people who live right next door to me. Consider praying for them. Who knows? They might not have anyone doing that for them.
5. Creatively inclined?
Whether you write, paint, act, sing, play bagpipes, or interpretive dance, host a salon night of the arts in your neighborhood, at your church, in your town. Explore art and expression with others! Connect. Connect. Connect. And enjoy.
At the beginning of the my last semester of college this February, one of my professors gave me this charge, which she gives to all of her graduating seniors: That, after four years of being poured into, I, we, would now give back. To our school, our community, our families.
My best friend is being brave, moving out on her own and supporting herself. She worries about breaking even, but she told me recently, "There's always enough to share. And it just seems like there's more to go around when you share." And this is the way the world works. We find our lives, happiness, purpose, abundance, in the lives of others.
________
Image credits:  flickr.com/photos/cubagallery and meetgilad.com