To my friends, I am known as Hoops. To my family, Brandon. To my grandpa, I have another name.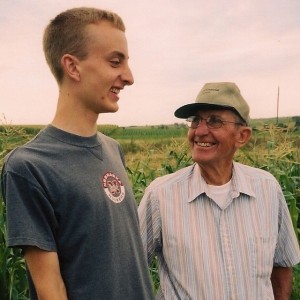 I don't know why he uses this name. But I love it. To hear him call me Butch brings me great joy. It shows his affection, playfulness, love. It tells me I have a special place in his heart. In a sense, it is his blessing.
Names can affirm and place us, or they can haunt and disconnect us. I think of Jacob's story in the bible. Here's a guy whose name had a name with baggage. Heel-catcher. Supplanter. Deceiver. Liar. Scoundrel. He carried this weight wherever he went.
Then sweat-soaked and hip-sore we find Jacob clinging to the waist of a man he had wrested with through the weary hours of the night. The man's face was hidden in the dark, but Jacob looked at him and asked, "Will you bless me?"
I've heard it said, "A kid who is searching desperately for a blessing will put himself in all sorts of contortions in order to get it." This is true of Jacob. Earlier in his life he had dressed up like his hairy brother and stole one that wasn't his. Now, years separated from that moment and from those closest to him, he realizes that a blessing doesn't come by the strength of his cunning or the force of his will.
"Cheating is the gift man gives himself," Mr. Burns once said in the Simpsons. A blessing can only be had as a gift. And so Jacob, albiet a little forcefully, asks for one.
The man responds with question: "What is your name?"
And the cunning son, the one who spent his life likely hiding his identity, probably because of much shame and regret, gives an honest reply, "Jacob."
Then the man said, "Your name will no longer be Jacob, but Israel."
He blesses the troubled son, and gives him a new name, which means "struggles with God." This name redeems Jacob's story. He can let go. He can quit striving. He can stop stealing. He receives the words, the affirmation, and now he has the momentum that will sustain him for the journey ahead. Hearing the name Israel echo through the hills near Mahanaim helps him become who God intended him to be.
As a teenager, I was a lot like Jacob. I did anything I could for a blessing. I wandered the wilderness of school, wrestling with tests and grades, trendy shoes (first Vans, then Dr. Martens) and hip music (Beastie Boys and Pearl Jam), looking for and hoping that someone would take notice. I was extremely self-conscious. I worried about what others thought of me. I desperately wanted to fit in, find my place. During this phase of life, I can remember being aggravated if my grandpa called me Butch around my friends. That was just not cool.
But those friends have come and gone. The report cards are good only for my scrapbooks, the shoes for the trash. My grandpa's name for me remains, a reminder that no matter who I have been or will be, whether inconsistent or goofy, successful or not, I will be accepted and known. So I let him carry it on.
Like any blessing, it sustains me and gives me life.