"Do I dare to eat a peach?" asks the narrator in T.S. Eliot's poem "The Love Song of J. Alfred Prufrock," probably because he has false teeth. The question came to mind, and took on new meaning, the other day when my home was without water.
The first clue was when a flush failed because, somehow, there was no water in the tank. Then there was nothing coming out of the bathroom faucet. And suddenly, the thing I wanted most to do in the world was to wash my hands.
Choosing hope over logic, I tried the kitchen sink. It, too, produced a dry, throaty sound. On the counter stood two days' worth of dirty dishes, cups and glasses, standing by like tired soldiers. And suddenly, the thing I wanted most to do in the world was to wash the dishes.
It was 4 p.m. on a Saturday; the apartment complex's office had closed an hour before. I called the emergency number and was told they knew about the situation, there was a broken water main down the hill, and the repair people hoped to restore water service by 6 p.m.
I had plenty to drink in the fridge — milk, ginger ale, a mixture of sweet tea and lemonade. But if I wanted to drink water, I would have to wait for ice cubes to melt.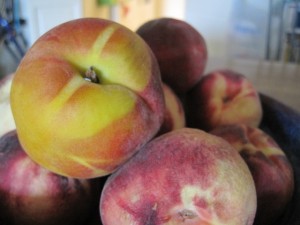 I keep a bowl of fruit on the counter, and for much of the summer the bowl has held peaches. Every time I walked into the kitchen, the air was censed with an appealing ripeness. And suddenly, the thing I wanted most to do in the world was to eat a peach.
But I needed water to rinse the peach, and I would need water afterwards to rinse my hands.
I did what single people do when we have a tiny crisis and time on our hands: I turned to Facebook and announced my status: "'Do I dare to eat a peach?' takes on new meaning when the water in your apartment building is turned off."
Two suggestions were offered. The first was an intriguing mix of hospitality and economy, acknowledging that the preciousness of water might range far beyond my kitchen: "I can bring you a wet paper towel." The other was a fanciful order that suggested the friend's own exuberance, and childlike certainty that what I needed was out there somewhere: "Find a sprinkler to run through after you eat it."
It's funny — well, really, it's not — how we take something so necessary for life for granted until we don't have easy access to it.
Somehow I remembered a bottle of water in the bedroom, only a few swigs gone. It was more than enough to wash the peach and to wash me afterwards. The peach was consumed over the sink, its own sweet water dripping off my chin and running through my fingers.
The promised hour came and went. Still nothing flowing. The kitchen had plenty of food, but without water it would be hard to cook, impossible to clean. I went out for pizza, and when the leftovers were boxed up, I asked for water, not Coke, to go.
It's funny, too — well, really, it's not — how we are willing to lower our standards in a pinch. (And by we I mean I.) Normally I am a low-tech snob about water, preferring to drink from faucets and refill my own water bottle rather than to contribute to more plastic cycles by buying bottled. But bottled is what refilled my cat's dish, and washed my hands, and rinsed my peach. And bottled was what I bought at the Kroger after dinner: two cases of 16-ounce bottles, and two gallon jugs from nearly depleted shelves.
I developed a plan. I would wash dishes camping style, heating water in the teakettle, using a saucepan as a small sink, rinsing judiciously. Brushing teeth and washing face wouldn't take much. I would figure out bathing in the morning.
It was nearly 9 p.m. by the time I got home and put the groceries away. Reflexively, I turned on the faucet. Lo and behold, water. Clear water. "Ha!" I said, to no one, an exclamation of relief and delight that couldn't help but find its way into sound.
The next morning, I had the luxury of brewing coffee or making a pot of tea, and what did I do? Heated up day-old coffee on the stove. Refilling water jugs for my container garden seemed miraculously sensual: the sound rising in pitch as water displaced air; the welcome heft of them as I toted from kitchen to balcony; the beauty of a drop hanging from a leaf.
And then I had reason to be reminded of my own inconsistencies, of the gaps between theory and practice, between belief and behavior. I'll turn off the water while brushing my teeth, yet who knows how many gallons go down the drain while I'm lost in thought in the shower.
You know where this is going, don't you?
My own thirst I don't recognize sometimes until I have strayed far from our communal fountain. And then I remember the woman at the well, the first person Jesus told that he was the anointed one, the Messiah, the one the world was waiting for.
And suddenly, the thing I want most to do in the world is find my way back, and forward, to that living water.