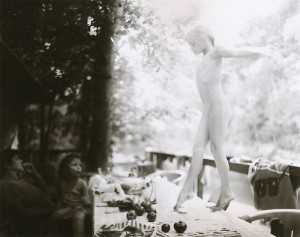 Andrei Tarkovsky wrote, "The allotted function of art is not, as is often assumed, to put across ideas, to propagate thoughts, to serve an example. The aim of art is to prepare a person for death, to plough and harrow his soul, rendering it capable of good."
Tarkovsky, a Russian filmmaker from the past century, wrote this in Sculpting in Time, a book on the development of film as a process of sculpting something new out of raw materials.
Once, just before my 14th birthday, my parents took me and my sisters to a production of The Great Divorce, based on C.S. Lewis' pamplet-sized story of a soul's journey from the "grey town" to heaven and adapted by a small company called Lamb's Players Theatre on Coronado Island, located just off the coast of San Diego. I remember few props or "bling," just evidence of some really good directing and translation from words to sound, sight, and presence.
Lewis isn't the first to envision a soul's journey to heaven or the "eternal city," but he did envision new things for new generations. In the story, a man rides a bus with others to a beautiful country with souls and landscape more enduring than themselves, where even the blades of grass pierce their feet when they walk, and the inhabitants, though transparent, tread without being pierced.
Growing up, I had some good preparation for life, but definitely had some shoddy lessons in the invisible realities of the universe. Maybe it's hard because people don't usually see angels, etc. They were usually represented as flimsy and soft, like a cross between Precious Moments' cherubs with cotton balls glued onto their wings and the Olympian gods in Disney's cartoon Hercules. These so-called eternal beings, or what we thought of them as kids, were one-dimensional and too flat to stand the test of real characters in real books written by mortal people, supposedly flawed and naive in comparison. I thought that what is here on earth was real, and more real than the invisible things, which seems true because we live in a world of flesh and senses. And though the man's experience in The Great Divorce is a dream, Lewis likens it to becoming awake —  awake to what is more real than the man ever knew before.
In her grass monologue, the actress stood downstage center, echoed Lewis' words, and brought me into that "other" world. Her face shone, and as if she really believed what she would say, she began:
I noticed that the grass did not bend under their feet: even the dew drops were not disturbed. Then some re-adjustment of the mind or some focusing of my eyes took place, and I saw the whole phenomenon the other way round. The men were as they always had been; as all the men I had known had been perhaps. It was the light, the grass, the trees that were different; made of some different substance, so much solider than things in our country that men were ghosts by comparison. Moved by a sudden thought, I bent down and tried to pluck a daisy which was growing at my feet. The stalk wouldn't break. I tried to twist it, but it wouldn't twist. I tugged till the sweat stood out on my forehead and I had lost most of the skin off my hands. The little flower was hard, not like wood or even like iron, but like diamond. There was a leaf-a young tender beech-leaf, lying in the grass beside it. I tried to pick the leaf up: my heart almost cracked with the effort, and I believe I did just raise it. But I had to let it go at once; it was heavier than a sack of coal. As I stood, recovering my breath with great gasps and looking down at the daisy, I noticed that I could see the grass not only between my feet but through them. I also was a phantom. Who will give me words to express the terror of that discovery?
The strange sharpness of the grass was my first introduction to the beautiful country. In our world, the grass I knew was soft, maybe with a pointed, yet dulled, edge, but came in bunches that folded obligingly under my feet. But Lewis' grass is hard, much harder than human feet. The worlds turn inside out and properties switch. And it hurts because this man, these "bus people," do not yet belong. They are of another place. They are welcome in the beautiful country, but still "other." Was I other? Later I would be afraid of this question. Yes, the "terror" of reality would come soon enough.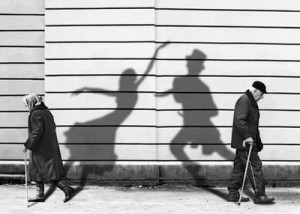 But not then. Then, at 14, I was amazed — amazed that I could be so moved and challenged by the power of language, expression, movement. And that I could be pushed beyond the boundaries of myself: my own mind and imagination. That, for a few hours, I was at once in many worlds — sitting in one spot and watching a play, something "make-believe," but led to play and live in other realms.
Lewis took ideas and gave them form. These actors took this form and gave them expression and intonation. And this is the first time I remember looking at the world in such a new way. It did precisely what Tarkovsky said art should. It pressed me by its beauty to be more myself and even to the edges of myself and to prepare me, in probably a big way, for the "harrowing" that lay ahead: to be more real so that someday I might recognize the most real things. So that one day, I would, God willing, be recognizable.
__________
Text: Lewis, C.S. The Great Divorce. New York:
Harper Collins Publishers, Inc., 2001.
Image credits: shannoneileenblog.typepad.com,
fanpop.com, cordisre.tumblr.com