When I found out I was pregnant with my son I began to ask some new questions, like, "What can I promise him?"
I can't promise him a life free from disappointment, or full of opportunity.
I can't promise he'll be happy or wealthy or good.
I can't promise him that God will always make him successful or give him a happy marriage with children.
I can't promise him that the church will always be there for him or that his leaders will lead well.
I can't promise that the bible will always be clear and make sense or that Christianity will keep a voting bloc of power.
I can't promise him that our home will always be neat and clean or that my nails will be polished.
I can't promise to live in one place or attend one church.
I can't promise that his grandparents or aunt, uncles and cousins will want to visit him.
I can't promise fame or power, good grades or popularity.
I can't promise he will skip the pimples and gangly stage.
I can't promise him that his first kiss will be pleasant.
I can't promise that he won't be bullied or teased or left out.
It was actually sort of depressing.
Here was this baby full of potential, and I couldn't promise him many of the good things life has to offer.
Things we hope for our children are not promises in scripture. In fact, following Jesus is not a good guarantee of financial, social, psychological or relational success.
Wanting to be a mother of deep wisdom, I pushed around some things I could promise my baby that were rooted in scripture.
God would be there, with him. God doesn't promise a lot of specific blessings for my gentile son, unless you count his presence.
So each night, I remind him, "The Lord is your shepherd." There's a promise you can bank on.
And, as for me, what can I promise him?
The best gift, the one I want from every person I befriend, the one I hope for in every family relationship, is safety.
Safety, not in the world or from others, but safety to be myself and not fear my real self will drive them away.
I want to give that promise to my son. Safety, especially when he is dangerously close to evil. When my son wraps his arms around meanness, tantrums, ornery looks and stubborn stone-walling, when he wants to hurt himself and those around him, I will be a safe place.
I will nail my door open and wait for God to help me open my heart to who my son becomes, regardless.
Regardless of what he chooses about his beliefs, his politics, his life partner and home base.
Perhaps I will be mistaken for being a permissive mother. That mother who thinks her son does no wrong.
But, I don't think so. God accepts us in our badness and in our glory, but he maintains a grip on sensitivity and knowledge.
God is always near to us, but he knows when we're in the wrong.
Can I be near my son even if I believe I know he's in the wrong?
Henri J.M. Nouwen describes his spiritual director as if he has mastered this safety without permissiveness.
He listened to me with care and interest, but also with a deep conviction and a clear vision; he gave me much time and attention but did not allow me to waste a minute; he left me fully free to express my feelings and thoughts but did not hesitate to present his own; he offered me space to deliberate about choices and to make decisions but did not withhold his opinion that some choices and decisions were better than others; he let me find my own way but did not hide the map that showed the right direction (The Genesee Diary: Report from a Trappist Monastery).
I want to offer the same for my son. And in directing him I want to remove the leverage of my relationship from the table of options.
I know a father who told his daughter, "If you have sex before you're married and wear a white wedding gown, I will not attend your wedding."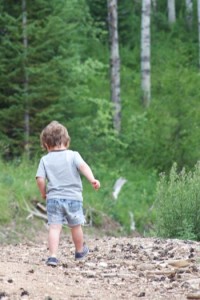 I never want my son to face a decision and think, "But my mother will disown me, or not attend that ceremony or not invite me to her home if I …"
Do I care about what he will choose?
Yes, dear God, yes. I want to guide him, to tell him to please stop punching himself in the face, to require that he says he's sorry, to pick up the toy he hurled. I want to tell him my beliefs.
I want him to want the good Shepherd.
Yes.
But I will promise you, my wee lad, that no matter where you go and what you do, I will not close my arms to you, no matter how badly you hurt me.