"[I]t is easy to believe in such moments that water was made primarily for blessing, and only secondarily for growing vegetables or doing the wash."
— Marilynne Robinson, Gilead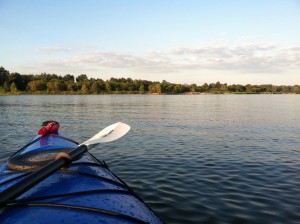 One of the physical sensations I love most is the moment of shoving off from shore, in a kayak or canoe, when suddenly there's nothing beneath me but water. The gravity of solid ground gives way to … freedom, or peace, or something. I don't want to work too hard to name, because that's the point. You don't name it. You feel it. The word that comes closest is, "Ahhhhh."
It has been more than a year since I've had that feeling.
And there's no good reason for that, especially when I keep a boat in my living room.
It's a blue, 12.5-foot kayak, Wilderness Systems by name, though it has not yet been in true wilderness. It stays in the living room because I no longer have the garage I had when I bought it; because I am too cheap to pay for a rental space; and because, in theory, keeping it close means being able to take it out into the world at will. And it fits fine, on its side, between the coffee table and the wall. You might sit in my rocking chair with your back to it and hardly notice it's there.
When the boat lived in a garage, taking it for a ride was easy: Run the garage door up; grasp the carry handle at one end of the boat while your paddling partner grasps the handle at the other end; pick it up; walk to the car; ease it in tandem onto your shoulders and then onto the roof rack; tie it down; repeat with the other boat; hit the road.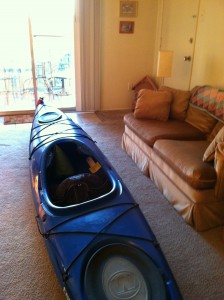 The process is harder now that it lives in my living room and I paddle solo, which is why it has been dry for far too long. (Multiple days over 100 degrees this summer also can take some blame.) But one recent day I decided to take it to the nearest water. All day at my desk-bound work, I thought about it. Anticipated it. Set my mind on it.
4:41 p.m. – Laid my hand on boat. Scooted the rocking chair across the room; moved a lamp off of the coffee table.
4:45 p.m. – Maneuvered boat over coffee table and over short bookcase, barely avoid knocking off desk lamp. Got it to the living room floor.
4:50 p.m. – Dusted it off, wiped some evidence of spiders and pulled it through the kitchen to the door.
4:53 p.m. – Life vest still fits!
4:58 p.m. – Sunscreen, camera, chapstick and other essentials packed in small drybag; paddle located.
5:14 p.m. – Cleaned out car; flipped seats down; puzzled over missing tie-down straps. Remembered that I removed them when the car was in that accident four months ago. Where did I put them?
5: 30 p.m. – After fruitless search for straps, needed fortification. Toasted two waffles, one with peanut butter, one with marmalade made by someone who lives on an Alaskan island. Hoped the watery connection would help.
5:33 p.m. – Found stout bungee cord and two straps from 25-year-old L.L. Bean sleeping pad. Decided to make do.
5:37 p.m. – Loaded vest, paddle, water bottle and accessories in car. Carried makeshift boat sling out of apartment. Hooked one end of PVC pipes with carabiners to walkway railing. Set other end across grassy gulf to solidity of parking lot. Dragged boat outside. Eased it onto canvas chute. Guided it as far as it would go. Walked to other end and hauled it up onto asphalt. Put sling back in apartment. Backed car up. Opened hatch. Slid boat in. Strapped and bungeed and hooked to D-rings.
5:57 p.m. – Drove to nearest waterway (in my case, a city park along the Arkansas River, with two boat launches).
6:02 p.m. – Arrived.
Yes, it takes a mere five minutes to the nearest big water. But (if you're doing the math) it took 76 minutes to get the boat out of the house and into the car.
Ordinarily I wouldn't have undertaken this on a weeknight. And ordinarily, if I couldn't find an essential piece of equipment, I might call it quits. But on this day I had marked a small milestone, which gave me a free evening, and this is the way I wanted to celebrate. Those passing minutes – every one taking me closer to sundown, to less time available on the water – rolled off my consciousness like, well, water off a kayak. I went because I wanted to meet what I knew would be there.
Unload boat and gear … park car … drag boat a little farther into the water … put one foot in … brace self … put other foot in … slide into place … paddle a stroke or two …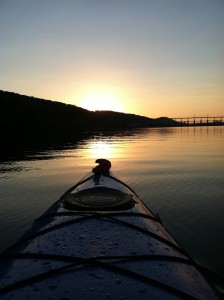 Ahhhhhhh.
O blessed water, carry me away, carry me to the end of day, carry me home.
And the momentary thought, dissolved in the watery joy of gliding across a river smooth as a lake, spotting herons, moving muscles hungry for work: Why did I stay away so long?