It felt like a case of stage fright. Usually, quick with words to express my thoughts in writing, I got stuck when asked to expound on the matter of politics and faith. My mind slowed and sludged. The computer screen stared at me bright and blank. The longer I wrestled and waited, the more I wanted to swear. It reminded me of trying to put together a puzzle without any matching pieces. I couldn't seem to match my thoughts with the appropriate words.
At a time like this, it seemed reasonable to shut the laptop and watch some TV. So I did. I got away. I avoided the awkwardness and confusion, turning instead to the new NBC comedy Go On. Only, instead of distraction, the episode, in which Matthew Perry's character gives away his dead wife's sewing machine, confronted me with the implications of quickly passing off my "stuff." Avoidance doesn't equate to relief. The blank page and piles of frustration would still be at my computer when I returned.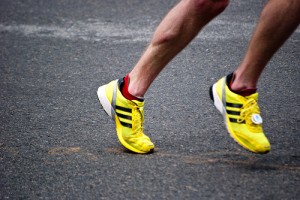 I've heard it said that creative people need to increase their capacity for discomfort. That it's often when a writer or musician or painter pushes into and through difficulty or aggravation, that they are able to produce something of resonance. It seems like madness, but passion for one's work isn't always positive passion, at least that's what I've learned training for marathons. I may not feel like running but I still need to put sneaker to pavement. I face discomfort. I move forward.
So back to God and politics. Why did the topic make me feel so lost? What about it made it so hard to articulate my own thoughts? When I went back to my computer, that's when it hit me: like many people in America, I had inherited most of my politics, from parents or friends or church, and had done little thinking for myself. To write on the matter, meant having to highlight my laziness and my compliance.
To be honest, I wonder if this might be one of the first times I've felt the freedom to think and reflect and express on a subject where for so long I've felt the pressure to align myself with a certain party or agenda.
As much as I liked to distance myself from the woman who told me the day before the 2008 election, "I'm just going to talk to my husband (a pastor) and let him tell me who to vote for," I can't. At 18, I just asked my dad who to vote for. In college, I relied on the input of friends, more thoughtful and understanding than I. Even now, it seems safer to follow my innate feelings or the voices of Christians I trust than sift through the political mess for myself.
This is not uncommon. My experience is that people are more likely to answer the question, "Why do you vote the way you vote?" in the way professor and author Gregg A. Ten Elshof says people answer the question, "Why do you believe what you believe?"
They believe what they do because their parents, teachers, and other authorities told them it was true. And, moreover, it has just felt right to them…in their gut, as it were. It just seems right, and the alternatives have always just seemed somehow wrong and implausible.
It's like the first-time college student, hours from home, who goes to church on Sunday because it's what he has always done and because it's what is expected. It's how many approach life's big questions, they keep a safe distance or settle for easy answers, too intimidated to enter into the apologetics kitchen to cook up honest and good answers.
Politics is good at developing Pharisees — people with impassioned, loud voices and entrenched, unwavering views who like to push others into their mold, into conformity. Jesus, however, didn't want good little Pharisees. He wasn't interested in trying to manage beliefs. He wanted to move people along toward true belief. Jesus' words weren't meant to entrench people deeper but set them free, to see, to think, to live full and human lives.
The great politicians, the ones we cast in bronze and laud in our history books, knew this, which makes me wonder if the best image of what good, personalized, thoughtful politics should look like isn't displayed in a statue in my hometown.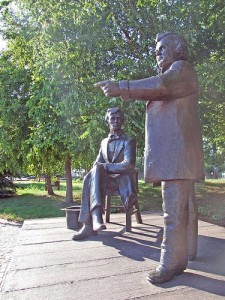 On East Douglas Street, just a block from Union Dairy ice cream, is Debate Square, where Abraham Lincoln and Stephen Douglas had one of their seven debates in 1858 while running for Senate in Illinois. The statue shows both men. Douglas stands stern and resolute, his left hand extended to add emphasis to his words. Lincoln sits to Douglas' right, his top hat on the ground beside his chair. Lincoln is erect and attentive, hands rested on his knee, eyes on Douglas. The scene puts Lincoln in the background, almost small and insignificant. But he is listening, attentive, sensitive, a much more honest and accessible representation than that of Lincoln as a sort of god-like judge on the Mall in Washington, D.C.
To me, the statue is less about division and debate, and more about union and understanding. I can't help but think that had Lincoln been in attendance for one of Douglas' speeches eight years earlier in Chicago, he would have shouted an hearty, "Amen!" to these words:
We have fallen on evil times, when passion, and prejudice, and ambition, can so blind the judgments and deaden the consciences of men, that the truth cannot be seen and felt. The people of the North, or the South, or both, are acting under a fatal delusion. Should we not pause, and reflect, and consider, whether we, as well as they, have not been egregiously deceived upon this subject?
__________
Image credits: flickr.com/photos/vivekk00 and flickr.com/photos/josephleenovak