I have a low view of politicians. That statement should shock no one — as politician usually tops the various "most scorned occupation" lists that float about. That said, I like to think my low view isn't the result of me jumping on any bandwagon of scorn, but in fact, based on solid reason.
For one, I live in Illinois, where corruption and politician could be synonyms on my kids' vocabulary tests. Here it seems politicians grow as crooked as the corn grows tall. Prisons across the land are filled with our former elected officials — from the lowest offices to the highest. It's not that they are all corrupt, certainly, but enough are to render the rest suspect.
For two, my husband is involved with politics. After a recent run for public office (which he lost: perhaps a blessing in disguise considering my low views), someone asked me what I learned during my stint as a candidate's wife.
My answer came quick:  "I learned that politics is dirtier than you think."
And it is. Although I had hoped it wouldn't be the case.
My husband and I had hoped that people were wrong about lying politicians, about political "machines," about "the way" things get done. We had hoped that politicians really believed what they spouted — and not just to tell people what they wanted to hear — and that they only "flip-flopped" after much careful thought. But turns out people were pretty right; they were only wrong in as far as they weren't negative enough.
What I've learned from my husband's political involvement has left me wishing I knew less about the politics in our Land of Lincoln (and most definitely beyond) and feeling like the writer of Ecclesiastes: "For with much wisdom comes much sorrow; the more knowledge, the more grief" (Ecc. 1: 18).
I came out of both my husband's campaigns believing that politics was a world of filth — a realm of darkness, even. And I wanted my family to have no more part of it.
Trouble is, of course, as a Christian who wants her and her family to live as Jesus did, I have no right to run from any perceived "realms of darkness" or "worlds of filth." Jesus certainly didn't. Where the world saw Zaccheaus's filth and Mary Magdelene's darkness, Jesus saw worthy dinner dates and ministry companions. Even as Jesus knew the dark and dirty (and deadly) deed Judas was about to do, Jesus passed the bread, poured the wine still.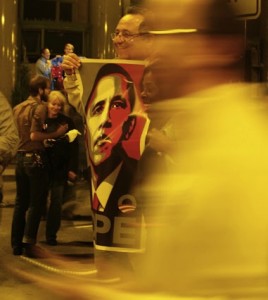 Instead, my response to the darkness I see in politics and in politicians needs to be that of bringing some light. It's so cliché — but it doesn't make it any less true. And while certainly plenty of occupations are filled with darkness and dirt (get up close to anything — teaching, church work, book-writing, whatever — and you'll see the less-than-lovely side), politics may be a stand-out because in fact so many Christians do run from it. And not just run from running.
How many run from it by not taking the time to get to know candidates? How many run from it by failing to take the time to understand the complexity of issues, beyond those of our own "pet" issues? How many of us run from it by believing what candidates tell us lately without checking into past views or votes? How many of us run from it by not even showing up to vote?
And yet how many of us complain? About the darkness, about the dirtiness of politics? How many of us complain — but do so little to change it?
While I'll never argue that there's "Christian" way to vote or a more biblical political party, I will argue that as Christians, as people who want to live out biblical principals, we cannot run from politics, we cannot run from its dark or dirtiness. Our call is to lighten and clean it up. With our candidacies, with our vetting, withour activism and with our votes.
___________
Image credits: abdulsada.blogspot.com/ and plus.google.com/u/0/114598955905711028179