I present you with a thought parcel of soul-baring honesty: few topics are as painful for me to feel connected to as politics. C.S. Lewis once remarked, "A sick society must think much about politics, as a sick man must think much about digestion." There are days when I actually think reading up on digestion may have more merit. He also discussed the idea that to truly be influential within a political framework, perhaps a collective conscience (rather than a political party) was the best way to draw attention to an issue. I tend to agree.
I am grateful for the role that politics can play in ensuring protection, helping people live better, and, hopefully, setting them on a path towards more goodness, truth and beauty. In theory, I love the idea of being an active voice with a vote. I can easily see why creating ideas translatable into policies (which shape someone's life for the better) is noble and essential. But in actuality, outside of my idealist dreams, politics at large feels more like two insincere and overconfident individuals becoming puppets for competing voters.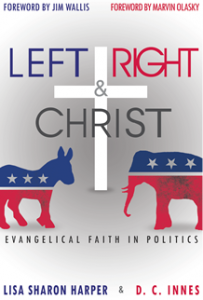 I was given a book that helped ease me into a more dynamic exploration of political topics: Left, Right, and Christ by co-authors D.C. Innes and Lisa Sharon Harper. I cracked its pages hopeful that others who believe good of politics might encourage me to consider its value. I found within the introduction several promises: Jesus as a united first love, sound scripture that treats all of his creation with imbued purpose and intent to flourish and bold stances on political policies. It did not disappoint me, and these are reasons I would encourage the disillusioned to read it as well.
The structure of the text is perhaps one of it's biggest strengths. It is divided into sections, each titled by the issues that have dominated the political square lately: abortion, same-sex marriage, health care reform, and even the role of government. Each are researched, considered and discussed. In every section there are two essays, one written by an author from the perspective of the Democratic platform and the other from the Republican platform. They also pledge to deliver a common ground of faith in Christ.
Here's what this book does well: it informs and educates on major political issues in convincing and bipartisan ways. (I was beginning to think this wasn't possible.) It is surprising to see the authors continually illuminate the issues behind the issues in fresh ways. Both Innes and Harper discuss the problem with wanting politics to do more than it should, adding that there is a danger in the seductive power play that often quickly turns idolatrous. Yet while they agree politics cannot and should not be used as the ultimate vehicle for God's hand to be shown, Harper goes a step further to caution that this does not mean Christians have a free pass on involvement in the public square. Her captivating and convicting challenge is to look into scripture to see how God's desires for humanity are addressed.
People as image-bearers have an inherent dignity and value, and so our relationship with each other should always be one of love. As Christians we are called to love God and love our neighbor — the two great commandments — on every level of our existence: personal, interpersonal, social, and political.
Harper's voice rings in my ears not because it is idyllic (or democratic), but because it often touches truth with a gentle yet firm hand. She does a remarkable job of reminding Christians that to believe in creation comes with a few secondary implications. We've been given "dominion," a word she translates to agency. What does collective agency have the capacity to mean in terms of policy-making? When functioning well, it can lift  up and encourage the poor and oppressed, however when used for other gains it can abuse and exploit.
The authors do not agree on the ways government can best succeed in these areas, which is rather encouraging to read. I say this because I am becoming more certain that for the Church to ever have a conscience that moves politicians to right action, we should never become immovably tied to a particular party. (Especially since there has yet to be found any evidence that Jesus is a Democrat or a Republican.) They do actually agree on a few areas though, one of which is immigration and boarder control and the options that remain available as we look to move forward.
The emphasis of the text is clear: Christ is not the in-between political position, not a clever stand-in for a central perspective. Christ is outside politics. If Christians are to take seriously, however, the way of life he invites us to live, we cannot morally present ourselves as apolitical. The common ground of each of these authors is their belief that as Christians we have a responsibility to work through these issues.
Thanks to an abundance of social media, I am beginning to realize that I am not the only one who has developed such distaste for politics. Unfortunately, the result for those of us who fearfully tread what I like to call the "purple" corners (neither red or blue) is often disengagement at the worst or peripheral and static discussion at best.
This is not only unfortunate because we do desire change in many needed areas, but because as we attempt to live consistently as followers of Jesus, we cannot be apolitical. For this reason, I am thankful for an invitation to tread these topics.