[Editor: This one of the top five most read posts on BreakfastReading.  As we prepare for Advent, we thought it a worthy reflection]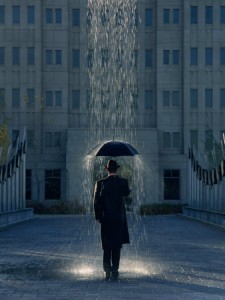 by Susan Lawrence
We kids stared at the speaker, who had just opened an umbrella and now held it over his head. "You see, kids," he exhorted, "God's will is like an umbrella. When we stay in God's will, then we're under the umbrella and protected from what falls around us. But when we get out of God's will," and he stepped to the side of the umbrella and flinched as if getting hit with rain or sleet or baseballs, "God can't protect us, and we get hit by troubles until we get back in God's will." He righted the umbrella over himself and smiled at us. We blinked back at him, absorbing the visual and its accompanying message.
That was over 25 years ago. I don't buy it anymore. God's will is not a place.
Right now, I'm laboring spiritually with a friend as she searches for God's will in her life, including if she should marry a specific man—or let that relationship finally go—and what job she should accept out of several offers in different cities and one overseas. Spiritual tongue in cheek, I was trying to think of the "magic verse" that would solve all her dilemmas. First verse that came to mind is one that cleared away the smoke for me when I was at the tender and intense age of 15, trying to determine my future.
You will show me the path of life;
in Your presence is fullness of joy;
at Your right hand are pleasures forevermore. (Ps 16:11)
Back then, I focused on the first thought in the verse, which brought me peace. If God were willing to show me the path of my life, then I didn't need to get in a corkscrew about it. I considered sending that part of the verse to my friend and thought, "Not enough. She has to know NOW what to do." And then the rest of the verse dawned on me, connected with its first truth, and for the first time, I saw them as two sides of the same coin. Excitedly, I wrote as much to my friend and continued:
"…because, on one level, I think none of these decisions is an evil in itself. This relationship is not flat-out wrong. Any of these jobs would be good, solid, interesting jobs in your field. All the decisions facing you are amoral—without morality. It's what you bring to them that makes it moral or otherwise. And here's why: God is showing you the path of your life, the possibilities of the path, and man, they're rich, and they're full, and they're all affirming. And on one level, it just doesn't matter what you decide to do, or even what you decide to pursue with this relationship, because even if you make the 'right decision' and stay under the 'umbrella of God's will,' you will not have fullness of joy or taste the pleasures of the Lord if you are not in His presence, daily, asking Him for HIM, absolutely regardless of where you are, what you do, or whom you're with. If you don't seek Him and long for Him and worship Him, it doesn't matter how right you get the answer to the first part of the verse, to getting the path right. Because, in the big picture, it doesn't matter whom you marry: You will have to be the same kind of wife to any husband you live with, and God is bigger than any marriage. Because, in the big picture, it doesn't matter where you go or what you do: You will have to work hard and be faithful to the job you have taken, and God is bigger than any job.Ultimately, they're all the same because they all require the same from us: faithfulness in staying in His presence."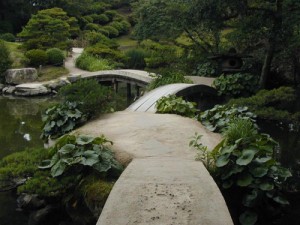 But the umbrella approach is easier to swallow than this Biblical thinking. With the former, if I make the right choice, then I can think I'm "safe." With the latter, I must labor over the decisions while staying in the presence of the Lord, daily, keeping close to His right hand, no matter what decision I make, remembering that God is bigger than any place, any job, any marriage, and certainly any umbrella.
God's will is not a place.  God's will is His presence.
__________
from the archives, originally published April 11, 2011 
Photo Credits: art.com, fecielo.com