New Year's Resolutions seem like a great way to get egg on your face, because who really keeps them the whole year?
Yet, with typical zeal and determination, I've joined the ranks of attempting to make a resolution.  I'm going to try to read about a book a week. "About" because some book are so long that they'll naturally take more than a week, like the biography of Dietrich Bonhoeffer I have on my coffee table.
Still, it's January 6th and I actually finished my first book.  Okay, to be fair I started it in December, but still it's worth noting with a mini review.
Wesley Hill's book, Washed and Waiting: Reflections on Christian Faithfulness and Homosexuality, came to my desk after Ally, wry and witty friend who is part peace corps worker, part incredible babysitter of Finn recommended. She met Wesley while working in Africa. Thank you, Ally!
The book is small, which makes you feel lithe, but honestly if you read it quickly you're missing some wonderful thoughts.  Structured around three chapters of his story, Hill breaks between to introduce us to scouts, men of letters who successfully tackled the pain over what it means to be attracted to the same-sex. I was particularly struck by the shame, loneliness and honesty of each of them: Catholic writer, Henri Nouwen and Jesuit poet, Gerard Manley Hopkins.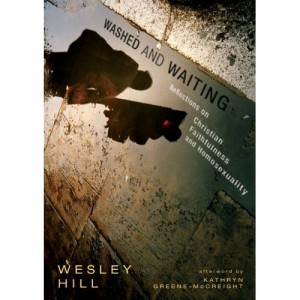 Prelude: Washed and Waiting
1. A Story-Shaped Life
Interlude: The Beautiful Incision
2. The End of Loneliness
Postlude: "Thou art Lightning and Love"
3. The Divine Accolade
As he put it, Washed and Waiting is about "how, practically, a nonpracticing but still-desiring homosexual Christian can "prove, live out, and celebrate" the grace of Christ and the power of the Holy Spirit in homosexual terms" (16).  Will's unflinching honestly provides an excellent picture of what Christians ask of homosexuals when we instruct them to be celibate.
My favorite parts were how he wrestled with the way our culture defines sex and sexual expression. He aptly describes sexual experience as the number one way people believe they are alive and most human. To deny a person sexual pleasure is tantamount to de-humanizing them.
Or is it?  This is Hill's challenge as he wrestles to understand his humanity as having more to do with waiting well, with weeping well, with recognizing that all humans have unrequitted desires and the measure of our virtue has more to do with how we face and engage them.  He finds that true humanness is actual wedded to true holiness. He offers a higher example, one that I cannot help but admire.  He knows that humans are made to be the occasion of desire and yet he shows us another way (than sex and marriage) to receive that.  It lifted me beyond where I ended up at the conclusion of Ruby Slippers.
He comes to see his own desires for homo-erotic sex like "the craving for salt of a person dying of thirst" (Frederick Buechner).
I loved what he wrote about God taking sin seriously, respecting us enough to give us the full consequence (be it pain or pleasure) of our choices.  God takes all our desires most seriously.  I see that throughout Scripture, in all good literature. Hill's use of Jayber Crow's fidelity to Mattie is a wonderful case in point.
Hill wonders "about what it is to be human and hungry in a fallen world full of wonders" quoting Barbara Brown Taylor's phrase. I get that wonder and I relate to his hunger from a heterosexual perspective. He learns to approach his homo-erotic desires as a place to be spiritually adventurous, pressing into knowing what the love of God means even as others, sometimes Christians, create feelings of isolation and shame in his life.  In the end Hill learns to wrestle in community. His book is a testimony to the many people who love Jesus and love him well.
By the end of his writing, I found I admired Hill as a man more courageous, more masculine and more godly than most men who call themselves Christians.
Only one critique, I did not care for the replacement theology of his writing. He tends to discount or even dismiss the role of the God of Israel with the Jewish people pre-Jesus. Except for a few examples he moves, as most reformed thinkers, from Creation and Fall to Jesus, skipping the Jewish story and purpose in the Old Testament. I think the waiting of the Jewish people could have been a good model for him.
Overall though, I'd highly recommend to anyone who is curious about what gay Christianity can look like and what loneliness often feels like.  Any single person will love it.  Most married people will relate to his emotions of hunger and longing, too.
Favorite quotes lifted from my facebook status:
Evening reading: "Bad people, in one sense, know very little about badness. They have lived a sheltered life by always giving in." C.S. Lewis as quoted in Wesley Hill's Washed and Waiting.
Evening reading: "All our lives we're searching for someone to take us seriously. That's what it means to be human." Wesley Hil'sl "Washed and WaIting"
Evening quote: "A woman doesn't learn she is beautiful by looking in a mirror. She learns it so that she actually knows it from men. The way they look at her makes a sort of glimmer she walks in." Hannah Coulter by Wendell Berry
Evening quote: "It's no use trying to be more spiritual than God." Washed and Waiting by Wesley Hill
Eve reading: "Thou art lighting and love, I found it, a winter and warm." Gerald Manley Hopkins
Care to know what I'm reading next? At night I try to post pithy, moving, startling quotes on my facebook status.   We'll see how many books get read this year!