I don't know much about you, but I can guess that you need one thing right now.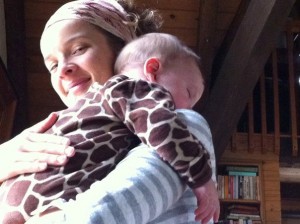 You need rest.
The Bible called that one way before we were around.
The first thing God called holy wasn't a person or an animal, it wasn't a star or a plant; it was a day, a wedge of time (Genesis 2:3).
On the seventh day of creation, God comes to a dreadful halt (Gen 1:31-2:3).  Sort of makes me curious what he could have created, what he could have checked off his to-do list, what other life forms could exist right now.
Free from productivity, the God of Israel opened up a palace of time for himself, and walked right in, put his feet up and took his ease (This idea of a palace in time comes from Abraham Heschel's The Sabbath)
Imagine a sparkling palace of rest with a bed and an easy chair, an afghan and a hot bath all with your name on it
In our busy American worlds rest is something we do if we have the leisure to do it.  The wealthy rest, the lazy rest, but those of us who have real work, real lives, families, young children, sick relatives, churches, hobbies and vacation time we're storing up; we do not rest.  We've found a way to cope, to relax, to work without it.
Most of us actually believe rest is for the weary and faint, the overwhelmed, the sick or depressed.  We rest because we're forced into it, not because we're invited.
Or perhaps we turn down the Sabbath rest invitation because we're not sure what a restful day (without a beach and a cabana) would look like.  How do you rest in the clutter and piles of home?  Isn't really true rest like really good sex, something you have to go on vacation to find?
I disagree on both accounts.
The last and most compelling reason most of us don't rest is because we're not convinced rest is as spiritual as God made it out to be.
I mean it's easier and even more rewarding to kneel beside your bed to pray.  You can point to that time as productive, focused, self-disciplined.  It's even easier to fast (especially with the added perk of losing a few pounds) or to give to the poor than to rest, both come with spiritual adrenaline attached.  It's easier to attend church and worship God, to take a missionary trip, even to love your enemy than it is to rest.
We don't remember that rest is a commandment, lodged in the Ten Commandments, sandwiched between idolatry and murder.  We may not even know that God was so concerned with his people resting that he rained extra manna (pumped with preservatives) down the day before the Sabbath so the Israelites could have breakfast, lunch and dinner in bed.
When I accept God's invitation to enter the palace of time, at the end of those 24 hours I feel almost gluttonous.  If I've successfully sworn off computer, commerce, meetings, laundry and errands I've also wrestled with boredom.
And what do I have to show for all my intentional commandment following?  I've watched the chickadees scatter seed on the snow, I've seen my son scatter his toys which lay around us, I've watched the dishes pile up and for what? I can't even post that on my facebook status.
Have you ever wondered what resting would actually look like for you?  You can figure that out right now with one intuitive question, "What feels like work to me?"
Then make a list. Though yours will be different, here's what mine included:
1-    writing
2-    responding to emails
3-    constructing a talk
4-    designing powerpoint
5-    laundry
6-    dusting
7-    cleaning toilets
8-    cleaning dishes
9-    any cleaning
10-going online
11-shopping
12-going out to eat
Then comes the fun question, "What would I do if I knew all my work is done?"
Of course, this requires a stretch of the imagination, but go with me. Imagine that all the items on the first list were completed. An empty inbox, a paper turned in, a sparkling toilet, a clear counter, stocked shelves.
Now what?
A nap!
Okay, take it.
Then, you wake up. You fight the urge to feel guilty and ask yourself again, "What would I do if I knew all my work were done?"
My answers are neither unusual or praiseworthy.
~ watch hours of 30 Rock
~ take a snow shoe
~  spontaneously play with my son even if it meant crawling around the cabin and getting dog hair all over our knees,
~ a long, hot bath
~ sit on the porch with snow all around the rocking chair
~ read poetry over lunch
~ slowly, carefully make macaroni and cheese
~ sketch
~ pray
~ read Scripture slowly, maybe just two verses.
Each Sabbath rest requires that I overlook the things that working women everywhere feel obliged to fix or feel guilty about not fixing: hairy floors, piles of snow, foody dishes, overflowing inboxes, buzzing, ringing phones.
I used to preach regularly on the values of Sabbath and wry mothers would confront me before I made it to the book table. "I want to see you rest when you have a kid!"
So I offer my failed attempts and counter them with this new discovery.  You can rest easier with a pint-sized munchkin showing you how.
You can do most of my list, with a one year old traipsing, splashing, crawling around, guiding you to become absorbed in rest.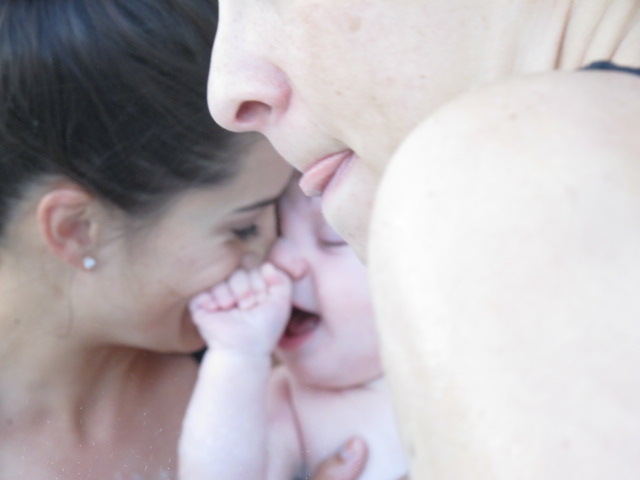 You know what else?  Kids even nap sometimes, proving to me that they get this commandment better than we do.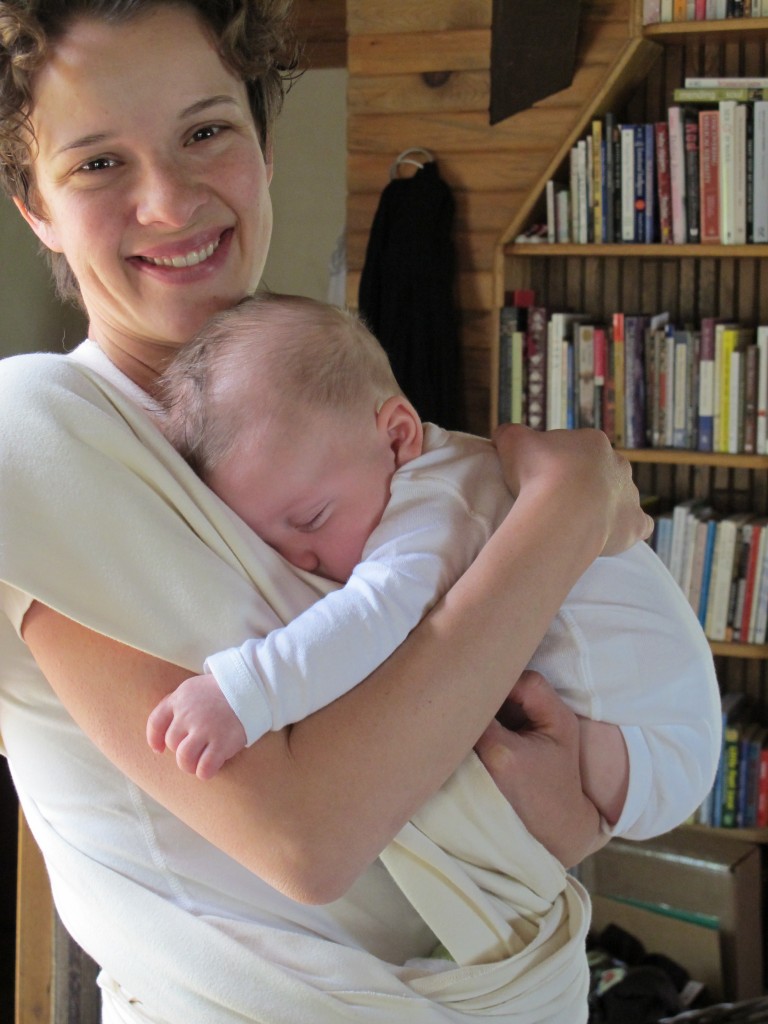 Originally written and published for Christianity Today's digizine, Kyria.