There is a silent epidemic among the men we know and love. For every six men, one has been sexually abused.
Why read a book on men and sexual abuse?  To put it simply and confidentially, I know men who have been sexually abused. I want to understand them and love them better.
I've pored over Cecil Murphey's groundbreaker, When a Man You Love Was Abused: A Woman's Guide to Helping Him Overcome Childhood Sexual Molestation, not for the faint-of-heart, it is difficult to read and even to write about here.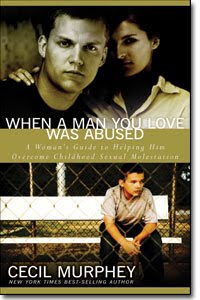 I put Murphey in a category with the prophets. He is calling us to notice an abiding sin in our own midst. One we've silenced too long.
One year later, I've finished.  I've cried through much of it, I've underlined something on nearly every page.
I've learned.
Murphey is the first that I've found to tackle the silent epidemic of boys who are molested. Epidemic? really?
The most conservative figures find at least one in six boys endure unwanted sexual contact (1in6.org). It's probably worse than that. Why? Boys don't talk about it as men.
When a Man You Love Was Abused is divided into two sections, the first deals with male sexual assault and its effects, the second with those who want to help survivors (brothers, sons, husbands, friends).
Murphey begins with his own story, unlocked from his memory by a strong adult aversion to raspberry jam. It baffled him to the point that he explored it.  Memories began slowly kicking in. Mr. Lee (not his real name) lured Murphey into his apartment with crackers covered in raspberry jam.
The Abused One . . . 
. . . endures more as a child than most of us can imagine. But Murphey gave me a good picture of how to relate to survivors of sexual assault.
Loneliness
Many boys stifle the pain of sexual abuse. It's too difficult and too unbelievable. To face the psychological, physical and spiritual pain, too overwhelming. They often believe sexual abuse indicates they are homosexual, or that they are somehow to blame. Or worse or all, their story will never be believed. They suffer in silence and isolation.
Tip #1 – Should a man confide his sexual assault to you, NEVER say,  "I'm sure that didn't happen." Instead offer steady support and a calm, listening ear.
Masculine Confusion
Men are expected to be in control, leaders, confident, aggressive and dominant.  Sexual abuse upends all of these.
When a father molests his son, the child learns a confused role for fathers.  Is his dad a father, a lover, a friend? Most boys cannot help but believe molestation is normal behavior of all fathers to all sons. Often the sexual assault is the first time their fathers have noticed them. But, when the father loses interest, the boy's second abandonment is often worse than the sexual abuse.
When a mother molests her son, he learns to take the role of a husband in his mother's life. I wasn't surprised to learn that this robs him of his childhood.
Most men struggle with the lie that they should have been able to stop the abuse. Their weakness against an adult who was smarter and stronger than them continues to assault their masculinity. And if their abuser was a woman, or their mother, gender myths (e.g. Women never have sex with their sons, women are too naturally nurturing to be violent, mothers always have their son's best interest at heart) shatter these young men's ability to speak about the horrors they've endured.  One incest survivor saw his mother's requests and his capitulation for sex as one of the dutiful ways he needed to take care of her. He couldn't even call her behavior sexual abuse.
Tip #2 – Refuse to be shocked, regardless if he shares the abuse was perpetrated by a seemingly good person or even a woman.
When sexually molested boys grow up, many feel they must prove their machismo, and treat women as trophies.  They may constantly involve themselves in activities to prove to the world that they are manly.  Or they might be compensating to prove to themselves they were not used as sexual objects by men, or to prove they are not gay. As adults they may become addicted to sex with women to prove their masculinity.
This insight reminded me of several sexually over-the-top men I've encountered.  Men who could not help (it seemed) objectifying all women to their sexual organs. Men who we meet on off-roading trails whose Jeeps are littered with sexual innuendo bumper stickers.  Men who I now see with compassion. Such an exaggerated masculinity reveals more than they realize. I grow in compassion for men who follow Mark Driscoll and make a competitive, badgering masculinity a battle flag of the most important war for Christendom.
People-Pleasers
Molested children grow up believing all adults have the right to criticize, discipline or correct them. Therefore, abused kids become adults who don't know how to disappoint adults.  They were likely once told, "This is what love is like" or "This is for your own good" and taught to ignore their internal signs of warning, fear, intuitive self-protection.   From a young age an adult sieged his control, his need for nurture, his memory.  Molested boys grow up into adults who struggle to make kind, firm boundaries.
Control
As Murphey put it, since control was ripped away from him as a boy, as an adult he must grab power and control over everything. It can be his only way of making sure the abuse never happens again.
Lies and Shame
When a man or woman molests a child, the child is unable to properly assign blame to the adult. Instead the child becomes injected with shame and guilt that properly belongs to the adult.  As an survivor of sexual abuse adult men will justify their victims with statements like,
"I didn't stop it."
"I wanted/needed too much attention."
The web of deceit has so many connections that Murphey spends many chapters detaching the half truths from the lies.  For instance, abused boys believe things like "It wasn't that bad" or "It was a terrible thing he did, but he loved me" or "God will deal with it, I need to leave it in God's hands."  Murphey offers ways to stop the inner abuser from perpetuating these lies, offering Scripture to restore truth. However, and this is an incredible benefit of his writing, he is never glib or simplistic about what Scripture can and cannot do.
With chapters like "The Loss of Childhood", "Flasbacks and Dreams", "False Memories", "If His Abuser was a Woman", "Facing His Abuser" and "Where was God?" Murphey pulls no punches. He's honest both about the process, the pain and the time healing requires. This first section was his most clear and helpful for me.
This section has many lists, lists of long-term problems, of Scripture passages, of male self-image problems, exercises that he's personally used to feel again, to develop boundaries, to learn to say no and to pay attention to his body. Since Murphey is a survivor who has found healing, I found myself ready to trust his suggestions.
Know someone who needs to know they're not alone? Go to Cecil Murphey's blog Men Shattering the Silence or Survivor Helps.
Part 2 – How You Can Help Him
The second section spoke directly to women, explaining what we can and cannot do for the men in our lives who are survivors of sexual abuse.  I found this section more staccato in style, some chapters could have benefitted from more organization. However, I found myself weeping more in this section.  So much work to be done.
For a short version of what we can do, Murphey lists eight opportunities women have.
Be honest with feedback to him. Molested men have been lied to, he needs you in his life to support him with complete honesty.
Realize and accept you cannot say anything to make him feel better. (This is worth parking on for awhile).
He doesn't need anger or horrified responses, he needs compassionate support. Refuse to be shocked, refuse to focus on your feelings. Listen.
Believe him.
Keep his story completely confidential
Show him that you believe he was a courageous person, "You survived that all on your own."
If he struggles with addictions, remind him that he unconsciously chose this to self-medicate.
Pray for him on your own and out loud with him.
As a friend once told Murphey, "The only way out of the pain is to knock on the door of pain, go inside and feel the emotions. If he does that, the past will no longer hurt him."  Men who do this need women by their sides cheering them on at their pace.  I want to be a woman who helps, a comfort in time of need, an ezer through the valley of the shadow.
God help us.