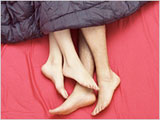 From as long as I can remember I've wanted to have good sex. I can psychoanalyze all the reasons, but to keep it simple, let me just say I heard sex was fun and I wanted to have a lot of fun.
So I bought this purity necklace with the words "Taken" on it and told everyone, and I mean everyone, that I was saving myself for my husband, or for God. I vowed to not kiss anyone until I was engaged and even then I pledged: no sex until marriage bedroom materialized.
This kept many men away, and it intimidated a lot of other good ones.
But when Dale and I met and married I found I was heartily glad that I hadn't had sex with my fiancé who I was so sure I was going to marry one year earlier.  We've been asked before how marriage has been us both being virgins.
Sometimes I'm asked about what constitutes a virgin.  I recently brainstormed a list of sexual stuff with a group of teen girls, stuff they've heard you can do with a guy leading up to doing "it".
hand job
feeling each other up
dry sex (humping with your clothes on)
blow job (but what if the girl is getting it? They hadn't heard of cunnilingus, probably not offered on high school sex buffet)
I didn't ask them what it meant to be a virgin.
The word is too contaminated.
Supposedly you can still be a virgin and have oral sex, get felt up and down, over and under your clothes, you can be a virgin during dry sex, and while "messing around" and "hooking up" whatever those terms mean at the moment. And you can still be a virgin, to some, even if you've had intercourse as long as the guy does not climax INSIDE.
Good grief! Are you freaking serious?
Virginity isn't the Goal
So I'm asking another question, a better question. It's not what makes a man or woman a virgin, but instead, what makes us pure. And this, by golly, is something to strive after before and after marriage.
What is pure?  Think of a glass of clear water.
So, what taints a glass of water? that's the stuff to avoid
Q: What taints a human body with sexual muck
A: any behavior that the relationship doesn't warrant. This could be as "innocent" as a kiss too soon or a bathing suit cuddle too prematurely.  Nowadays it means developing sexual innuendo or jokes with someone not my husband; it means noticing that what I wear teaches men how I treat my own body and how I invite them to engage me. It means watching who I text, how often I email them and if I fantasize about someone else during sex with my husband.
Purity begins with the belief that parts of our bodies are more sexual than others.  In the prophetic passage in Ezekiel 23:2-4 God explains what harlotry looks like and it included (but was not limited) to some pretty explicit sexual "handling" (breasts, ahem bosoms, are mentioned). So I decided to keep the stuff beneath a bikini bathing suit off-limits. It became a line for me, a line in the sand.
That said, while dating, I didn't make any other big rules. I did break my no kissing before engagement promise.  And here's the juicy part, I seriously entertained any activity that led me and my boyfriend to intimacy as long as I knew it wouldn't lead to defilement.  Another great, old-fashioned word.
Let me explain. The well-known "f" word does a good job proving sex can be a pillaging act, a taking and using sense, a rape of soul if not of body.  I didn't want to *&$@ around with any man I claimed to love, I didn't even want to toy with him that way.
So that led Dale and I to having the distinct pleasure of unveiling parts of our body to each other that no one had every handled or seen.  And after we had sex and woke up next to each other I was taken aback by a few things.
Sex was easier than I expected. I was surprised I had made it to my wedding day a virgin.
Sex felt normal and natural.
Nakedness lost its stigma when I was with my husband.
As my grandmother of 80 years said to me years later,
 "Me nina, when are you naked, when you're not naked?"

"I don't know, Mama Grace."

In her Mexican accent she smiled and announced, "When you with yoor husband!"
Marriage was the door to sex for me and my husband. And because I've never known sex outside of it, I'm afraid I'm terribly biased about the power sex can have.
When virgins marry they get a chance to experience things together.  That's not to say sex can't be redeemed, that honeymoons where raped women and men learn to know one another's bodies and souls cannot also be stunning, amazing, vow-sealing.
Sexually Incompatible?
I've heard women and men concerned that virgins might very well be sexually incompatible.
Perhaps, but only if you believe that sex is something you're either gifted at or not (like musical prodigies). But not if you think sex is something you can work at, get better at, finesse and fine-tune so you're a pro, which I happen to believe is quite possible.
Also, I think it's fairly easy to tell if you're sexually compatible by being observant and honest.
I used to think I could tell when I kissed a guy if he would be good in bed. And now in my post-virgin state, I am convinced you can tell a lot about how a guy (or girl) will make love to you by how they interact with anyone they're impatient with, delighted by, disappointed by, etc.
All emotions in regular life, like driving or standing in line or riding a roller coaster, also appear between the sheets.
Sex unites us, it plays out the vows we said almost ten years ago. Sex is also the place where all the hiding or frustration, excitement or creativity from a day get to come out and infuriate or dazzle. Which is, to say the least, revealing.
If sex is bad or sporadic, routine or hasty in your relationship, it's not the only thing going poorly.  If sex is good and hot and fun in your relationship, it's not the only thing going well.
And you can tell a lot about the person you're with and how much of themselves they have cultivated to give to you in bed, before you have sex.
God's Law and the Tearing Along the Perforated Line of Reality
What guarantees a happy, successful, flourishing relationship?
Everyone has a list of ideas, the ingredients. What would you say?
God has a few ideas, too.
I trust God, which means that I really believe God's rules do lead to a better quality of life (this doesn't mean you won't get cancer or live in poverty, but it does mean God will be with you given you peace, hope, patience, long-suffering and love) but you can't pick and choose.
Some people save sex for marriage but have horrible sex lives. Why? I believe it is often the case that they've trampled other commands. They're not believing their spouse is a wonderful person given to them by God, or they see their spouse as a means to an end, rather than an end in themselves, an image bearer of God.
You cannot save sex for marriage and then ignore other laws like love and kindness, meekness and justice and expect God to give you a wonderful satisfying relationship. The laws of reality or wisdom don't work like that. You cannot save sex for marriage and then be a beyotch and expect a good marriage. 

Some people think all you need to have sex are romance and true emotional commitment. This has, after all, become the prevailing belief in our day and age.  But here's the problem as I see it.
a. If God says sex is an evidence of a life-long commitment and if . . .
b. You ignore this command and use emotional/romantic commitment to indicate when to have sex then,
c. You are choosing some of God's values (love/emotional closeness) but ignoring that sex is part of a larger plan for intimacy, until death do us part enterprise that God seems to be for (1 Cor 6:18, 1 Cor 7:9 and my personal favorite out of the mouth of Jesus, Matt 15:19, notice he uses the word "fornication"). This is essentially . . .
d. picking the commands you like and dismissing the ones you don't.  But to choose some and not the others is capricious on our parts and not really trusting God.
My stance is that since God has shown himself trustworthy about everything in my life, I want to follow any ideas he's offered about life, including sex, including pursuing purity up to and through marriage.
My body, my peace, my companion (Jesus) made it worth waiting for marriage. And now, my body, my peace, my companion makes sex worthy of preserving within marriage.
Currently God's trustworthiness is my number one reason for not letting myself be tantalized by an affair.  And it's not always easy (see Lust 1 and Lust 2 for more).
Back to the original cultural temptation to use emotional commitment as a justification for sex, what keeps us from pursing illicit sexual liaisons? If I use this criteria of romantic/emotional connection as my trigger to permit sex, why not? If I feel more romantic and emotional connection with someone else, why be faithful?
We all need more than emotional/romantic criteria to govern sex.
Better, Married Sex
A guy who has lived with his girlfriend for ten years told me, "We're better partners than lovers."
"But you sleep together, right?"
He nods, bored with the question.  He explains that he doesn't want the financial entanglements and obligation of children that marriage packs in.
Might be a huge assumption, but doesn't sound like he's all that into her.  Or is that unfair?
One thing that seems obvious to me: his sex life with her is not amazing.  As studies indicate, it's not the bachelors and bachelorettes who are having all the steamy, high-quality sex.   It's the happily married husbands and wives.
Married men report having more and better sex when married than when single/dating. While cohabiters report having as much sex as married men, their degree of satisfaction is lower. Sexual satisfaction (for men, and I'd argue for women too) is positively correlated with the degree of commitment men feel in their marriage. Which means the myth of the highly sexually satisfied bachelor is exactly that.  (Van Leeuwan quoting, The Social Organization of Sexuality: Sexual Practices in the United States, 1994).
So when someone asks me, like they recently did on My Faith Hurdle, "Is it really wrong to have sex with my boyfriend, when we're already committed to each other?", I replied,  Do you believe marriage would taint what you currently have with your boyfriend? …While I understand the gun-shy-ness, if that is the issue, wouldn't that be MORE reason to not sleep together?… Marriage plays a role in legitimizing romance, at least it has in most societies for thousands of year…  Marriage can offer a wide playground for sexual delight, it's doesn't have to be a prison.
Marriage, to me, is like the goal posts and boundary lines in a game of soccer. Playing soccer is like sex.
You simply can't play as well without them.
And in my life, I want to play the game of sex well, really well.
Or to answer the teens and college students who ask me if it's worth it to wait to have sex until you're married, here's my favorite answer, "Depends on what kind of sex you want to be having in 20 years."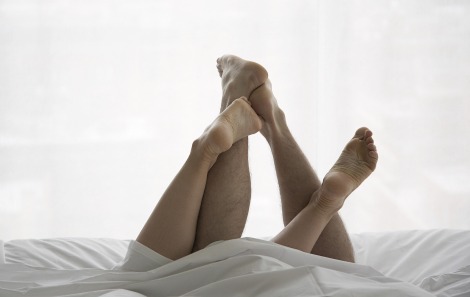 Want more? go get Lewis Smedes' book Sex for Christians.
* a portion of this post originally appeared at Breakfast Reading and My Faith Hurdle.