Dale doesn't think new year resolutions are all they're cracked up to be.
I tend to disagree, mainly because I'm a lover of opportunities to change in grandiose ways, ways I can write about and check up on. Dale is a changer in bits and pieces, he's also big on changing when the need arises. As he says, "I'm not waiting until a new year to change something."
And he  hasn't. A few weeks back we struggled to find a place for us both to feel like we weren't drowning (Mercy For Christmas).  I felt annoyed and terse and unappreciated. I know he felt the same.
We were working hard, but often not wing-to-wing, more like two whirling tops. Nothing like this morning when I looked up from my laptop and say to him, "I can't believe how many emails I still have to just read," putting my cold hands on my flushed face.
He pauses long enough to cool the smoke from his racing fingers on my laptop and looks back at me, "Take them one by one." I smile and feel known and like he's in this with me.  I feel togetherness as I dive back into the inbox.
We've found a new way to co-parent, a way to find time when we need it, a life-giving change.
Dale decided to give up his writing, any creative writing, any book ideas, any memoir hopes. He's pulled them all off the stove because he couldn't, in his words, "Do it all."
How many men can say that?
I don't know.
But I was relieved to know Dale understood he dilemma that so many women face. The 2:3 ratio.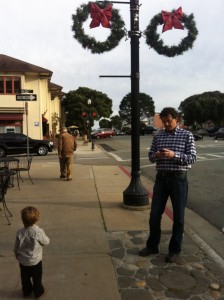 You can have 2 of the 3: a husband, kids, a career.
You can have a husband and a career, but not kids, not well-loved ones.
You can have a career and kids, but no husband, not a happy one.
You can have a husband and kids, but not a career, not a good one.
But not all three. Not if you're a woman.
Of course, that's an overstatement, but does it resonate with any of you?
I sure get it.
Dale's decided to take a hit in his career so he can be more present with Finn.
And you know what? Just a few breaks mean a world of difference for me, for Finn, for him. I've even begun brainstorming ways I can watch Finn longer so Dale can get back to writing. But we will see.
I can't do it all, either.
We've both agreed that we don't want to see Finn as time punched into a chore we dread. Finn is not time we waste or time we have to just grit our teeth and get through to get back to Soulation. Finn will pick that up, and he'll understand that he's not as attractive or interesting or important.
And we don't believe that.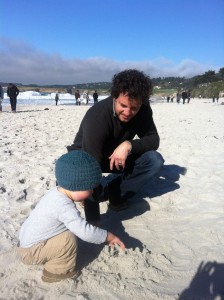 So, for now, Dale is waiting on his writing. As the resident true artist in our  house (yes, I'm an artist, too, but I don't have the artistic temperament :)), he needs lengthy bits of time to write.
It was hard for me to watch a man I know is a gifted writer put that aside. He will work managing Soulation, writing emails, managing writers and video ideas.
And he will work alongside me, continuing to make time for me to write in my fits and starts (like this morning).
For now, we've found a boat to carry us through another rapid. It's safe and dry and cozy–that's a nice word for small.
And, for now, we're smiling into each other's eyes, watching the water and peeps rush by.
We're not as fast, but we're together.
New Year Wantings
This year, I'm wanting to read weekday nights and watch fun things like Mad Men weekend nights. Last year's "Year of the Book" lit up my hunger for reading again. I'm not letting it go. It's too wonderful.
I'm wanting to watercolor once a week. I will not feel bad about not doing more.
I want to learn Spanish and talk more with Finn in Spanish.
I'm wanting to practice my Spanish with my sister (thank you, Abby!) each week on the phone.
I'm wanting to save energy so at night I can talk and listen and make love to Dale.
I'm wanting to leave my house a little messier and leave those I love a little more peaceful.
God give me my all my wants and save me from them, too.
Photo credit: www.health.com