I can't gird up my loins and write on the Cult of Weddings (which was today's post) so instead I'm going to talk about "Tears and Donuts."
Doesn't that sound better anyways?
I wrote "Tear and Donuts" for Soulation's bi-weekly blog, Breakfast Reading, where eight writers join forces to "be ourselves under the banner of a God who loves us."
The last month I've felt embroiled in a series of controversial posts and their comments. I've learned how to better talk about Zen Buddhism, egalitarianism and BDSM. And despite the feeling that sometimes I'm just not good enough to do this well, I know this is where I need to be: weaving philosophy with gender studies.
Still, let me be honest dear reader, I'm feeling pretty tuckered out.  Ingrid Michaelson was right,
And we are just breakable
breakable, breakable girls and boys.
I share this to pay heed to my frailty and suggest we all learn most when we
honest about what we disagree with
honest about how hard it is to disagree
honest even with the youngest and weakest in our midst.
Tears and Donuts
Much has been made of the organic, low sugar, low carb diets.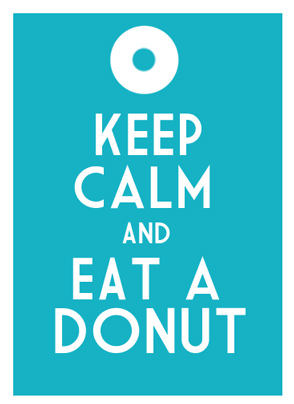 But this is not a post about eating well.
This is a post about mornings that are made of tears.
Last week I "lost it" over something not really proportionate with losing it.
My husband had not returned the car keys to their abode (back in the car, in the ignition). Living in the country means we do that.
He had kindly put the car keys on the car keys hook.
Makes sense, except we had an unspoken pattern of leaving them in the car.
So while my son was squalling to move, exhausted and an hour past his nap, I hopped into the car eager to roar us away to get some nap time.
Except, no keys.
I lost it.
Actually, I just sighed dramatically and confidently whipped open the glove box. Here was my extra stash of keys (now everyone knows this and I will have to find another spot to hide them).
Again, no keys.
I knew who the culprit was. I knew where the keys were: in my husband's pocket, safely stowed up the hill where he was rehearsing the umpteenth detail with the contractor for our new home.
Yes, I do realize how spoiled I sound in this story, the married wife who is getting a home built, her husband managing the process, and the car keys, for a vehicle which we are lucky enough to own, are nowhere to be found.
Yes, it's this latter bit that does me in. Yes, it's a molehill that I'm making into a mountain.
And yes, I know I wrote a book with a chapter on not doing precisely that.
Okay, back to the story.
I march up the path swearing under my breath and rehearsing a lecture for my husband if he has misplaced both sets of keys and we can't begin nap time.
One set rests calmly on their designated hook, which, interestingly enough, only makes me more angry because now I don't have bigger reasons to be angry.
I harumph into the car and try to quiet myself so I stand a chance at authentically quieting my sobbing son.
But before I reach my seat, my husband appears from the construction site. He has a package in hand, something I ordered, and he gives it to me, delighted to see me receive new something.
When I explain my frustration, he apologizes and suggests he take our son for a drive for his nap.
I have none of it.
By the time I crank the engine, I'm aware that my husband's quick apology has sent me over the edge.
I'm bawling as I bounce down the gravel road. My son is not tired anymore as much as he is curious why I'm making so much noise.
I can't quiet my crying.
We hurl down the hill, and my son starts asking every few minutes, "Momma, you okay?"
To which I have to swallow and stutter, "Yes, sweetie, I'm okay."
This is sort of true and sort of not.
It does help to . . .
read the final paragraph at Breakfast Reading.
Subscribe to Breakfast Reading 
here
.