In one of the long afternoons this week I kicked the beach ball around the yard with my son remembering how he once kicked my belly from the inside. The repetition of play meant I had time to ask God a few questions. I wanted God to help me figure out a good metaphor for women's bodies after pregnancy.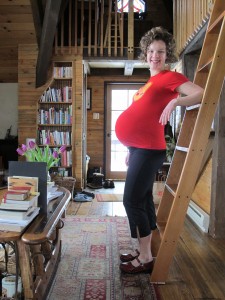 When I was pregnant I would lovingly hold my swelling belly, like there was a treasure inside.  I was proud of its size. And it got fairly large.  See…
Even in this picture of a very lop-sided me, can you see how proud I am?
I had Finn on 3-2-10 and wrote about it over ten posts because I was proud of the way I delivered all 9.12 lbs of him.
Now, with a two year old, I've written off and on about my body, particularly my stomach, since then (How Tina Fey Helped me Love My Body, Thighs and Curly Girls, Flat).
All Mommas know our stomachs will never be quite the same. Even if you get really strong there's skin that just won't snap back.
It's harder to tenderly rub and admire that post-pregnancy belly.
There's isn't a new life inside, instead my tummy bears the signs that it's the sloughed-off skin that once held life. But doesn't anymore.
This is why I got talking to God. And I got an idea…. okay I'll credit it to him (with some inspiration from Kathleen Norris)
Ever notice the taught beauty of an orange slice? The way the skin bursts with juice ready to run down our throats?  Sometimes seeds will be lodged in the crown of the slices. I'll often pop them out before eating.
The orange is now ready to eat, but the sleeve is no longer tight.  The skin sags where it once held a seed; a memory of the life and potential for more oranges.
You could plant that seed.
You could see the sagging skin as proof that the orange gave up some tightness to start another tree with hundreds more oranges for others to enjoy,
But if you forget that the orange held a seed, and is even designed to hold seeds for more life, you'd start to think that flappy skin is pretty… ugly.
Why do we want our pre-pregnancy bodies "back"?
Why do we want to whip up the sagging pouch of tummy to erase the life/s we used to hold.
Why can't we treasure the worn tummies that were once a home?
I practice touching my tummy every time I notice it bulging more loosely around my belt.
I touch it with a loving acceptance, willing my fingers to practice what I'm working my mind to accept.
I keep a photograph of a young girl
reading cross-legged
under cottonwoods,
her belly still flat, not yet a fruit
split open, the  child shining
in its membrane
like a pomegranate seed.
from "Housecleaning" by Kathleen Norris in The Quotidian Mysteries: Laundry, Liturgy and "Women's Work"
To read more about the magnificent challenge to accept our bodies, see RubySlippers' most popular post Flat: Pre and Post Pregnancy Body.