My son and I walked along the fringe of people stuffed together to watch the Fourth of July Parade. Large belt buckles, cowboy hats, tractors, red fringe and cowboy boots is how Steamboat Springs does Independence Day.
The asphalt cooked my feet as I walked in leather platforms.  Comfortable shoes for heels but hot like the dickens this morning.
I was 35 lbs heavier with my son on my back and our back of tricks (food, water, change of clothes) on my shoulder.
So when the final float of prima donnas from our local Theater academy (Perry Mansfield) sang and danced their final number we headed to the Yampa River. I slipped by some trees, ducking with my son on my back until we found a shaded area.
We dunked our feet in the water and watched people.
Abigail Adams wrote to John "I wish most Sincerely there was not a Slave in the province.  It always appears a most iniquitious Scheme to me, fight ourselfs for what we are daily robbing and plundering from those who have as good a right to freedom as we have." (September, 1774).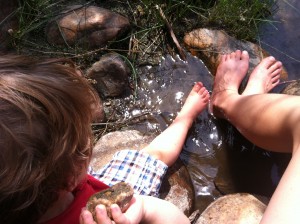 We can claim to have freed the slaves, but we can't unlock the bands that hold us inside.
Most people are oppressed within and without.  Like that man who is weighed down while his wife commands another round of site-seeing. Or that mother who cannot stop herself from telling everyone around her where to stand, how to look for the family photo op but the Yampa River.
When my expectations get jilted, I am not free to be patient for more than 5 minutes.
We live in the land of the free, but we are not independent from sin.
I recently finished The Help by Kathryn Stockett. The book sounded way too familiar.  What white southern women did to black maids in 1962, wealthy men and women are doing to Hispanic maids and temp workers today.
The whispered mockery for Mexicans being shorter or more colorful or not caring about trash everywhere, the insistence that their "kind" are just different.  Those who work for us are missing their children they left in Mexico while they clean our homes or trim our hedges. We aren't free to notice.
L cleaned my home in Los Angeles almost 10 years ago. She was my mother's age.
Every time she worked I would make lunch for us because I couldn't stand knowing she would not stop to eat unless I asked her to join me.  I would practice Spanish with her and she would share about her life, her fears about her kids, her hope that Jesus was her Rock.  We cried together. I always hugged her when we said good-bye.
Once she told me in Spanish, "Your kitchen is always dirty when I clean it."
This was a compliment.  "I never eat lunch with the women whose houses I clean. They never use their kitchens."
How must we look to those who flood our borders looking for hope?
Regardless of your politics on border control, how must we change our souls so we are free to see Hispanics as our equals on this earth?
I feel the ambivalence as English and Latina blood runs through my veins. If you want to get into my shoes, watch Real Women Have Curves and you'll feel what I mean.
Over 230 years ago, "a Collection of the greatest men upon this Continent, in Point of Abilities, Virtues and Fortunes" tried to form a more ideal state of government (1774, John Adams).  They tried without the servant class, or the slaves, or even the womenfolk getting to speak.  This "no taxation without representation" intention did not flow to the majority of early Americans.
Still, they did their best.  And I don't believe the Fourth of July should pass without noting our own Independence.
Independence Day isn't simply a chance to look down on the losers in England, or a nanny-nanny-poo-poo the rest of the world because America is so dang awesome.
Independence Day is not about isolation or superiority as much as it's about unlocking the power to be truly alive and free. The keys are not held by our president, but by another king.
So Jesus was saying to those Jews who had believed Him, "If you continue in My word, then you are truly disciples of Mine; and you will know the truth, and the truth will make you free." They answered Him, "We are Abraham's descendants and have never yet been enslaved to anyone; how is it that You say, 'You will become free'?"
Jesus answered them, "If the Son makes you free, you will be free indeed."
(John 8:31-36).
Independence from oppressive regimes begins in the miraculous, quiet work of unshackling human souls.
My country, 'tis of thee,
Sweet land of liberty,
Of thee I sing;
Land where my fathers died,
Land of the pilgrims' pride,
From every mountainside,
Let freedom ring!
Samuel F. Smith, 1832