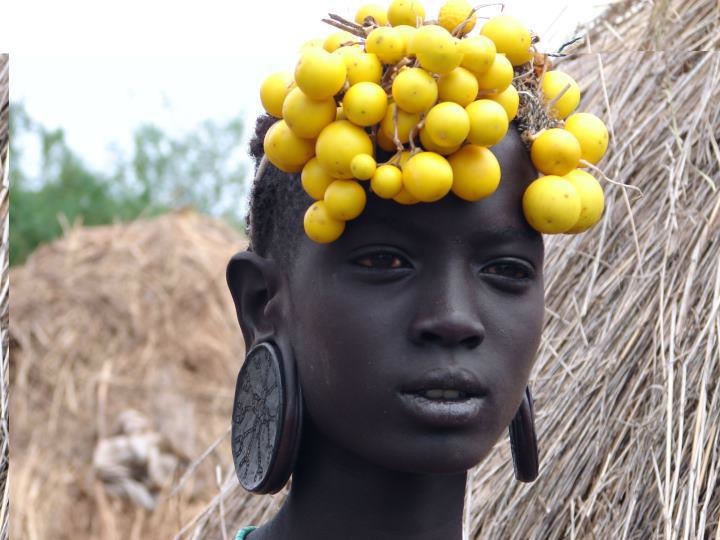 "Sometimes, I feel discriminated against, but it does not make me angry. It merely astonishes me.  How can any deny themselves the pleasure of my company?  It's beyond me." - Zora Neale Hurston
The group with the most power tends to think of itself as the norm. White males, for instance, may hear of a "Gender" conference and assume it's for women. White males don't tend to realize they have a gender.
White women don't tend to realize they have an ethnicity.
But ethnic means more than brown skin.  Canadian is just as ethnic as Caribbean.
God adores differences.  He made two genders who have to get together to make more, he made thousands of animals, he made zillions of stars and snowflakes which we know are not identical. He created ethnic groups who do not look alike, for the purpose of…
blessing one another.
Remember God's words to Abraham "Through you all the families of the earth will be blessed" (Gen 12:2-3).  And in Malachi "All the nations will call you blessed" (3:12). And in Galations "All the nations will be blessed in you" (Gal 3:8).
Blessing is the beach ball Mexicans get to volley to the Poles.  Blacks get to volley to whites.  Chinese get to volley to Australians.
Differences for the sake of blessing.
As a comment two weeks ago reminded me, we have blank spots about other races. It's hard to volley when you don't know where the ball is.
I don't usually think about how I as a Mexican-American-Polish woman bless an African-American woman. I'm more concerned I'll say the wrong thing, that I'll be unintentionally offensive, or reveal my ignorance.
One thing is clear, I can't bless a black woman unless I know something about her that is different from me, something I can bless and be grateful over. And if I'm uninformed I will assume their experience is the same as me.
And as this video shows, that is not accurate.
Esther Cowie is an MBA graduate who prefers to spend her time writing short stories, and increasing awareness of modern-day slavery. She lives in the in-between world of a Caribbean-Canadian immigrant which means she is obsessed with identity. Black and white. Race relations. What does it mean to be a woman? What it means to be a Christian woman?  But more importantly,she is passionate about Christ and living a life that reflects his personhood. Esther comments regularly at RubySlippers.  Recently she challenged me in a comment (Do Feminists Treat Women like Tool?) to think about femininity through a black woman's eyes in her words, "How do black women flesh it out?"
And while Esther knows she cannot speak for all black women everywhere, she gave me a glimpse into why femininity means different challenges, different rules for her.
She starts with an example that's near to my heart: women's hair (Esther's words in italics below).
Mysterious Grooming Practices
As a black woman I am educated about the grooming practices of Caucasian women.  Most assume that I share the same grooming practices in terms of hair and skin care. Often times I am hesitant to share how I care for my hair because of rude comments that what I do is not normal or somehow very weird.  Most times, I want to avoid spending five to ten minutes educating individuals about my hair texture and the rituals I go through to ensure its health and beauty. I think it's an 'othering' experience to continually explain my grooming practices.
When you say "othering" experience I'm assuming you mean "a way of further distancing myself from someone else." Could you explain a little more? Do you think there is an "othering" experience that white women have to face, too?
There's a tendency for white women to think that their experience is normal and that everyone else is deviate. For example: a normal female would have relatively straight hair, wash her hair everyday and not cover her hair with a silk scarf to sleep. The "other" is anyone who doesn't fit "the norm."
An othering experience is when you're treated differently because of a particular feature or experience; or your particular difference is used to define you versus being viewed as human w/ all your complexities. So my hair care practices suddenly take on the term as 'black hair care practices' while a white woman's hair care practices still remains "hair care practices" which equals normal/regular. So how you take care of your hair is not just different but not normal because normal hair care practices equals x, y and z. Imagine being in a country where most people have a certain phenotype and you don't, you're actually the one with the "weird" hair, not us. And yes, white women can have 'othering experiences.
I wonder how this lack of sharing hair and skin care practices affects my relationships with my non-black girlfriends. There is a bond/intimacy that is created when you can talk to someone about your hair experiences and she gets it. To her, what you do to your hair is normal. She understands your frustrations, highs and lows and can offer helpful tips.  She can help you do your hair. And doing another person's hair is an intimate experience.
I agree with Esther. The first time I noticed a sisterhood existed was at church camp, in fifth grade. My counselor French braided my hair and I got noticed by everyone. I realized my counselor knew a grooming skill that could gain me entrance into social circles. But it would have been an impossible gift in junior high. By 8th grade my hair was crazy curly and French braids were nearly impossible. And ever since I've been "the girl with the curly hair."  Which is nice when you like the feature, but it's not all I am.
We each go through othering experiences (think of Peggy's experience in Mad Men) when our particular difference is used to define us and we're not viewed as a human first. I hope my readers will consider sharing an othering experience (yes, even white males have them!) in the comments.
Inky Black
Esther pointed out that black women are seen as both less feminine and less human.
Within Western culture, true femininity is often housed within a white body, although a few that would say that Asian women are the most feminine due to their submissiveness. Most often, black women are portrayed or described as loud and/or aggressive. These are two traits that are not particularly feminine.
Too often black women find their femininity under attack (see Psychology Today's article arguing black women are uglier and less intelligent than white women and Racialicious' response).
Black women's hair is kinky/curly. It does not flow in straight or wavy locks. It is puffy, fluffy, bushy and does not lie flat. Our skin tone ranges from yellowy-white to inky black. If you look at research, in most cultures, lighter skin is seen as feminine. Our bums, hips and thighs are fuller. 
Esther, I think of actresses like Halee Berry or JLo and their popularity makes it's easy to say, "Oh, we're inclusive now, we like women with a little ethnicity."
Black women are still excluded from the beauty ideal. White is beautiful. Mixed is beautiful. Black is still ugly. Kinky hair still generates revulsion. Inky black skin still generates revulsion. How many black women have we seen in the role as damsel in distress? How many of them have been placed with a leading male character? Specifically, a leading white male character? How many of them have kinky/curly hair? How many of them have had an inky-black skin tone?
I guess what I want is inclusion versus a shift to another beauty ideal.
I agree, femininity gets identified with one dominant race and then defined from us. Rather than observing that every culture has examples of the most feminine humans available: women. We ought to pool our resources and observe the variety of women across cultures and then say, "Our ideas are misguided, God thought womanhood means her, and her, and her."
Esther, you've helped me to see that women of color should inform not contradict our ideas of femininity.
Less Human?
Do you think being black affects the way society values you?
We are not seen as fully human: For instance, I was surprised by the reactions of fans of The Hunger Games when they discovered characters, like Rue,  were black as shown in the movie theater. Somehow the death of a particular character did not have the same impact when said fans thought the character was a white girl.  But maybe this feeds into the whole concept of femininity; Soft, vulnerable, weak…worthy of protection????
Makes me think of the movie, A Time to Kill, the pivotal line is about this difference. Do we imagine a white girl more worthy or needing protection than a black girl?  This makes me think of how stereotypes help us assign value often incorrectly.
It's easy to assume members of one ethnic group are always one way. For instance, to assume Latinas are great in bed.  That is, unfortunately, a myth.

Or to assume Asian men are stoic, macho, martial arts experts. This affects our ability to truly know an Asian man because these stereotypes act as filters and keep us from meeting THIS Asian guy who is a graphic designer and couldn't defend you in a dark alley.
There's another stereotype that directly affects you, Esther, the strong black female. Is this a more helpful stereotype?
I encourage everyone to be strong and independent whether male or female. But too often in the media (black and white) as well as within the black community there exists one descriptor of a black woman: strong. But I think this descriptor doesn't make room for the complexities of being a woman. It does not allow for the fact that she has vulnerabilities and dependencies.  
I know black women who suffer with depression, low self-esteem, anorexia, self-mutilation.  I know black women who are emotionally strong and weak. 
I understand that this push towards being strong has its roots in a history of oppression, the current lack of a family structure within the black community that includes a father.  Facing the challenges of poverty, single parenthood, racism, and or sexism requires strength. But I often wonder if it is real 'strength' or a façade. That underneath the strong black woman there is someone who is hurt, afraid, struggling with their self-worth, wanting to be loved, wanting help.
Esther, I can vouch for the stronger appearance often masking the fearful soul.  I walk/ed that road. And the woman and men I meet who come across as incredibly large and in charge are often more vulnerable than we'd believe.
<>
Esther kept pushing me to think further about what it means to know her experience, to be able to bless her in her differences.
She asked, What is the challenge of Christians who attend multiethnic churches or churches that are predominantly white? What is their experience of what it means to be a woman or a man?  Does the presence or absence of multiethnic people affect them?
I thought it would be best to invite you to help me answer.
What do you think?
And if we're lucky, Esther will join us in the comments.