I've promised a post on evangelical addiction to shame and another on the problem with original sin.
Both are coming, but first a little something for Mother's Day.
A Soulation writer and friend, Laura Lynn Brown, has put together a lovely book that I found to be perfect for Mother's day. Everything that Makes You Mom: A Bouquet of Memories was given to me for a proof copy. I cracked it open and found Laura's signature dignity for her reader. Laura Brown has created a prompt book that I found easy and delightful to use.
Everything that Makes You Mom gave me chance to revisit the way my mother built into my life.
She stands at five feet, three inches, but she is terribly courageous. A Hispanic firecracker with all the warmth of the sun in her eyes. My mother can command a room with her enthusiasm.
I have her Spanish eyes and so does my son. I'm so delighted that though he gets the color from his dad, my son's eyes are shaped like my mom's.
My mother is terribly courageous.
sister recently reminded me of a time I cannot forget either when my mother threw our car (loaded with three children) into park in the middle of an intersection. The light was still red when she strode up to the woman in the car in front of us. My mother picked up a cigarette the woman had just threw out of her car. I still recall her holding it between her fingers and stooping to talk with the woman. We could hear every word,
"Do you want this?" she asked, holding the cigarette. All we could see was the woman shaking her head. "Well, we don't want it either."
And my mom sailed the butt straight back into the woman's car. She marched to our car, slide it into drive and drove through the green light.
Laura's questions all begin with a two paragraph memory from her life. Her remembrances are all I need to remind me of what my Mother did that was simply unique.
the handwritten notes in my lunchbox, sitting next to milk she would freeze into a tupperware cup (to keep it cold, to keep it cheap).

the Butterfinger she bought for me after I was humiliated by my crush in fourth grade.
the places we would go if I could take her anywhere in the world.
the most prominent thing in her kitchen.
her style: of soul and body.
who would play her in a movie: Penelope Cruz.
patterns of her driving.
favorite destinations in her day.
By the time I finished the book, I had more memories that fit on the pages.  Laura gave me good advice, sometimes just one sentence, carefully thought out, is enough. So in honor of the woman who carried me and fashioned my soul for this earth, I give you a bouquet of memories
I remember the time our whole family got caught in a rainstorm. We were on a walk at least a mile from our house. We huddled under an enormous pine tree while Dad raced down the hill to get our car. In the lightening rod of the tree Mom talked to us. We felt safe if for no other reason that she was calm. Once we got home and peeled off our wet things, we got an unexpected treat. One jellybean for each of us. And Mom had a specific reason for each. My brother for being most prepared (he had worn a large jacket). My sister (who was barely talking) for not complaining. And I got a jellybean for being cheerful.
We sucked the hard candy with glee. We were pint-sized heroes to our mom.
I remember my mom sometimes coming late (5-10 minutes) to pick me up from high school. I would fume until she'd arrive and then explain how annoying it was to me.  She never seemed particularly ruffled by my annoyance. And she would always reward my patience with long listening. I didn't realize at the time how I monopolized the conversation sitting in the front seat. My younger brother and sisters sitting quietly in the back. Everyone made room for my extraversion. And mom never complained.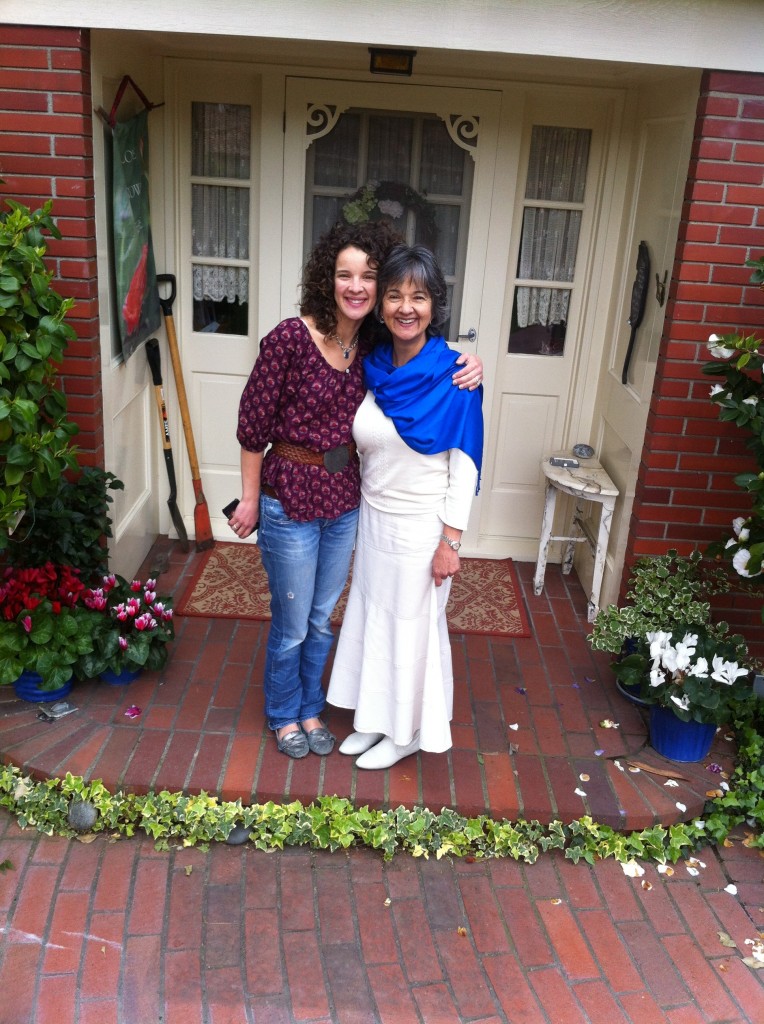 In all the stories I wrote and recalled, I came to realize new things about my mom. I love the way she values beauty and efficiency, such unlikely bedfellows, that blend in her decor, her style, her hobbies, the way she moves through the house.
I found I could never remember a time when she complained. Positive to a fault, my mother modeled a gladness for life. She would stop me to point out a large mushroom and the delicate fronds inside. Once, she even picked a particularly large one and took it, like a prize rose, through the church office. No one appreciated it like I did. I remember their lack of enthusiasm didn't daunt her.
I've shipped this book of memories, half-filled, to my sister today to have her fill in the rest of the pages. I wish I could be there when my dear Mother opens it on Sunday.
One day, I hope my son will find a book just like this, fill 'er up and give it to me.
Happy Mother's Day, dearest Mom!  Hope this post gives you a taste of what's on it's way to you this Sunday.