Abigail Santamaria, Joy's biographer, marketed for those of us who can admit that we only really want to know about the wife of C.S. Lewis because she married C.S. Lewis.
This last summer, I picked up Joy: Poet, Seeker, and the Woman who Captivated C.S. Lewis. Reading this unsentimental account of her life made me quite certain I must read more biographies.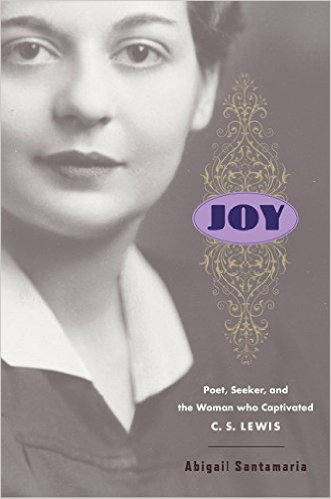 Santamaria doesn't soften Joy's edges. Perhaps this is because Joy's most impressive qualities were somewhat startling. Joy Davidman's hedonism, atheism, arrogance, and brilliance, make for a bracing package. I find it easier to list her faults: her cursing and her drinking, her affairs and her determination, her feminist ideals and her homemaking isolation, her Christian conversion while sustaining a regular practice in Dianetics, and, most startling, her penchant for inappropriate comments in public and in writing (like when she told her ex-husband about how steamy C.S. Lewis' libido proved to be).
Not just once, but page after page, Santamaria lets Joy startle. She locked her misbehaving son in a cupboard? She stalked older men? She expected and permitted her first husband's affairs? How could this insecure, sexually obsessed Communist become someone C.S. Lewis wanted to marry? I was intrigued.
I was also anxious, because Santamaria's ungilded record does, what all good biography ought to do, reveal the truth.
Distinct from political memoir, posthumous biographies reveal the pieces that don't fit the puzzle, those ubiquitous, quiet sins.
As I marched into the thick of Joy's life, like a skid and a stumble, I found myself begrudgingly understanding Joy's contradictions.
One of the dominating and disturbing forces of Joy's life was her fascination with older men. She thrived on lopsided romantic liaisons (real or imagined). She stalked, fantasized, and even connived to meet and seduce men old enough to be her father. C.S. Lewis was her final and most famous conquest.
Fortunately for us, Joy wrote poetry. She published during her Communist days. But in her private verse, she erotically described the intensity of her affairs. Well, the intensity according to her. For instance, she was certain that Jack spiced up his letters to her with hidden sexual innuendo (Jack and Joy started a correspondence soon after Joy's conversion).
Can anyone successfully hide while writing a poem? It's much easier to hide in a public address, a tweet, or even a journal entry. One word swiftly tips our hand. While verse gives us an accurate snapshot of the poet's soul, it doesn't necessarily portray anyone else. For example, Jack never wrote anything remotely sexually suggestive in his letters. So Joy ends up looking, once again, rather silly.
Her exercise of writing poetry, confessing her fantasies, wasn't just a verbal dump. It was also Joy's discipline, and a risky one. She was fervently concerned with understanding and even curbing her own desires. After her conversion to Christianity, Joy's intensity turns toward learning to love, even Jack who she felt certain had spurned her. It must have been remarkable to watch her svelte mind curb to the byways of Christianity. Her poetry gives us a glimpse at that crucible.
Joy had a knack for offending while bedazzling others. J.R.R. Tolkien was frankly disgusted with her manner and proprietary behavior toward Jack. Clearly, Joy was Jack's intellectual equal, but in terms of emotional intelligence, she surpassed him. Nothing dimmed Joy's panther-like intuition and, until her death, she offered Jack the best gift of a life partner: the honesty and insistence that they be themselves with one another. I suppose they lived "real authenticity" before their time.
Joy could see in a flash when Jack hadn't plumbed into the heart of the problems he articulated.
Joy's brainstorming conversation with Jack about remaking of the myth of Psyche led to Lewis' most critically acclaimed novel, Til We Have Faces. Their romance and consummation gave Lewis the lived experience to write knowingly about eros in The Four Loves. And, as these are some of the best works of Lewis, I have no doubt that Joy's influence on Lewis awakened him to become less cerebral and more fully human.
Still, all the gifts she brought Jack, she still deceived him. Santamaria unveils that Joy created a story that she was a victim of spousal abuse. The fact that few know the truth attests to Joy's enduring power to micro-market her own legacy. Few who knew her husband, David Gresham, believe the story Joy circulated, that he strangled and beat her. Santamaria finally sets the record straight.
I was impressed with Santamaria's courage to examine and attest to the role Joy's deception played in C.S. Lewis' life as well as the longterm consequences in her ex-husband's estrangement from his sons. I'll leave it to you to read the story yourself, and let you discover what finally moved Jack to consummate a marriage he made, as he told close friends, out of obligatory reasons.
I suppose it is my own idealism that wanted a more sophisticated or at least tactful bride for C.S. Lewis. But in her honesty and vulnerability, Jack saw Joy as modern and feminine. And in the end, they struck me as a fascinating couple, one I'd want to watch from a proximate, but not bordering table. They faced Joy's death without bemoaning their limited time together. In that I believe Shadowlands accurately shows them in their strength. They played scrabble ("words in any language were fair game") until the night before her death.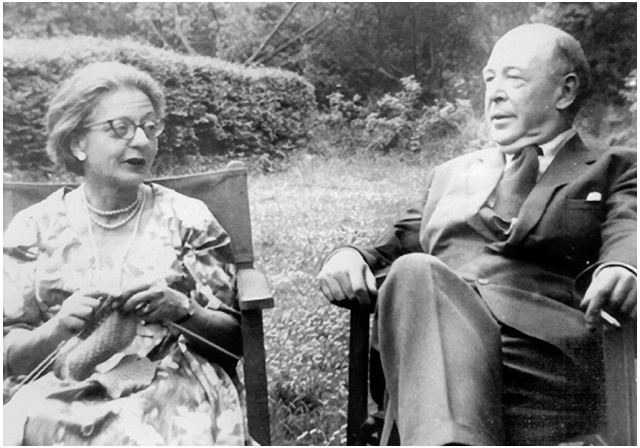 I picked up Joy because it came highly recommended from my cousin, Ralph Blair. Those who've taken my eCourse, God, the Bible, and the Gay Christian, will recognize Ralph's name as my evangelical, gay psychotherapist who I look to as an expert on the history of the evangelicals.
I am indebted to Abigail Santamaria for kindling my love for biographies. I unreservedly recommend Joy: Poet, Seeker, and the Woman Who Captivated C.S. Lewis. For there is no better cure for idealism (and idealistic movements, such as the purity culture, from which I've come) than an unaffected story of a life. That's when truth has a chance to come out to play.
For another review of Joy, see the New York Times' Mark Oppenheimer. You just might perceive the condescension.