Description
To purchase this study for small groups, see pricing and submit the Request Form below. If you are interested in an independent study, click "Add to Cart" above!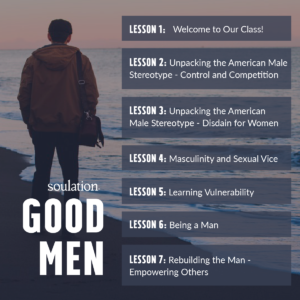 What's included?
1 free eMentoring appointment with Dale Fincher (for individual independent studies) or a LIVE video Q&A session with Dale Fincher (for small groups)
7 sessions
All content is accessible online at any point during the time frame of your study

7 videos or podcasts by Dale Fincher (varying in length from 20 minutes to 1 hour each), with occasional bonus readings

Free Kindle copy of Dale and Jonalyn Fincher's new book,

Corsets and Ties: Releasing Men and Women from Gender Myths.

Discussion questions crafted by Dale for individual journaling or group engagement

Leader's Guide with options for structuring the study to meet your group's needs. Structure this for meeting in-person in your living room or online with friends across the globe!
Pricing Options for Groups:
$35/person for individuals or groups 2-10 participants
$30/person for groups with 11-20 participants
$25/person for groups with 21+ participants
Interested in a small group study? Submit this Request Form and we'll respond with final details on purchasing! Click here for a list of Frequently-Asked-Questions about Soulation's Small Group Studies!
Questions? Contact us at mail@soulation.org for a personal response.