$40.00
Soulation will host this study from time to time. For current individual and group options see below.
Do you know couples in your church or community who are wishing for laugh out loud friendship in their marriages, but feel stuck in playing their respective "roles" of spiritual leader and submissive wife? Explore a new way together in the "Happily Ever After" small group study!
This small group study is not intended to save marriages. Rather, it's an opportunity for exploring what a healthy and vibrant marriage can look like. Dale and Jonalyn will share what makes their marriage of friendship work, and they'll even blast a few of the common egalitarian myths.
Our online study curriculum is incredibly versatile. Check out what's included below! To complete this study as an individual, click "Add to Cart." Or, gather friends together in your living room or online for a small group. To purchase this study for a small group, see pricing and submit the Request Form below.
Description
To purchase this study for small groups, see pricing and submit the Request Form below. If you are interested in an independent study, click "Add to Cart" above!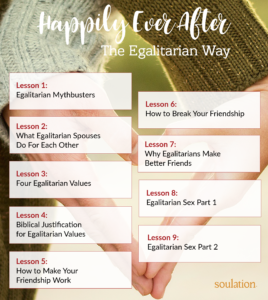 What's included? 
1 free eMentoring appointment with Dale or Jonalyn Fincher (for individual independent studies) or a LIVE video Q&A session with Dale and/or Jonalyn Fincher (for small groups)
9 sessions
All content is available online at any point during the time frame of your study
10 videos by Dale or Jonalyn Fincher (videos vary in length from 30 minutes to 1 hour)
Free download of Dale & Jonalyn Fincher's audio kit, "Finding Your Equal in Dating & Marriage: An Egalitarian View"
Discussion questions crafted by Jonalyn for individual journaling or group engagement
Leader's Guide with options to structure the study to meet your group's needs. Structure this for meeting in-person in your living room or online with friends across the globe!
Pricing Options for Groups:
$40/person for individuals or groups with 2-10 participants
$35/person for groups with 11-20 participants
$30/person for groups with 21+ participants
Interested in a small group study? Submit this Request Form and we'll respond with final details on purchasing! Click here for a list of Frequently-Asked-Questions about Soulation's Small Group Studies!
Questions? Contact us at mail@soulation.org for a personal response.