$40.00
Soulation will host this study from time to time. For current individual and group options see below.
The Truth Will Set You Free
How do you feel when you turn on the news? When you browse social media? When you get pulled into browbeating disguised as "debate"?
Many of us are in the midst of a season of anxiety about the political and cultural landmines we see daily. How can we be free to follow where Jesus calls us when we don't even know who to trust?
Let Truth Set Me Free: A Guide on Learning to Think for Yourself will teach you how to find truth on your own. Your small group will obtain tools to seek Truth and let Truth seek you. Calmly recognize distortion from both sides of the aisle. Glean insight from Dale and Jonalyn's 20+ years of communicating in our culture. Approach the discussion with Soulation's signature style: relational, relatable, applicable, and dependable.
Our online study curriculum is incredibly versatile. Check out what's included below! To complete this study as an individual, click "Add to Cart." Or, gather friends together in your living room or online for a small group. To purchase this study for a small group, see pricing and submit the Request Form below.
Description
To purchase this study for small groups, see pricing and submit the Request Form below. If you are interested in an independent study, click "Add to Cart" above!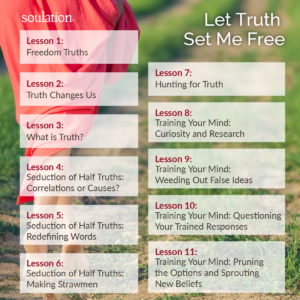 What's included?
1 free eMentoring appointment with Dale Fincher (for individual independent studies) or a LIVE video Q&A session with Dale Fincher (for small groups)
11 sessions
All content is available online at any point during the time frame of your study
11 videos with Dale and Jonalyn Fincher (videos vary in length from 5-30 minutes), accompanied by readings from Dale Fincher's book, Living With Questions, and other selections
Discussion questions crafted by Jonalyn Fincher for individual journaling or group engagement
Leader's Guide with options for structuring the study to meet your group's needs. Structure this for meeting in-person in your living room or online with friends across the globe!
You will need a copy of Dale Fincher's book, Living With Questions (an additional cost to the curriculum). Discounted book bundles of Living With Questions are available. Let us know how many people will be participating in your small group, and we'll send you a book bundle from our Soulation store!
Pricing Options for Groups:
$40/person for individuals or groups with 2-10 participants
$35/person for groups with 11-20 participants
$30/person for groups with 21+ participants
Interested in a small group study? Submit this Request Form and we'll respond with final details on purchasing! Click here for a list of Frequently-Asked-Questions about Soulation's Small Group Studies!
Questions? Contact us at mail@soulation.org for a personal response.