Sale!
$69.00
Soulation will host this study from time to time. For current individual and group options see below.
You don't have to avoid your evangelical friends any longer. You don't have to avoid your gay friends any longer. Of course each of us has our own tightly-held convictions. But can you imagine holding onto these, and at the exact same time, listening well to your friends from the "other" side?
Let us empower you to grow and deepen your connection with your gay and evangelical friends, family, coworkers, and neighbors. Walk away from this study confident to discuss with care and more importantly, to listen better. There may be no easy answers. But the real beauty is you no longer have to be afraid–you can still laugh and learn alongside your friends.
Our online study curriculum is incredibly versatile. Check out what's included below! To complete this study as an individual, click "Add to Cart." Or, gather friends together in your living room or online for a small group. To purchase this study for a small group, see pricing and submit the Request Form below.
Description
To purchase this study for small groups, see pricing and submit the Request Form below. If you are interested in an independent study, click "Add to Cart" above!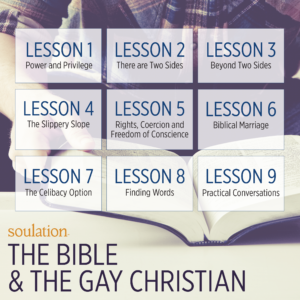 What's included?
1 free eMentoring appointment with Jonalyn Fincher (for individual independent studies) or a LIVE video Q&A session with Jonalyn Fincher (for small groups)
9 sessions
All content is available online at any point during the time frame of your study
9 video interviews between Jonalyn Fincher and experts on all sides of the conversation (interviews up to 15 minutes each)
Readings and discussion questions crafted by Jonalyn for individual journaling or group engagement
Free, exclusive download of Jonalyn's opinion book, Finding Words: An Unusual Evangelical View on the Gay Marriage Debate
Leader's Guide with options for structuring the study to meet your group's needs. Structure this to meet in person or online with friends across the globe!
Pricing Options for Groups:
$35/person for individuals or groups 2-10 participants
$30/person for groups with 11-20 participants
$25/person for groups with 21+ participants
Interested in a small group study? Submit this Request Form and we'll respond with final details on purchasing! Click here for a list of Frequently-Asked-Questions about Soulation's Small Group Studies!
Questions? Contact us at mail@soulation.org for a personal response.