A nourishing gift from Soulation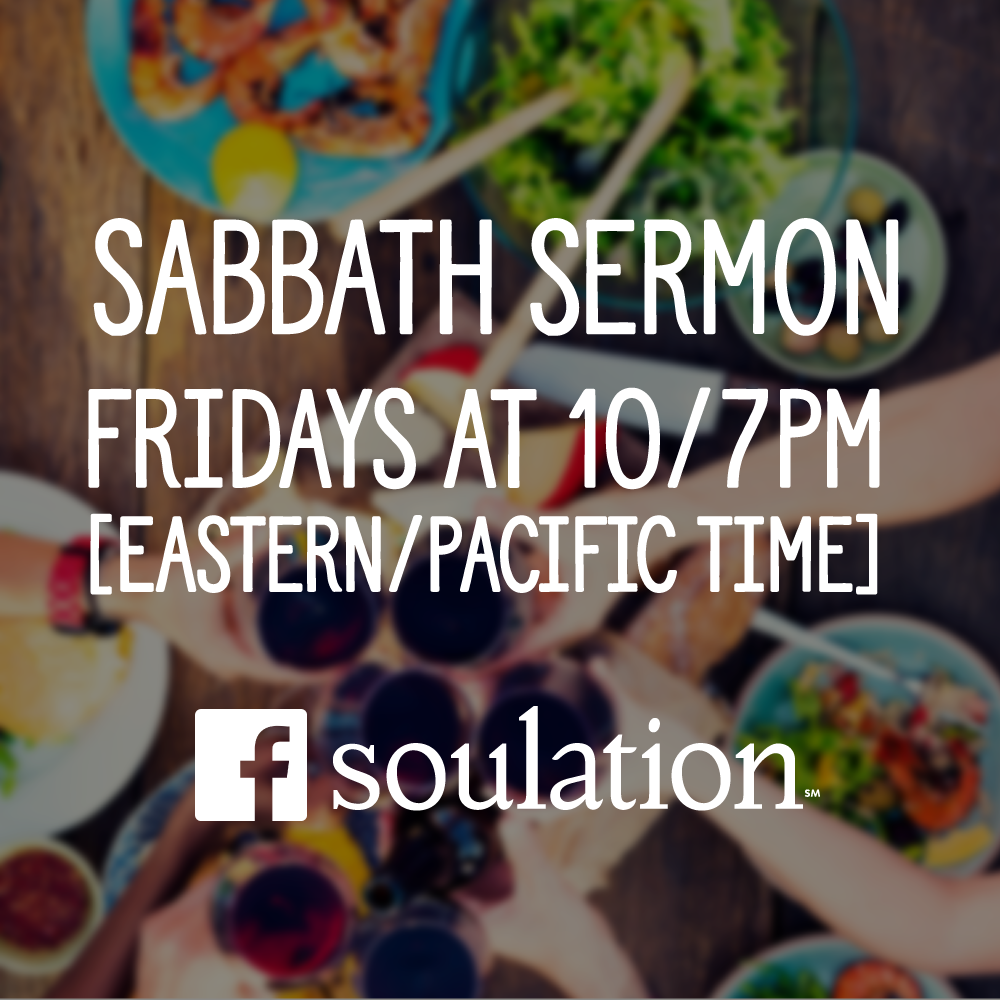 The very first thing God called holy was a day, a 24-hour period to rest. He called it the seventh day. Faithful Jews call it the Sabbath.
In our rush to get the family out of the door on Sunday morning, are we remembering that even God stopped his work? When we fill every waking moment from Friday to Sunday with activities and busyness, it's impossible to keep the Sabbath sacred. We are just too tired. The way we feel Monday morning is proof.
Sabbath Sermons are a way for you to literally slow down. You get to pull up a chair and reflect on God, Scripture, the Big Picture. You find friends to remember how meaningful our walk with Jesus is in everyday life. Every Friday night at 10pm Eastern (7pm Pacific), you can join Dale (and sometimes Jonalyn) for a LIVE Facebook broadcast, a Sabbath Sermon.
This isn't the kind of preaching you grew up hearing. Sabbath Sermons are filled with stories, unexpected turns, wine, laughter, questions, and casual conversations. It's like a Coffee Shop Conversation in your own living room. Whether you attend a traditional church or are still discovering the best place for you and your family to worship, we invite you to make Sabbath Sermons one of your weekly worship experiences.
For even in our rest, we worship God.
You can listen and let the words wash over you. Or you can interrupt with your questions at any time. A live discussion feed accompanies the entire sermon. If Dale is teaching, Jonalyn often interacts in the comments. And vice versa. You can share your questions as we explore God's story through Scripture.
On the last Friday of every month we invite you to Faith Hurdle Fridays, where the Sabbath Sermon revolves around your faith questions!
How do you watch?
It's simple. Simply go to our Facebook page anytime from Friday evening at 10pm/7pm (Eastern/Pacific) to Sunday evening at 10pm/7pm (Eastern/Pacific) to view that week's video. Each broadcast usually lasts for 30-40 minutes.
If you want to see past broadcasts, you can become a Soulation Partner and have full access to the complete library of Sabbath Sermons. (Silver level partners and higher can access our media library.)