In 2004, Jonalyn and I sat in a small cafe in Washington, DC, scribbling on a napkin. We wanted to make room for Christians who wanted to be whole, more fully themselves, more fully human. What word could capture that?
Our vision was to give Christians a chance to thicken up their souls. We wanted to invite serious Christians to explore the meaning of soul care. We hoped to give Christians the tools to not just talk about their faith or have defenses for it, but to build their souls strong enough to follow Jesus into beautiful ways of living.
Trying to combine the "soul" with "foundation" we wrote down, "Souldation" on the napkin. Unsure this was the right word, but just in case, we secured the domain name in our hotel room that evening.
The next day, I noticed I secured a misspelling of "Souldation.org" to "Soulation.org". We ran with the pleasing mistake and launched Soulation a year later adding our first tagline: "Sturdy answers. Better Souls." We were blazing a trail trying to explain to others that we were developing community online.
As we grew our audience, we traveled by invitation across North America, from churches to universities, to South America and even to Europe. Our website presence became our primary vehicle with visitors engaging us as far as away as Korea, Germany, Australia, and China. Zondervan signed us for three books (Ruby Slippers '07, Living with Questions '07, Coffee Shop Conversations '10) along with contributions to numerous other books, and we independently launched the Soulation Press with a Christmas reader (Opening the Stable Door, '13) followed by other titles. We developed a writing team to post regularly on the blogs, BreakfastReading and SturdyAnswers, and field questions at MyFaithHurdle (currently repurposed into weekly posts at the "Top 100" in our Community). We started conversations on social media inviting Christians to push into the hard questions about the topics most people avoid.
Looking back, I am surprised how much we did even as our children came along. Our oldest son flew with us on 36 airplanes before he turned one.
I'm equally amazed at what we've accomplished with our small but dynamite donors who have backed our voices and this soul-building vision.
We have evolved over time. As new donors joined us, as the Christian market's expectations and needs shift, as we've honed our gifts to best address those needs, we are traveling less, but producing more. Responsibility with this message and new opportunities have led us to develop wiser means of sustainability and focus.
In 2012, I started an online community. Those in this group who opted to take our Spiritual Health: a Foundation class became known as the Freedom Builders Community. Daily they gather online to share their lives together. Now, we have opened up this community to any who want to join the Soulation goal of living more fully human.
We spend our daily energy with our community, pastoring and mentoring, while reaching out to any who want spiritual mentoring (eMentoring). We also host local retreats in Steamboat Springs to enjoy face-to-face time. Below you can see one of our Fall Retreats gathered for a photo before our hike in White Woods.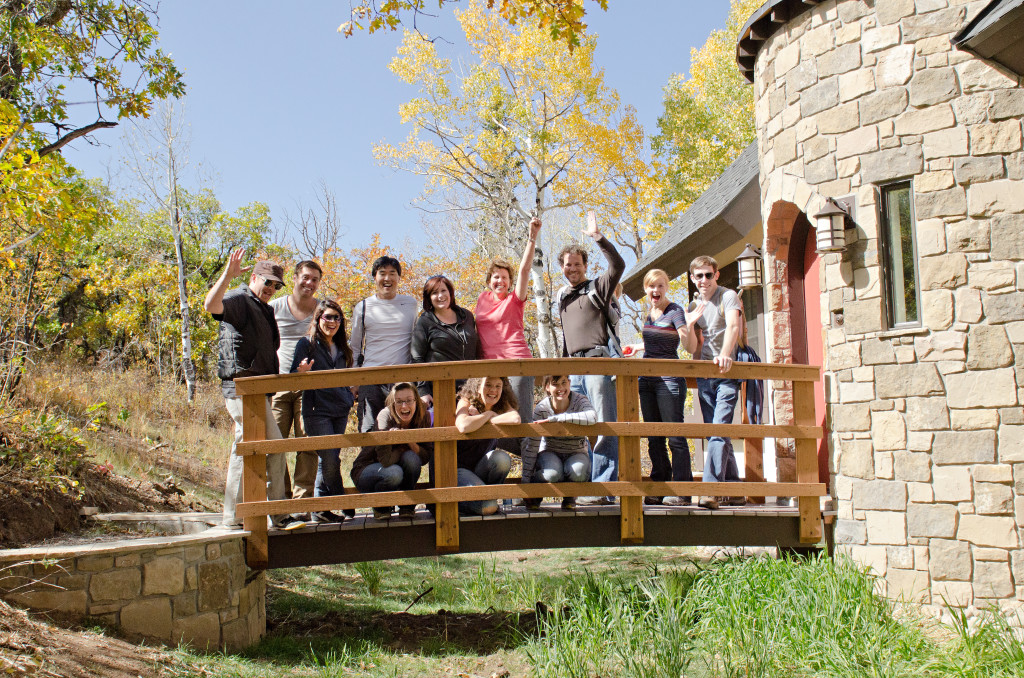 Soulation continues to offer free resources, speak by-invitation at strategic events, engage on social media, publish books, host retreats, and provide classes online. For those who want to go deeper to build their souls, the Soulation Community is their home.
Our mission, vision and message is unchanged: empowering Christians to become fully human. We are leading Christians into the good life of Jesus, making better spouses, parents, and citizens, equipping a generation to integrate careful theological thinking with empathy, and mentoring into spiritual wholeness. We cling to our Soulation values of beauty, Biblical faithfulness, freedom, honesty, and thoughtful engagement to bring spiritual health and belonging.
Over a decade after we began, Soulation is more influential than ever, changing the Christian culture by building freedom in individual souls.
If you want to learn more about becoming more fully human, join us.
Yours for the future,
Dale Fincher
President