July 9th, 2012 by L. James Everett, III.
There is a question that is so strange to people. When I ask it, it's like I am speaking a different language, and they can't understand my syllables.
And yet there is nothing strange about the question. And it is one of the first questions that the Bible answers, without even explicitly posing it.
The question is: "Why do we die?"
Let me point out a few things.
A. "How did life come about?" makes perfect sense. On the Biblical view, and its current rival, materialistic secularism, there was stuff before physical, biological life. The difference between these views is that the Bible says that life came from something alive — God. The other view says this is false. Life came from something not alive. But ask a biologist why things die. If they start explaining reproduction, or foraging, scarcity, climate, etc., ask again. Yeah, but why do things that the universe went through all that trouble of making alive, why is it that some silly thing like climate, or scarcity, gets in its way of continuing on, and being alive? I mean, there's this jump from rocks and gas to life. And some dumb thing like not having some food for a little while, or it being "hot," makes it die?
Yep.
But why?
There is no answer.
B. Everything with physical life in the past either has already died, or will die. The question is an interesting one.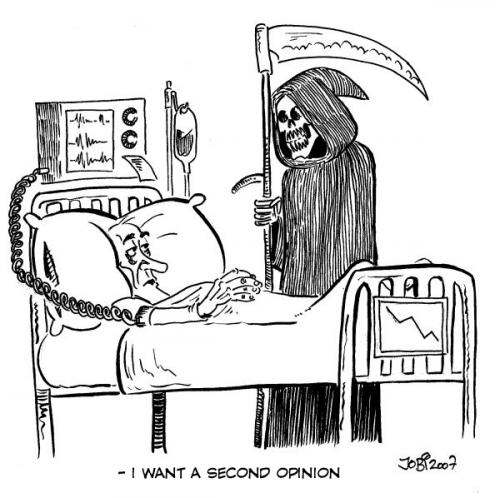 C. We are in denial about death, especially our own, or things we love. Think about the term "survivor." George Washington, he's a survivor. He's tough. He survived the fire. He survived the accident. He survived war.
Recall, "survive" means to escape death. George Washington didn't survive life.
Recall, Washington is dead. He is no survivor. No one is. Everyone either has, or will, die.
"Survival of the Fittest" is a falsehood, because nothing survives. You could be as fit as the day is long; your fitness will not beat death for you. And the day will eventually grow dark, and end.
I was arrested recently. You can be arrested in America for saying true things. I was arrested in the airport security line for saying this to the TSA agent who was looking at my ID: "Say, you ever thought about the fact that we are all going to die?"
We are in such denial, that the TSA agent became visibly agitated, and asked, "What do you mean?" As if there was anything remotely unclear with that statement.
What the hell do you think I mean? Then, I was arrested and taken in for questioning about what I meant.
Eventually, they all agreed. Yes, we are all going to die. True. But, just not yet! There is a sale at Macy's! Not here! I'm not dying in the airport! Not like we thought that you…
"All I said, is we are all going to die."
*(I made up the story about the TSA agent, but it really did happen, in my mind).
If you wonder about death too much, there is something wrong with you. If you never wonder about it, there is something wrong with you. How much is the right amount to think about it? Well, the Bible tackles it in its opening chapters, and I think it gives a pretty clear and compelling answer to the above question.
There are 50 chapters in Genesis, and this subject gets pretty serious treatment in chapters 2-11.
There are a couple of commands that God gives the first humans. One is, don't eat from this tree, or on the day that you eat of it, you will surely die.
The command not to eat of the tree is broken on purpose and there is a curse in response. They do not die on that day, however. Something else does die. It is the first death in the Bible. It happens so quickly, the lazy reader misses it entirely. Genesis 3:21. Something else, an animal, died, instead of Adam and Eve. And it's skin covers their self-created shame.
Despite this alienation, God still talks nicely to people. In Genesis 4, God asks Cain about his anger. God makes an effort to dialogue, to commune in conversation, to help a man understand. Cain avoids God, lies, and ultimately fails by committing an unthinkable act — to unjustifiedly make die, one who's blood cries out to God from the ground (way before Exodus 20:13). And, Cain refuses to take responsibility.
He complains about his punishment, not about his action.
In Genesis 5, there are all of these very long life-spans for humans. However, the same phrase occurs exactly the same way for each person (except one). "And then he died."
And then he died.
Disobedience is why people die, no matter how long they live.
______
Image credit: toonpool.com/cartoons/Death_6906
---
11 Comments