September 3rd, 2012 by Sarah Jackson
Three times this week I've dreamt I could run again.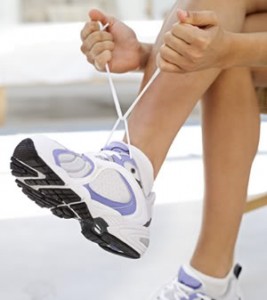 Three times I've laced up my shoes and felt adrenaline shoot through my veins, urging my body to sweat and ache and conquer pain.
Three times I've awakened with an aching soul yearning to do the thing the doctor won't let me do, the thing that makes me feel fully alive.
And three times I've forgotten all the progress I've made since the illness stretched out two years.
In this forgetting my body feels like an enemy again, the way it did back when I was sickest and couldn't walk, or even talk; or the way it did in college, when its frequent injuries prevented me from competing at college track meets; or the way it does when I wish it were a bit more toned here, and a little leaner there.
The wrinkles around my eyes remind me my skin is returning to dust, and I know my body will continue to fail, and I'm tired of feeling like my body is the enemy.
So I ask my friend Robin how I can eliminate my animosity toward my frame. She tells me something I don't want to hear:
"You've got to stop expecting your body to do things it can't. You've got to accept — but not necessarily approve of — the reality of what your body is, and can do."
As she talks I remember something she had said earlier about establishing personal boundaries:
"It's hard to say 'no' to opportunities because we can imagine ourselves saying 'yes' and succeeding. We can imagine what could be, and it's hard to accept anything less."
And I know I've done the same thing with my body, whispering tales of what it could be, and I am not the first one to do this.
"You could be more than you are," a serpent whispered to the woman in the Garden. "You could have the knowledge of good and evil…"
And the woman looked and saw that the fruit of the forbidden tree was desirable.
I wonder what she missed as she stared longingly at that tree and imagined a life different than the one God gave her.
Was she blind to the brook gliding past her with its diamond laughter and sandy banks?
Could she hear Adam laughing as he and the lion cubs romped across the grass?
Minutes after my conversation with Robin, I walk to my garden, still thinking about Eve.
I pick up a hoe and hack at the dry soil. The sun rises high and sweat drips down my face, and I'm thankful to be aching from hard work instead of illness.
I eventually stop and look up at the tidal wave of bougainvillea crashing over the garden wall, and I realize my body is more than just a vessel for running fast and fierce; it's what allows me to see this fuchsia about to flood the earth.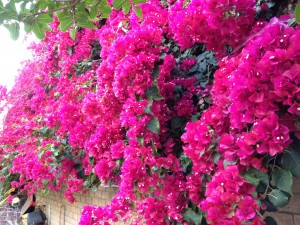 Smiling, I kneel down and work the broken soil with my gloved hands. My mind wanders to the lecture I'll give in two weeks, and as my hands break apart dirt clods, and my synapses fire, I realize my body is serving me well, and maybe it does far more for me than I ever give it credit for. 
A bird cries in the distance and my thoughts wander to my recent dream that my brother had died. With a shudder I remember the inescapable agony, and then awakening to ragged sobs shaking my body.
A sob catches in my throat at the memory, and it hits me that crying is the consummation of grief for me; without it I would feel like a caged and crazy bird, and it's my body that allows me this freedom.
And suddenly I understand how it is that I can make my body my friend.
I can stop imagining and start noticing.
Noticing the way my body serves me well, the way it is a vessel of grace.
And as with any friendship I must not only receive grace, but also give it when my body isn't what I want it to be.
The sun has risen two hours higher now and half the garden is tilled. I set the hoe against the fence and am about to move toward the house when I notice a patch of mud in the corner of the garden where I let the hose run too long.
I hesitate, and then peel off my shoes and socks and sink my feet into the mud. Grinning, I watch as it oozes cool and sticky between my wiggling toes.
And then I feel something rumbling, rising slow and swollen up my chest.
I throw back my head, and laughter — the sound of blood and lungs and warmth — bounces off the garden walls.
__________
Image Credit: media.photobucket.com
---
2 Comments
Ann Beaudry
September 10th, 2012 at 3:56 pm

Sarah, I never cease to be encouraged, challenged and blessed when I read what your heart has to say. God is using you, my friend, as a channel of blessing to me and many others. God bless you.

Sarah Jackson
September 12th, 2012 at 1:08 pm

I'm thankful, Ann, that you shared. 🙂

Blessings to you, too!

Sarah